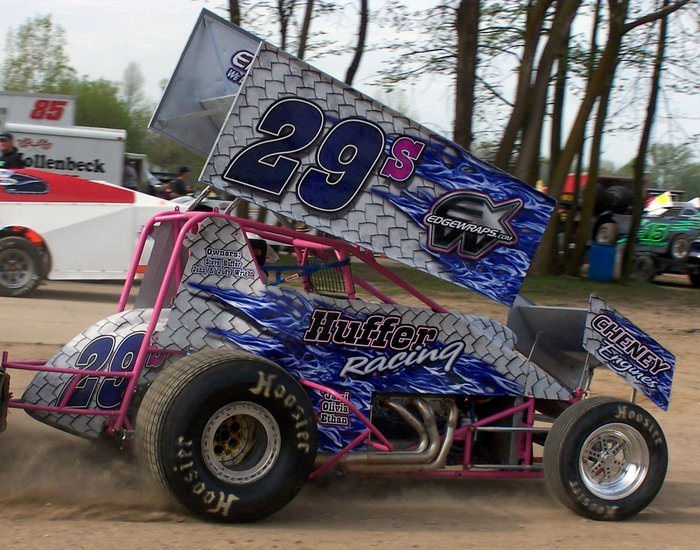 By Matt Prieur
Eagle, Michigan (Tuesday, July 3rd, 2012): A weekend with the Engine Pro ASCS Sprints On Dirt Presented by ARP may have not produced the best results for Marques Huffer, but it certainly paved the way to a brighter future for the Eagle, Michigan driver. With the stacked fields on hand for two nights of racing, it also provided more valuable experience against some of the best Winged Sprint Car drivers in the country.
Friday, June 29th the series visited the fast 1/3 (0.333) mile semi-banked dirt oval of Mt. Pleasant Speedway in Mt. Pleasant, Michigan while the next night; Saturday, June 30th was a date at the ¼ (0.250) mile semi-banked dirt oval of Merritt Raceway in Lake City, Michigan. 28 teams made the trip to both events and Huffer's familiar #29s was one of them.
"We had a ton of greatly appreciated help from Jared Horstman's team this weekend, especially on Saturday. Joe Horstman suggested changes to the car that made it absolutely fun to drive." Stated the 34-year-old. "We ran the B Main both nights with only the top four transferring. Friday night we finished sixth and Saturday night we finished fifth, so we did not make either feature but I had a lot of fun and put on a great show for the fans racing my butt off trying to make it." He added.
"Both B mains consisted of me doing battle for all 12 laps with the guy in front of me and giving it everything I had to get around them." He continued. "Ultimately, we have found a great group of guys to help us out a lot by getting us to and from the track and working on the car during the week and at the races, so we are racing and having a blast doing it." Huffer added.
The Butler Speedway in Quincy, Michigan on Saturday, July 7th is the next stop on the 2012 Huffer Racing Schedule as the fast 3/8s (0.375) mile semi-banked dirt oval is hosting another weekly racing program for the tracks 410 Sprints. "We want to thank M.P.H. Promotions and Imagine Design Now for all of their help and support along with Premier Custom Trailers for helping us design an incredible (and enormous) sprint car trailer that meets the demands of multiple consecutive nights of racing with all of the functions of our racing and comfort demands." He ended.
For the remainder of the 2012 racing season, Huffer Racing will continue to make as many appearances as possible with the Engine Pro ASCS Sprints On Dirt Presented by ARP as well as the NRA Sprint Invaders Tour. In addition, Butler Speedway will fill up the remainder of the schedule on Saturday nights when Huffer Racing is not on the road with either SOD or NRA.
Throughout the 2012 racing season, Huffer's #29s Winged Sprint Car will carry sponsorship support from Huffer Racing as well as Rutan Racing Engines, AFCO Racing Shocks, Lane Automotive, Smartt Innovations, Imagine Design Now, M.P.H. Promotions, T.S. Lettering & Graphics, Premier Custom Trailers, and Edgewraps.com.
To learn more about Marques Huffer and the entire Huffer Racing Team and to also inquire about additional sponsorship opportunities available for the rest of the 2012 season, log onto the Huffer Racing Website at: www.hufferracing.com You can go to the Huffer Racing Facebook Fan Page for race day updates at: www.facebook.com and search "Huffer Racing"