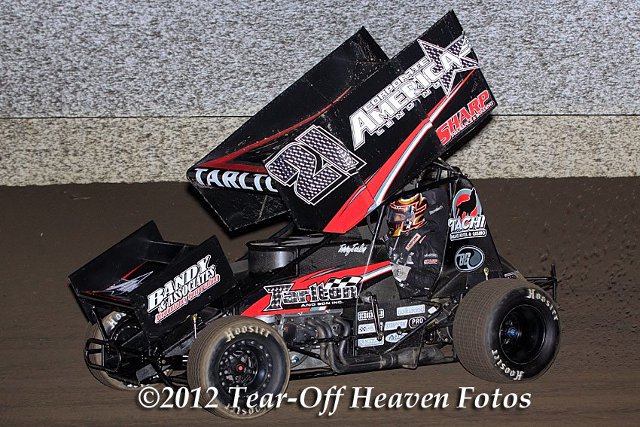 PETERSEN MEDIA
– Making his third start with the Cancen Oil King of the West Series of 2012 on Saturday night, Tommy Tarlton made a late race charge and scored a second place finish.
Tarlton's night started off well as the Easton, CA driver timed in fifth quick and went on to scored second in his heat putting his Tachi Palace and Casino/Corporate Lending America/Sharp Insurance No. 21 into the dash.
After the pill draw, Tarlton would line his entry up in the fourth spot of the dash, and waste no time muscling his way to the top spot ahead of Evan Suggs.
The Terminator would pick up the dash win and put his Bandy and Associates/K&N Products/BG Lubricants machine on the pole for the 30-lap A main.
Gunning into the initial lead, Tarlton would fall back to third behind Shane Golobic and Jonathan Allard.
While in third, Tarlton carefully tiptoed his way around the very tricky racing surface as he kept the lead duo within striking distance.
As Tarlton would fall back to fourth at one point in the race, he would take advantage of a lap 22 restart as he got past Evan Suggs for third, and one lap later he was able to overtake second from Shane Golobic as he then set his sights on Jonathan Allard.
Tarlton would not be able to track down Allard, and would settle for second, as he again posted a top-two finish at the Ocean Watsonville Speedway in 2012.
"We come here to win races, but tonight was an absolute blast racing with Shane Golobic and Jonthan Allard," explained Tarlton. "We really got rolling towards the last ten laps or so, and I want to congratulate Jonathan on the win and thank all you fans for coming out here and supporting this race."
Tommy would like to thank Corporate Lending America, Tachi Palace and Casino, Sharp Insurance, Bandy and Associates, Pro Signs, BG Lubricants, K&N Products and Astro Titanium for their continued support.
VIDEO: Check out some behind the scenes action as well as some of the racing from Friday night, June 1, 2012 in Watsonville, CA by visiting http://www.youtube.com/watch?v=9JThboT-o-I&feature=youtu.be
STAY CONNECTED: Stay connected with Tommy by visiting www.tommytarlton.com or follow @Tarlton_Racing on Twitter.