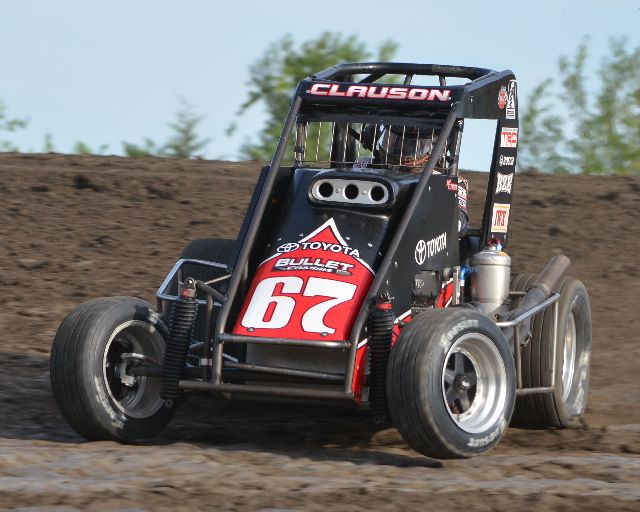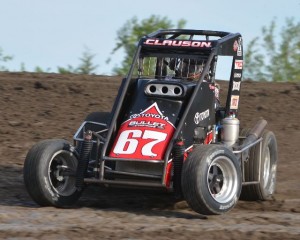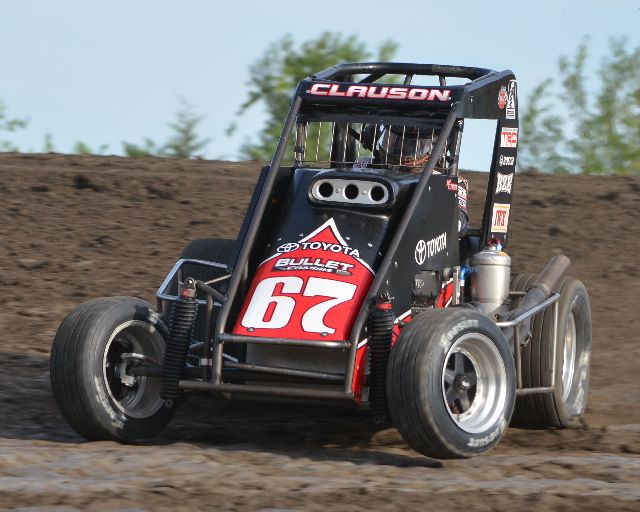 From Dick Jordan
Sun Prairie, Wi — (July 8, 2012) — Bryan Clauson of Noblesville, Indiana picked up his second Mopar National Midget Series feature win of the season on Sunday night at Angell Park Speedway. The win was Clauson's 25th of his career, tying him for fifteenth on the all-time list.
Caleb Armstrong rocketed into the lead from outside the front row and looked to be a serious threat to take his first National Midget win on dirt. As the New Castle, Indiana driver caught slower traffic, Clauson started to reel him in for the lead. On lap 13, Armstrong slipped up above the cushion in turn-four, and Clauson streaked by for the lead as they crossed the stripe.
Just one lap later, Armstrong spun in turn-two, marking the first of two cautions on the night. The second came with just three laps remaining, as Bubba Altig stopped in turn-three. On the restart, Clauson again pulled away from all challengers to score the win in his Keith Kunz/Curb-Agajanian Motorsports – Toyota TRD #71 Bullet/Speedway Toyota.
"I knew we were gonna have to run that Sun Prairie curb tonight. We got a great start and just reeled Caleb in. He got a little hung up in traffic there and we were able to get by. Especially when I saw the 24 (Tracy Hines) flash on the board, I figured the bottom was coming, but I just had to slide across turn-one on the restarts and get rolling around the top again," Clauson said.
Behind Clauson was a torrid battle for the runner-up spot, as fast qualifier Tracy Hines tracked down Brad Kuhn just past halfway. Hines moved by Kuhn on the bottom, but the two remained side-by-side for many laps. Hines actually went back in front of Kuhn on lap 28, but it was negated by the caution. From there, Kuhn held the spot and came home second in the Rotondo Weirich – Fontana Automotive #17 Beast/Fontana.
"Right before the feature, we said nobody wins here on the bottom. We knew where we had to go, but the first got that had a good car to get up there was gonna win it. (Zach) Daum got a little crossed up on the start, and I saw those two drive away up top, and that kinda sealed our fate. Tracy was working us pretty hard, especially being the last guy into traffic and having that advantage. We got a little lucky with that last yellow giving us our spot back, and happy to finish second from there," Kuhn said.
Hines was strong in his move to the front but had to settle for third in the Parker Machinery – Turbines, Inc. #24 Spike/Stanton Toyota.
"Our Toyota Parker car was pretty darn good tonight. It's just hard to start sixth and come up to beat these guys. The bottom got working for me, but then it faded just enough that it killed my momentum down the backstretch. I tried to move around some, but that one and two just hurt me too much. I felt like we were better than third, but we'll take it and keep going," Hines said.
Point-leader Darren Hagen racked up another top-five, as he finished fourth in the RFMS Racing – Liberty Village #3 DRC/Esslinger. Zach Daum fought late to take home fifth in the Daum Crop Insurance – Weld Wheels #5D Eagle/Fontana.
MOPAR USAC NATIONAL MIDGET RACE RESULTS: July 8, 2012 – Sun Prairie, WI – Angell Park Speedway
QUALIFICATIONS: 1. Tracy Hines, 24, Parker-14.370; 2. Darren Hagen, 3, RFMS-14.563; 3. Bryan Clauson, 71, Kunz/Curb-Agajanian-14.614; 4. Davey Ray, 33, RayPro-14.616; 5. Brad Kuhn, 17, RW-14.638; 6. Caleb Armstrong, 7c, C&A-14.652; 7. Zach Daum, 5D, Daum-14.694; 8. Rico Abreu, 67, Kunz/Curb-Agajanian-14.781; 9. Dillon Welch, 39, Tucker/BCI/Curb-Agajanian-14.798; 10. Robbie Ray, 3R, Ray-14.812; 11. Jerry Coons, Jr., 5, Wilke-14.836; 12. Chris Windom, 11, Wilke-14.840; 13. Dalton Armstrong, 7A, C&A-14.843; 14. Bill Balog, 57, Ecker-14.923; 15. Danny Stratton, 2, Lein-14.938; 16. Taylor Ferns, 55, Ferns-14.969; 17. David Budres, 31, Manic-14.985; 18. Bubba Altig, 19, D&I-15.027; 19. Jake Blackhurst, 25, Blackhurst-15.030; 20. Brandon Waelti, 51, Huston-15.077; 21. Mike Hess, 1, Hardy-15.089; 22. Scott Hatton, 15, Huston-15.130; 23. Bryon Walters, 5x, Walters-15.329; 24. Bob Shreffler, 21, Shreffler-15.814; 25. Kyle Larson, 63, Dooling-NT (time of 15.040 disallowed); 26. Vance Lein, 7, Lein-NT (time of 16.181 disallowed); 27. Cody Weisensel, 20, Weisensel-NT.
FIRST HEAT: (10 laps) 1. Hines, 2. Daum, 3. Ferns, 4. Blackhurst, 5. R. Ray, 6. Larson, 7. D. Ray, 8. Hatton. 2:31.63
SECOND HEAT: (10 laps) 1. Coons, 2. Balog, 3. Hagen, 4. Abreu, 5. Kuhn, 6. Waelti, 7. Budres, 8. Lein, 9. Walters. 2:33.14
THIRD HEAT: (10 laps) 1. Stratton, 2. Altig, 3. Windom, 4. C. Armstrong, 5. Clauson, 6. Hess, 7. Welch, 8. Weisensel, 9. Shreffler. 2:35.12
SEMI: (12 laps) 1. D. Ray, 2. Welch, 3. Waelti, 4. Budres, 5. Hess, 6. Weisensel, 7. Lein, 8. Larson, 9. Walters, 10. Shreffler. NT
FEATURE: (30 laps) 1. Bryan Clauson, 2. Brad Kuhn, 3. Tracy Hines, 4. Darren Hagen, 5. Zach Daum, 6. Jerry Coons, Jr., 7. Kyle Larson, 8. Chris Windom, 9. Davey Ray, 10. Jake Blackhurst, 11. Danny Stratton, 12. Mike Hess, 13. Dillon Welch, 14. Rico Abreu, 15. Bill Balog, 16. Cody Weisensel, 17. David Budres, 18. Taylor Ferns, 19. Robbie Ray, 20. Bubba Altig, 21. Vance Lein, 22. Brandon Waelti, 23. Caleb Armstrong. NT
——————————–
FEATURE LAP LEADERS: Laps 1-12 Armstrong, Laps 13-30 Clauson.
**Blackhurst flipped on the initial start of Heat 1. Hatton flipped on the initial start of Heat 1.
NEW MOPAR NATIONAL MIDGET POINTS: 1-Hagen-928; 2-Hines-742; 3-Clauson-677; 4-C.Armstrong-664; 5-Bobby East-545; 6-Mario Clouser-544; 7-Larson-542; 8-Kuhn-500; 9-Windom-487; 10-Abreu-471.
NEXT MOPAR NATIONAL MIDGET RACE: July 26 – Clermont, IN – Lucas Oil Raceway at Indianapolis