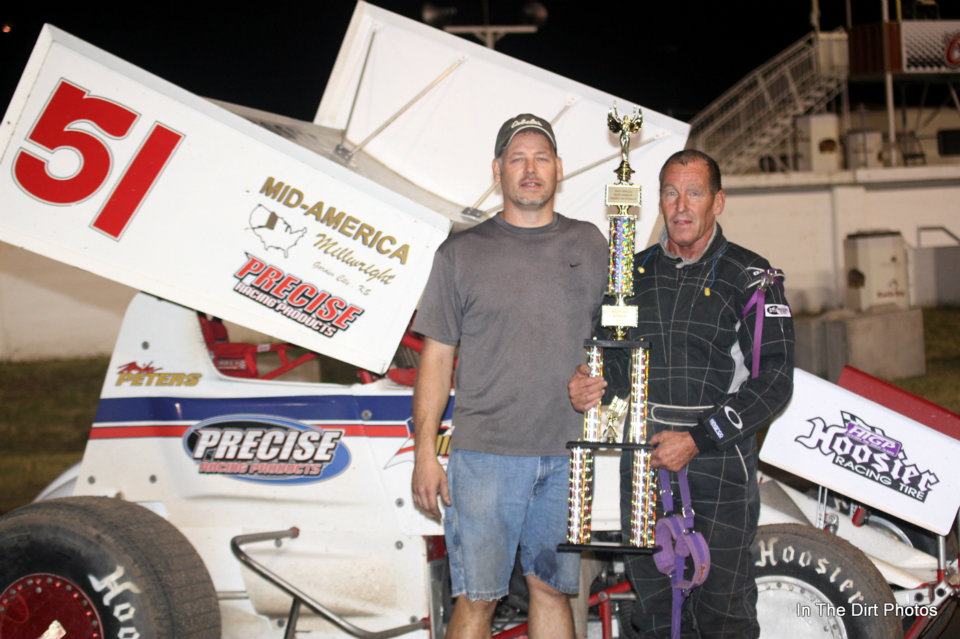 By David Smith Jr.
Hutchinson, Kansas – July 13, 2012 – Sprint car veteran Mike Peters of Wichita, Kansas started on the outside of the front row, took the lead at the start and never looked back in claiming the first ever National Championship Racing Association of Park City, Kansas presented by Precise Racing Products victory in the 305 sprint car portion of the 56th Annual Hutchinson Grand Nationals, atop the Kansas State Fairgrounds in Hutchinson, Kansas on Friday night.
By virtue of accumulating the most passing and finishing points during heat race action, J.D. Johnson started on the pole but it was Peters who would jump into the lead as the green flag fell. Third starting Brian Herbert would move up and eventually finish in the runner up position while sixth starting C.J. Johnson would come home third. J.D. Johnson settled for fourth Zach Blurton rounded out the top five.
For Peters, it was his third career sprint car Hutchinson Grand Nationals victory with the other two coming in 360 competition back in the 1990's.
The eight lap heat races for the twelve car field were won by J.D. Johnson and Peters.
The next scheduled event for the NCRA 305 sprint car division will be held on Sunday night, July 29th during the annual running of the Five State Fair at the Seward County Fairgrounds in Liberal, Kansas promoted by Speedway's Inc.
Kansas State Fairgrounds/Hutchinson, Kansas
NCRA 305 Sprints
07/13/12
12 Cars
1st Heat: 1) J.D. Johnson (Wichita, Ks), 2) Zach Blurton (Jetmore, Ks), 3) Darren Bowman (Kinsley, Ks), 4) Josh Fairbank (Wichita, Ks), 5) Tyler Knight (Wright, Ks), 6) Kris Miller (Woodward, Ok)
2nd Heat: 1) Mike Peters (Wichita, Ks), 2) Brian Herbert (Dodge City, Ks), 3) CJ Johnson (Quinter, Ks), 4) Kip Hughes (Enid, Ok), 5) Raymond Seeman (Jetmore, Ks), 6) David Wheeler (Valley Center, Ks)
A Feature: 1) Mike Peters (Wichita, Ks), 2) Brian Herbert (Dodge City, Ks), 3) CJ Johnson (Quinter, Ks), 4) J.D. Johnson (Wichita, Ks), 5) Zach Blurton (Jetmore, Ks), 6) Raymond Seeman (Jetmore, Ks), 7) Josh Fairbank (Wichita, Ks), 8) Kip Hughes (Enid, Ok), 9) Darren Bowman (Kinsley, Ks), 10) Tyler Knight (Wright, Ks), 11) David Wheeler (Valley Center, Ks), 12) Kris Miller (Woodward, Ok)