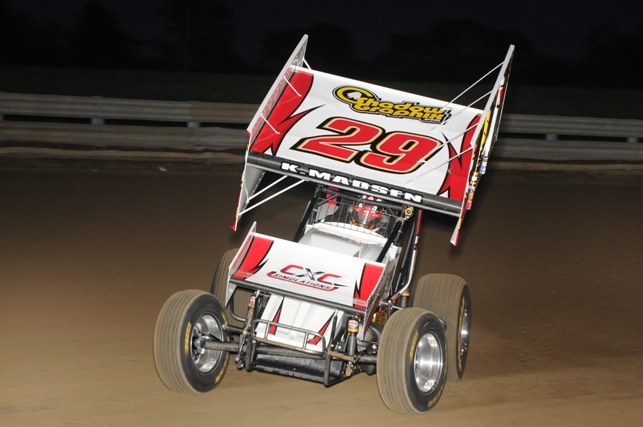 By Bill W
July 25, 2012 – Kerry Madsen had a busy week in New York and Pennsylvania that saw him finish in the top ten each night. Next the Keneric Racing #29 team will head north of the border to Canada for events at Granby and Drummondville, Quebec and Cornwall and Ohsweken, Ontario.
Things started last Tuesday at Lernerville Speedway's Don Martin Silver Cup near Sarver, Pennsylvania. "We qualified o.k. (9th), but we backed up in the Dash, which wasn't good," says Kerry. "Eventually, in the first feature, we moved up to sixth. That wasn't great, but it was o.k. We weren't great, but we made up some ground and that was positive."
Kerry lined up for the second feature of the night and would checker ninth. "We started 15th in the second one," he says. "We were actually further up than where we finished, but there was a double-file restart with a few laps to go and I was in the wrong line. Realistically, it was a good night overall at Lernerville."
With 45 cars in the pit area, the Summer Nationals at Williams Grove Speedway near Mechanicsburg, Pennsylvania turned into a one-night event after a Friday rainout. "Williams Grove was a bit of a disaster," says Kerry. "We had to take a provisional. We qualified badly (28th) and that put us in a bad spot. It was super-heavy with all the rain they had the night before. We made some changes and they worked. But we started 27th and finished 9th, so we made the provisional count. There were some positives to take out of that."
Last night at Lebanon Valley Speedway in West Lebanon, New York, things went awry in time trials. "We were qualifying and the front wing straps bent down," says Kerry. "I had no downforce going into turn one, and I hit the wall coming out of two. That hurt our qualifying (16th quick). In one sense, it was unlucky, but in another at least we had a racecar left."
The car was great in a feature, but the track lends little chances to move forward from the rear. Still Kerry ended in the top ten. "We came from 16th to 9th," he says. "We actually had a good racecar, but Lebanon Valley is just super-hard to pass at."
With recent success with wins and top fives, and with more big shows coming up, Kerry was a bit disappointed with the week's showing. "To be honest, we probably wanted better finishes," he says. "But the racecar was good every night. We need to put ourselves in position to get some more of these wins."
Kerry is looking forward to getting to Canada for this week's racing. "I haven't been to any of these tracks, so I am looking forward to it," he says. "Getting back in the country is actually more of a hassle than going to Canada, but the border is always rough. I've heard great things about the fans in Canada, so I'm really looking forward to it."
Follow Kerry Madsen on his Website and on MySpace, Facebook and Twitter!
Follow Kerry Madsen at his website located at www.KenericRacing.com! Also keep up with him on Facebook and Twitter (which also can be accessed at the website) at the following links…
Facebook link = http://www.facebook.com/#!/pages/Official-Fan-Page-for-Kerry-Madsen/101145169933686
Twitter link = http://twitter.com/#!/kmr29
Kerry's Releases
To receive Kerry's Releases, send an e-mail to sprntcar@hotmail.com with "Madsen" in the subject line!
The Team
Kerry Madsen (KMR / Keneric Racing), Bob & Peter Gavranich (Keneric Racing), Earthex, Morrison Motors, KPC Chassis.