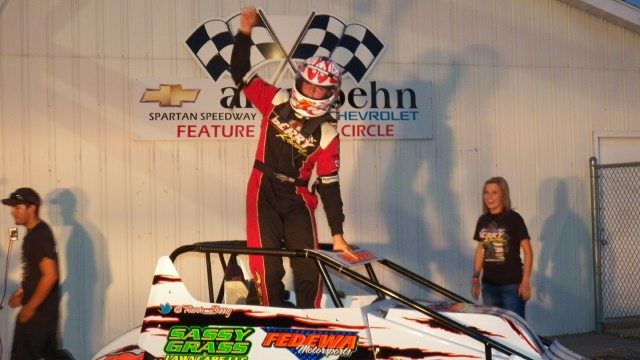 By Matt Prieur
Clio, Michigan (Tuesday, August 7th, 2012): It wasn't without a brief period of trial and tribulation, but 19-year-old Trevor Berry has all but sewn up the 2012 Non-Winged Sprint Cars Track Championship and Rookie of the Year title with one points night remaining at the ¼ (0.250) mile semi-banked paved oval of Spartan Speedway, located south of Lansing in Mason, Michigan.
The title clinching night ended on a high note; With his fifth Feature Win of this rookie season out of seven starts at Spartan and when 2012 Season Championships occurs on Friday, August 17th, Berry merely needs to take the green flag in the Feature and he will lock up the Overall Track Championship! The 2012 Rookie of the Year title already belongs to the Clio, Michigan driver.
The night before however, Berry and his Fedewa Motorsports Team who houses his #7 machine were anything but happy as motor issues in the primary car had the team on edge; "Thursday morning when we were lashing the valves when we found we had broke the motor." The 19-year-old driver explained. "So we spent Friday trying to find another ride when my Car Owner (Tom Fedewa) told me I was more than welcome to drive his car. I can't thank him enough." He added.
After Qualifying fourth quick and finishing second in his Preliminary Heat, Berry would work his way past fellow rookie to take the lead, and seal up the 2012 Freshman title in the process, although that was unknown at the time of the pass. From there Berry would hold off a hard-charging JoJo Helberg to pick up the dramatic victory.
"It was great to be able to get in someone else's car and win. It was even better to win over the names that showed up like JoJo Helberg and (Michigan Motorsports Hall of Fame Driver) Jeff Bloom." The appreciative driver continues. "I can't thank the Fedewa family for everything they do for me and all they've done for my racing career truly an amazing family. I can't explain how lucky and fortunate I really am." He added.
Coming up is another date back behind the wheel of his open-wheeled Modified as Berry will go after another Championship in the next race for the Top Speed Fabrication Modifieds Tour this Saturday, August 11th at the fast 3/8s (0.375) mile high-banked paved oval of Angola Motorsport Park, located just south of the Michigan / Indiana state line in Angola, Indiana. Berry is in a dogfight for the 2012 Series Championship with Samantha Jansen and Tom Jewell in the chase for the championship.
For the remainder of the 2012 racing season, Berry's #7 Non-Winged Sprint Car from the Fedewa Motorsports stable as well as his #7 open-wheeled Modified with a Port City Racecars chassis has sponsor decals on each machine from; Extreme Indoor Kart Racing, Rat-Tech Engine Service, Davis Racing Equipment, Joe Gibbs Driven Racing Oil, Go Pro Cameras, Monogramming by Martha, Andrea's Place Styling Salon, and M.P.H. Promotions.
For more information about Trevor Berry and the Berry Racing Team and to inquire about any other additional sponsorship opportunities for the rest of the year, log onto the website at: www.berryracing.com. You can also follow Berry on his Facebook Fan Page by going to: www.facebook.com and search for "Berry Racing Incorporated and click on "Like". Finally you can also follow the team on the Twitter page by going to: www.twitter.com/trevor_berry and click on the "Follow" button.