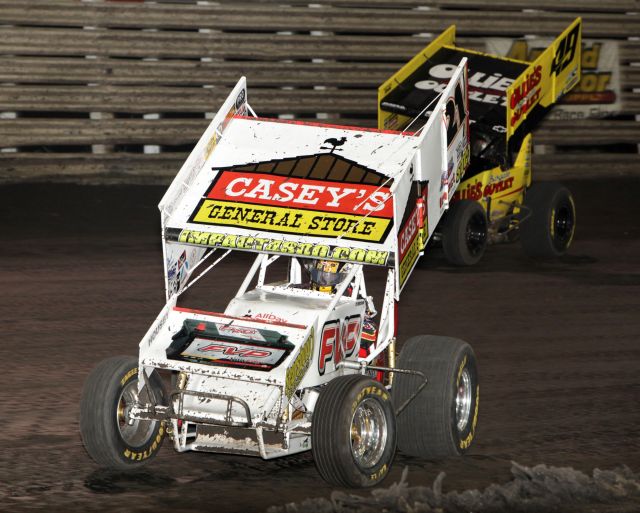 By Bill W
August 9, 2012 – Brian Brown heads into the 52nd Annual Knoxville Nationals with some momentum after a strong second place showing in the Front Row Challenge at the Southern Iowa Speedway in Oskaloosa on Monday. The Grain Valley, Missouri driver and the Casey's General Stores/FVP #21 team will qualify for the Nationals tonight.
Casey's General Stores always has a hand in supporting the Challenges in Oskaloosa. "We hadn't been over there for awhile, and Terry (McCarl) always puts on a good event," says Brian. "We wanted to try some stuff to make ourselves a little bit better for the Nationals."
Time trials went well, as did the heat. Brian was able to win from the third row, something no one else did. "We qualified fifth which was good," he says. "They were probably the best laps I could make at the time. The car was working really well in the heat too. We were able to go from fifth to win it."
Brian finished second to Daryn Pittman in the "King of the Hill" matches. Despite the urging of the fans and McCarl, Brian decided to start on the front row instead of taking the challenge to go to the back for $50,000. "We really wanted to take the challenge," he says. "I just didn't feel the track had enough grooves from the bottom to the top to get up through there and win."
Brian would follow Pittman to the checkers. "We started on the front row with Daryn and just kind of chased him," he says. "We really felt we were better the first five or six laps. At that point, our front nose piece broke, and that gave us some issues. To go over there and run second, make a little money and have some fun…it was overall a good night."
With rains passing and the sun shining, Brian expects a different track than the heavy one we saw last night. "I think you'll see more passing tonight," he says. "The track should be wider in the heats, to where some guys can get through. We definitely put all our eggs in one basket for this one. We've been thinking about it since the Sunday after last year's Nationals."
Brian is thankful for those who make his team a strong contender. "We have a lot of great partners: Casey's General Stores, FVP, Searsboro Telepone Company, Maxim…everyone that helps us," he says. "This is a big event for them too, but we have to treat it like any other night. We have a really fast racecar. We have a great chassis with Maxim, and a great engine with Charlie Garrett. I feel like we'll be in the hunt. We just have to go out and do our job."
Brian is busy during the day too. There is plenty of time for the fans to interact with him, as well as win some great prizes! "We have three new t-shirt designs in our trailer there on the Midway," he says. "We'll be doing autograph sessions at the FVP booth from 4-5 every single day. Fans can come and register for one of my helmets, and for the "Fan Ultimate Upgrade". They can go from their seats to either the pits or the suites…it's their choice. I'll also be at Casey's General Store across from the Hall of Fame on Friday from 11-1. Mostly I'm just looking forward to seeing the fans and spending some time with them."
Web site info
For up to date information on Brian Brown Racing visit www.BrianBrownRacing.com
Casey's: www.caseys.com
FVP: www.fvpparts.com
About Casey's General Stores
Casey's General Stores is a Fortune-500 company (NASDAQ CASY) operating nearly 1700 convenience stores in 11 states through the Midwest. Known for its "Homemade-To-Go" pizza, sandwiches, donuts and bakery items, Casey's strives to consistently deliver quality gas, fresh kitchen-prepared food, clean environments and friendly service at every retail location. Casey's is currently the 12th largest c-store chain and sixth largest pizza chain in the United States.
About FVP
We are very excited to introduce our new line of automotive chemicals, oils and fluids to our product offering. These new products will be available at many retailers across the country. We continue to offer a full line of high quality oil, air, cabin air and fuel filters, plus a complete line of high quality batteries for multiple applications including cars, trucks, SUV's, commercial and other specialty vehicles. All products are made to OE manufacturer fitment specifications. FVP products are engineered to provide our customers with quality products that are equal or superior in performance to the major national brands at a competitive price. To learn more about our FVP products or to find out where you can have FVP products installed in your vehicle, visit us at www.FVPparts.com! FVP…The Confident Solution
SPLASH
In addition to our line of seasonal safety products, we are very excited to introduce a full line of SPLASH Wiper Blades. Our SafeView Performance Blades fit 95% of the vehicles on the road with quick and easy installation for everyone. The AccuVision Beam Blade offers memory curve steel, which provides uniform pressure for a clear wipe, without the streaks. Look for these great new SPLASH products! Whether it's keeping your windshield clean or free of ice, protecting your RV, boat or pool from freezing in the winter, or your sidewalk safe to walk on, SPLASH Products are what you need! Check out our new SPLASH website at www.SPLASHWash.com! SPLASH…SEE SAFELY!
Brian Brown Racing would like to thank Casey's General Stores, FVP, Searsboro Telephone Company, Impact Signs Awnings Wraps / impact4800.com, Champion Brands, SPLASH, Ditzfeld Transfer, Maxim Racing, Smiley's Racing Products, Weld Wheels, Housby Trucks, www.RateWin.com, Arctic Cat, K&N Filters, Hostiowa.net, FSR Race Products, TI64, Fuel-Safe Tanks, Awesome Racewear, Wolfe Eye Clinic, Bell Helmets, CP Pistons, Carrillo Rods, Engler Machine, Vortex Wings, Penray, All Pro Cylinder Heads, Butler Built Seats, AkzoNobel Sikkens, AllDayParts.com, Jack Links, Rockstar, Deli Express, Snap-On Tools, Rod End Supply, KSE Racing Products, Winters Performance Products, Santomauro Racing Products, Cometic Gaskets, Kaeding Performance, Donovan, Magtech, ISC Racers Tape, Kinsler, Racing Optics, Mothers Wax, Don's Truck Wash, Gardner Farms, Hoosier Tires, GoPro, XYZ Machining, Brown and Miller Racing Solutions, Peterson Fluid System, Red Devil Brakes, Schoenfeld Headers, and WSIB Insurance for all their support!