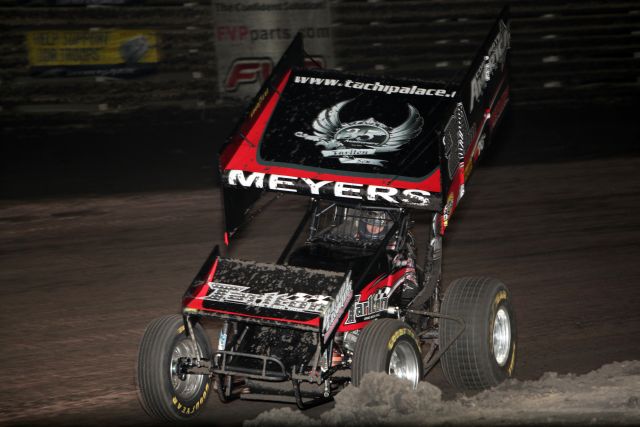 PETERSEN MEDIA
– What does semi retired Jason Meyers do after a fifth place run at the Knoxville Nationals? Simple. He climbs back aboard the Tarlton and Son No.21 machine and competes at the Ocean Speedway Watsonville in place of Tommy Tarlton who was un able to compete.
"It wasn't originally in the plan, but I'm thankful that the Tarlton's asked me to help out again with Tommy being out of town," said Meyers regarding his rare appearance at the ¼ mile at the Santa Cruz County Fairgrounds.
Meyers kicked the night off in style as he timed his Corporate Lending America/Tachi Palace and Casino/Sharp Insurance machine in with the quickest lap during time trials.
Lining up fourth in his heat race, the two time and defending World of Outlaws Champion would score a third place finish and transfer directly to the feature event where he found himself lining up in the sixth spot.
During the feature event, Meyers wasn't able to get moving forward as he found himself comfortably in the top five.
On the 14th lap, Meyers' Tarlton Racing teammate, Carson Macedo, was able to get around him and it dropped Meyers back to the sixth spot.
Over the final 16 laps, Meyers would battle Brent Kaeding as he tried to get back inside the top five, but when the race came to a close he found himself in the sixth spot.
"The Tarlton's asked me to come out and try some things for them, and we defiantely figured some things," said Meyers. "I think it will help them out in the future, it just didn't do us any favors tonight. I have a blast racing with these guys, and I can't thank them enough for giving me an amazing opportunity every once in a while."
Jason would like to thank Corporate Lending America, Tachi Palace and Casino, Sharp Insurance, Bandy and Associates, Pro Signs, BG Lubricants, K&N Products and Astro Titanium for their continued support.
REMINDER- The Knoxville Nationals will air on Saturday at 9am PST! Tune in and see Jason Meyers score a fifth place finish!
VIDEO: Check out Jason and his Tarlton Racing team as they compete during the final night of the Knoxville Nationals right here https://vimeo.com/47498388!
STAY CONNECTED: Stay connected with Tommy by visiting www.tommytarlton.com or follow @Tarlton_Racing on Twitter.