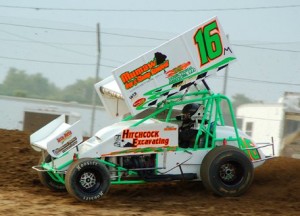 From Wayne County Speedway
Orrville, OH — (August 25, 2012) — Under beautiful skies NAPA WCS officials swung open the gates for kids night treating the young fans to wagon rides, candy and driver autographs. The night's festivities were sponsored by Dzugan Fire and Rescue.
In the Fisher Performance Sprints Kory Crabtree jumped to the early lead but on lap four he retired with mechanical issues forcing an early ending to a good run. This handed the lead over to Lee Jacobs who had Andrew Palker, Aaron Middaugh, Danny Mumaw and Chris Myers in tow. Jacobs held a comfortable lead but Palker and Mumaw raced each other hard for position. On lap ten Mumaw closed on Palker for second as they raced entered turn four Mumaw slid under Palker but Palker was able to brake early and come back under Mumaw to hold second place. On lap seventeen with the top three cars very close Palker dove under Jacobs to take the lead. As Palker drove off turn one he hopped the cushion and fell back to third place. This allowed Mumaw to get a run and power past Palker and Jacobs to take the lead. Taking home the win in exciting fashion was Mumaw just ahead of Palker, tenth starting Chris Myers, Jacobs, Middaugh and Broc Martin. Palker and Mumaw won heat races.
Fisher Performance Sprints
Heat #1
1. Andrew Palker 2. Lee Jacobs 3. Kory Crabtree 4. Broc Martin 5. Jason Dolick 6. Jimmy Pooler 7. Jeff Conrad 8. Butch Beasley
Heat #2
1. Danny Mumaw 2. Aaron Middaugh 3. Bob Lime 4. Nick Patterson 5. Chris Myers 6. Adam Anderson 7. Bill Ault 8. Chris Smith 9. Jay Howe 10. Aaron Fry
Feature:
1. Danny Mumaw 2. Andrew Palker 3. Chris Myers 4. Lee Jacobs 5. Aaron Middaugh 6. Broc Martin 7. Jimmy Pooler 8. Pete Grove 9. Bob Lime 10. Jason Dolick 11. Nick Patterson 12. Chris Smith 13. Adam Anderson 14. Aaron Fry 15. Bill Ault 16. Jeff Conrad 17. Jay Howe 18. Kory Crabtree DNS: Butch Beasley