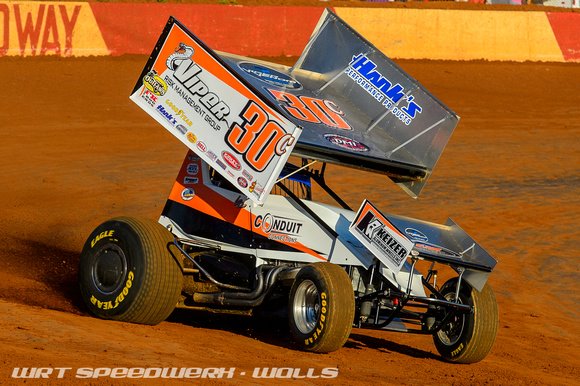 PETERSEN MEDIA
Lance Dewease and his Viper Risk Management/Conduit Connections/Wings Unlimited team are getting comfortable on the podium, as the veteran driver picked up a third place finish on Saturday night at the Port Royal Speedway.
Starting dead last in his heat race, Dewease showed some serious speed early on as he sliced, and diced his way through the field the score a second place finish and put his machine into the feature event.
Rolling off in the seventh spot, Dewease would proceed to put on quite the show for the fans that witnessed a non-stop thrilling feature.
Simply going where the others weren't, Dewease was able to put his No.30c, Morrison Racing Engines/Penske shocks anywhere on the track to gain position.
Bobbing and weaving around both lead lap cars, and lapped cars, Dewease would work his way up to the third spot in a rapidly moving race that saw no stoppages.
Making a stop in at the Williams Grove Speedway on Friday night, Dewease will be the first to tell you passing was tough on the ultra quick half mile.
Starting in the ninth spot, Dewease searched around looking for space to make moves, but everyone was equally as fast.
Struggling to gain any ground, the Fayetteville, PA driver mustered an eighth place finish when the race drew to a close.
"We were awesome at the Port," Dewease said. "It's tough to move up when there are no cautions, but this car was operating. I think if we would have had a restart or two we might have had something for the win, but we will take the third a move on."
Dewease would like to thank Viper Risk Management Group, Conduit Connections, Wings Unlimited,
Hank's Performance Products, Schaeffer Racing Oils,
Penske Racing Shocks,
FK Rodends,
Keizer Aluminum Wheels,
DMI Racing Components,
Astro Titanium,
Morrison Racing Engines,
Tom Shockey Collision, Kirkey Seats, FW Graphics,
WRT Web Designs,
WRT SpeedWerx, ViperVenom Fuels, and Schoenfeld Headers for their continued support.
ON TAP: Dewease has a busy Labor Day Weekend ahead of him as he will decide between Lernerville or Williams Grove on the 31st, before making two more stops at Port Royal on the first and third of September.
STAY CONNECTED: Stay up to speed with Lance by visiting his website, www.lancedewease.com.