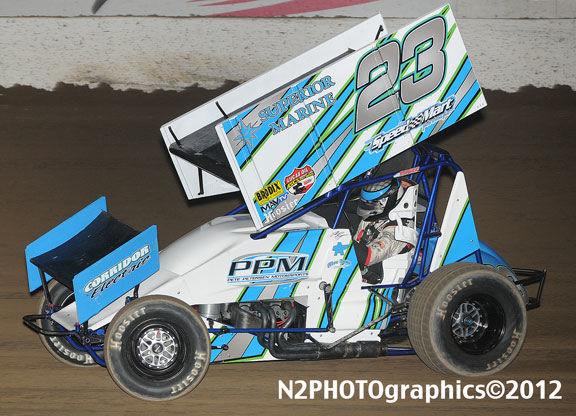 PETERSEN MEDIA
Seth Bergman continues to build momentum during the dog days of summer, as the Snohomish, WA driver picked up fourth and seventh place finishes with the Lucas Oil ASCS National Tour on Friday and Saturday night.
Kicking the weekend of in Salina, OK, Bergman started his weekend off with a third place finish in his heat, and narrowly missing out on making the redraw, thus putting him in the ninth starting spot for the main event.
Lining up in the fifth row, Bergman searched the ultra high-banked surface as he looked to carve his way forward.
Though he wasn't able to get going forward much, Bergman was able to keep his Corridor Electric/Superior Marine/Eagle inside the top ten as he climbed up to the seventh spot as the checkered flag dropped.
Moving onto the tough, I 30 Speedway in Little Rock, AR, Bergman picked up the heat win, and found his PPM/Speedmart/ButlerBuilt No.23 in the redraw, and ultimately with the three pill, lining him up in the third spot for the action packed feature event.
With the green flag in the air, Bergman quickly began battling with Ernie Ainsworth for the second position. Making quick work of Ainsworth, Bergman set his sights on early race leader, Tony Bruce, Jr, who had opened up a sizeable lead over the field.
Reeling off laps, Bergman would have his hands full with Jason Johnson, who moved into the fourth spot on the tenth lap. The duo battled for the third spot for five laps, before Johnson finally got the better of Bergman on lap 16.
In the closing laps, Bergman lost the final podium position to a ultra fast Tim Crawley. Bergman would hang on to the fourth spot.
"All in all it was a pretty solid weekend for this team," said Bergman. "I'm pretty pleased with the last couple of weekends because we have been towards the front. We will take it, and we will move on."
Bergman and his Pete Petersen Motorsports team would like to thank Superior Marine, Corridor Electric, Speedmart Inc, Eagle Chassis, ButlerBuilt, and 7 Industries for their support in 2012.
ON TAP: Bergman and the Petersen Motorsports team return to action this Saturday and Sunday and the Dodge City Raceway Park in Dodge City, Kansas.