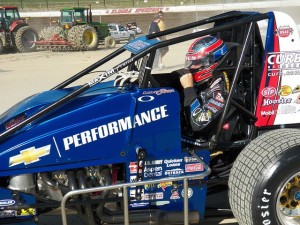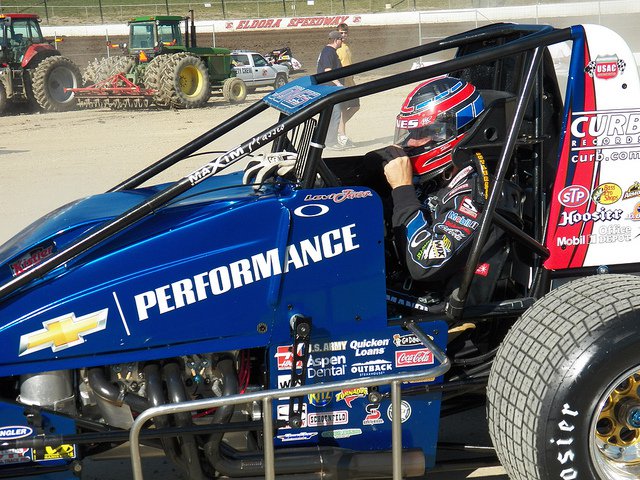 From TSR
Indianapolis, IN — (Aug. 31, 2012) — Levi Jones, the five-time and reigning United States Auto Club (USAC) National Sprint Car champion, will undergo season-ending surgery on Tuesday to repair two herniated discs in his neck. While a full recovery is expected, the 12-week rehabilitation period will not allow for Jones to finish out the 2012 season, where he has competed in the USAC Sprint Car and Silver Crown divisions for Tony Stewart Racing (TSR).
"This is something I was hoping could wait until the end of the year, but when two different surgeons tell me that I needed it done within two weeks, there was only one thing I could do," said Jones, who was leading the point standings in the USAC Sprint Car division and ranked fourth in USAC Silver Crown points. "I didn't need to be hard-headed and ignore what was wrong any longer. We're going to get it fixed and be better for the next 30 years of my life."
TSR has tabbed USAC driver Chris Windom to pilot the No. 20 Chevrolet Performance/Curb Records/Eagle for Tony Stewart/Curb-Agajanian Racing for the final 13 USAC Sprint Car races of 2012. Windom finished second to Jones in last year's USAC Sprint Car championship. The Canton, Ill., native will make his debut in the No. 20 Chevy Performance/ Curb Records/ Eagle on Friday at Tri-City Speedway in Pontoon Beach, Ill.
"I'm very excited for this incredible opportunity," said the 21-year-old Windom. "I know I'm trying to fill some incredibly big shoes. I can't thank everyone at Tony Stewart Racing enough for giving me the chance to go out and run really well the rest of the season. My goal is to help bring another championship to TSR. Hopefully, it doesn't take long for me to get on the same page with the guys. We have a lot of tracks coming up where I enjoy racing. I'm optimistic things will go well right away and we can get some wins to finish out the year."
Windom currently ranks 11th in USAC Sprint Car points and has posted a pair of victories in 2012 after scoring six in 2011 when he pushed Jones to his unprecedented fifth USAC Sprint Car title. Windom will attempt to deliver a seventh USAC Sprint Car title to team owner Tony Stewart, as Jones won championships for TSR in 2007, 2008, 2010 and 2011, while J.J. Yeley (2003) and Josh Wise (2006) secured the first two titles for TSR.
"Chris Windom is a great racecar driver," Jones said. "He's the guy that hung closest to me in any of my championship runs, so he's got the ability to do great things in a car. He'll work seamlessly with everyone at TSR and I'm sure will win some races. I'll be rooting for him every time out."
The status of a replacement driver for the No. 10 Chevrolet Performance/Curb Records USAC Silver Crown Series entry for Tony Stewart/Curb-Agajanian Racing has not been determined. The car will not compete in the Ted Horn 100 Sunday at DuQuoin (Ill.) State Fairgrounds.
Bobby East will continue to compete in all remaining 2012 USAC Silver Crown Series events for TSR in the No. 22 Chevrolet Performance/Curb Records entry for Tony Stewart/Curb-Agajanian Racing.