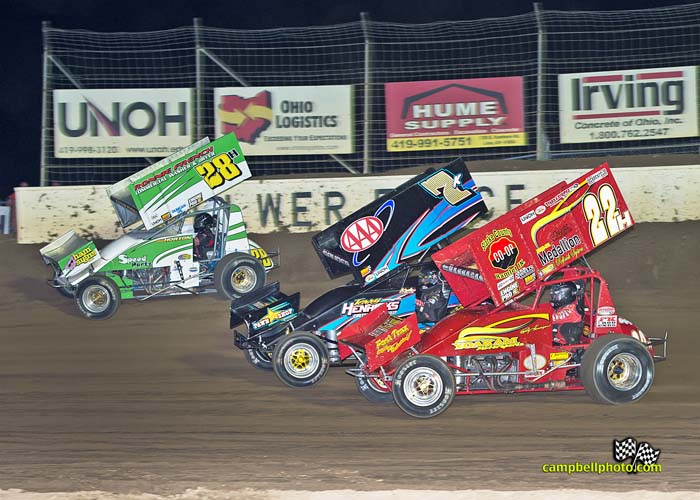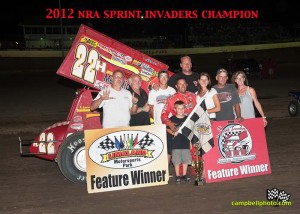 From Limaland Motorsports Park
Lima, OH — (August 31, 2012) — Limaland Motorsports Park concluded its 15th season under the ownership and operation of the University of Northwestern Ohio by crowning a pair of first-time champions in Sprints and Thunderstocks and a first four-time titlist in the Modifieds division. The track also saw a former World of Outlaws full-time campaigner take top honors with the Engine Pro NRA Sprint Invaders.
Heavy overcast conditions allowed track officials to provide a near-perfect moist racing surface with considerable grip for car handling.
The 20-lap K&N Modified feature had the two primary point's contenders, Todd Sherman and Terry Hull starting in row two. The Indiana based drivers gave ground to another Hoosier state competitor, Tyler Stump, to lead the event's first lap before getting turned the wrong way in turn four on lap number two.
Sherman, the defending champion and point's leader took over at the front of the field. The next six laps produced a thrilling battle with Hull looking to run down Sherman. After a caution period and race restart on lap nine, Sherman and Hull resumed their epic duel. At one point in the showdown, there was a full door-to-door collision in turn one that both drivers were able to survive and continue on racing.
Finally on lap 18, Hull became slightly sideways while racing in turn four. He slipped off the pace allowing Sherman to solidify his control of the lead with two laps remaining. A final restart was enough for Sherman to hold off veteran Jerry Bowersock and Jake Reufer in posting his sixth feature win of the season and capture the tracks Modified division championship.
"He (Terry Hull) was on it and all over me. It was a good race," said a relieved Todd Sherman. "Catching the lapped traffic I thought could be hairy for me, but luckily the caution came out. God has been good to us. This is huge." It marked Sherman's third consecutive title and fourth in his career including 2004.
The Engine Pro NRA Sprints 25-lap feature would decide the track's division champion and the touring series title. Action at the start was fast and furious as those drivers that had yet to win a feature during the season were looking for that first one, which would put them in the coveted King of the Quarter Mile extra race later in the evening.
J.R. Stewart bolted to the front at the start from his pole position. Stewart cruised at the top of the ¼-mile oval while Jared Horstman and Kyle Sauder were locked in battle for the second position. Track point's leader Hud Horton began the event on the inside of row four while NRA leader Randy Hannagan was on the inside of row number seven.
On lap ten, Sauder and Horstman made enough contact on the front straight to cause a flat tire for Sauder, effectively ending his hopes for either a track or NRA title. On lap 13, Horstman took the lead from Stewart as the two battled side-by-side around the track in swapping the front position again. At this point in the race, Randy Hannagan had caught the leaders. A pair of caution periods allowed Horstman to maintain the lead and for a couple of laps it appeared he might pull away to post his first-ever Limaland feature win.
The restart on lap 21 began an amazing series of corner slide jobs between Horstman and Hannagan. When the action settled, Hannagan had secured the lead and went on to take the checkered flag for the sixth time this season and clinch the NRA crown. Hud Horton posted his ninth top-five finish of 2012 and won his first-ever Elwer Fence Sprints track championship.
"None of these (wins) are easy, but it was a lot of fun," said Hannagan, a native of San Jose, CA. "Eventually I got up to third and fourth. They started racing and I really wanted to be a part of this. I wanted to change a bunch of stuff before the main and my crew just said to drive the damn thing. So I did, we got the win, and the NRA championship, and that's what it's all about."
Horton of Germantown, Ohio took the track title despite winning just a single feature race on the season. "It feels great to get this as I way trying so hard to do this type of thing," said a humble Horton. "The big thing for me was getting some advice on the car from Marshall Campbell with setups. It really helped me. Running against this field of cars has made me a better driver."
The Budweiser Thunderstocks 15-lap feature had the track's all-time leading stocks winner Jeff Babcock making his first start of the season. For the first 14 circuits it seemed as if Babcock was about the crack the stranglehold Shawn Valenti and Jeff Koz had held on the division. The two drivers had won every feature contested in 2012 except last week when Tony Anderson benefitted with Valenti and Koz taking each other out of contention near the end of the race.
On this night, both Valenti and Koz had climbed into position right behind Babcock. Jeff Koz, in particular, was working the bottom of the track effectively and was able to manufacture a pass for the lead as the white flag came out. He held on through lapped traffic to post his sixth win of the season, while Valenti, finishing third, captured his first point's championship.
"To win (seven) races and compete for the championship and win it is a dream come true," said Valenti afterwards. "It's been a heckuva year. I thank Jeff Babcock (car owner) for putting me in this car and Jason Jemison for all of his help this season."
The night of racing also saw the 14th edition of the King of Quarter Mile ten lap contests. They matched all feature winners throughout the season for a total of $6,000 in additional prize money.
Jerry Bowersock of Wapakoneta, Ohio won a rousing battle with Todd Sherman to take the $2,000 Modified King race.
Kyle Sauder earlier had lost a chance for both the track and NRA title, but he salvaged the night running away from the field to win the $3,000 Sprints King crown.
Lima's Jeff Koz added to his feature win from earlier in the evening to take the $1,000 Thunderstocks King race.
The 2012 racing season wraps up in it's entirety with the Limaland Motorsports Park Awards Banquet on October 20 at the UNOH Event Center.
All the latest news and information about America's premier quarter-mile dirt track, can be found at www.limaland.com. You can also find 2012 Limaland Motorsports Park on Facebook and Twitter.
Limaland Motorsports Park – 8/31/2012
K&N Modifieds
Heat 1 – (8 Laps – Top 4 Transfer)
1. 18N-Derrick Noffsinger; 2. 21S-Mike Holhbein; 3. 20W-Matt Westfall;
4. 28-Chad Rosenbeck; 5. 100-Jim Brown; 6. 15-Jeff Hamby; 7. 10-Jack Landis;
8. 53-Brad Johnson
Heat 2 – (8 Laps – Top 4 Transfer)
1. 93-Tyler Stump; 2. F16-Jake Reufer; 3. O3-Cory Seeling; 4. O1-Ryan O'Dette;
5. 47-Nick Rosselit; 6. 55M-Justin Matson; 7. 5-Curtis Coulter; 8. 20R-Keith Ralston
Heat 3 – (8 Laps – Top 4 Transfer)
1. 40-Terry Hull; 2. 5X-Jerry Bowersock; 3. 20B-Jeff Babcock; 4. 67-Eddie Shaner;
5. 33-Clint Reagle; 6. 32-Tony Urbine; 7. OO-Joel Ortberg; 8. 4J-David Treon Jr.
Heat 4 – (8 Laps – Top 4 Transfer)
1. 65-Todd Sherman; 2. 20K-Bill Keeler; 3. L5-Casey Luedeke; 4. 1-Kody Weisner;
5. 22T-Tony Anderson; 6. 21T-Tom Treon; 7. T5X-Doug Hewitt Jr.;
8. 65X-Bryan Martin
B-Main – (8 Laps – Top 4 Transfer)
1. 33-Clint Reagle; 2. 22T-Tony Anderson; 3. 15-Jeff Hamby; 4. 100-Jim Brown;
5. 5-Curtis Coulter; 6. 32-Tony Urbine; 7. 10-Jack Landis; 8. OO-Joel Ortberg;
9. 21T-Tom Treon; 10. T5X-Doug Hewitt Jr.; 11. 20R-Keith Ralston;
12. 53-Brad Johnson; 13. 4J-David Treon Jr.
A-Main – (20 Laps) [#]-Starting Position
1. 65-Todd Sherman[4]; 2. 5X-Jerry Bowersock[7]; 3. F16-Jake Reufer[6];
4. O3-Cory Seeling[10]; 5. 93-Tyler Stump[2]; 6. 40-Terry Hull[3];
7. 20W-Matt Westfall[9]; 8. 33-Clint Reagle[17]; 9. 21S-Mike Holhbein[5];
10. L5-Casey Luedeke[12]; 11. 15-Jeff Hamby[19]; 12. 22T-Tony Anderson[18];
13. 67-Eddie Shaner[15]; 14. 1-Kody Weisner[16]; 15. 18N-Derrick Noffsinger[1];
16. 20B-Jeff Babcock[11]; 17. 28-Chad Rosenbeck[13]; 18. 100-Jim Brown[20];
19. 20K-Bill Keeler[8]; 20. O1-Ryan O'Dette[14]
King of te Quarter Mile (10 Laps) – 1. Jerry Bowersock 2. Todd Sherman 3. Jeff Babcock 4. Jake Ruefer 5. Terry Hull
Engine Pro/NRA Sprints
Heat 1 – (8 Laps – Top 8 Transfer)
1. 28H-Hud Horton; 2. 17-Jared Horstman; 3. 6S-Jr Stewart; 4. 7-Darren Long;
5. 22D-Dennis Yoakam; 6. 10J-Jarrod Delong; 7. 2-Brent Gehr; 8. 41J-Jeremy Powley
Heat 2 – (8 Laps – Top 8 Transfer)
1. 2M-Dallas Hewitt; 2. B20-Butch Schroeder; 3. 49-Shawn Dancer;
4. 22H-Randy Hannagan; 5. 27-Beau Stewart; 6. 5M-Max Stambaugh;
7. 27B-Brad Lamberson
Heat 3 – (8 Laps – Top 8 Transfer)
1. 7K-Kyle Sauder; 2. 57-Mike Dunlap; 3. 35-Ron Blair; 4. 23-Devon Dobie;
5. 11-Tim Allison; 6. 6-Greg Wilson; 7. 4J-Bob Gehr
A-Main – (25 Laps) [#]-Starting Position
1. 22H-Randy Hannagan[11]; 2. 17-Jared Horstman[4]; 3. 6S-Jr Stewart[1];
4. 22D-Dennis Yoakam[13]; 5. 57-Mike Dunlap[2]; 6. 28H-Hud Horton[7];
7. 2M-Dallas Hewitt[6]; 8. B20-Butch Schroeder[3]; 9. 6-Greg Wilson[18];
10. 5M-Max Stambaugh[17]; 11. 49-Shawn Dancer[8]; 12. 10J-Jarrod Delong[16];
13. 27-Beau Stewart[14]; 14. 23-Devon Dobie[12]; 15. 4J-Bob Gehr[21];
16. 35-Ron Blair[9]; 17. 2-Brent Gehr[19]; 18. 41J-Jeremy Powley[22];
19. 7-Darren Long[10]; 20. 7K-Kyle Sauder[5]; 21. 11-Tim Allison[15]
King of the Quarter Mile (10 Laps) – 1. Kyle Sauder 2. Randy Hannagan 3. Hud Horton 4. Ron Blair 5. Tim Allison
Bud Thunderstocks
Heat 1 – (8 Laps – Top 8 Transfer)
1. 7B-Shawn Valenti; 2. 57S-Billy Siferd; 3. 22T-Tony Anderson; 4. 52B-Sam Bodine;
5. 26-Justin Long; 6. 19-Bill Reimund; 7. 45-Kyle Bronson
Heat 2 – (8 Laps – Top 8 Transfer)
1. 16-Jeff Koz; 2. 7C-Jordan Conover; 3. OOM-Bryan Martin; 4. 1-Brent Weaver;
5. 2-Mitchelll Opatik; 6. 327-Randy Crossley; 7. O1-Sebastian Font
Heat 3 – (8 Laps – Top 8 Transfer)
1. 7-Jeff Babcock; 2. 82-Chris Douglas; 3. 89-Keith Shockency; 4. 27-Frank Paladino;
5. OO-Josh Sutter; 6. 99-Andy King
Dash – (8 Laps – Top – Transfer)
1. 52B-Sam Bodine; 2. 1-Brent Weaver; 3. 2-Mitchelll Opatik; 4. 26-Justin Long
A-Main – (15 Laps) [#]-Starting Position
1. 16-Jeff Koz[5]; 2. 7-Jeff Babcock[4]; 3. 7B-Shawn Valenti[6];
4. 22T-Tony Anderson[7]; 5. 7C-Jordan Conover[2]; 6. 82-Chris Douglas[1];
7. 1-Brent Weaver[11]; 8. 57S-Billy Siferd[3]; 9. OOM-Bryan Martin[8];
10. 327-Randy Crossley[17]; 11. 19-Bill Reimund[16]; 12. 26-Justin Long[13];
13. O1-Sebastian Font[20]; 14. 89-Keith Shockency[9]; 15. OO-Josh Sutter[15];
16. 99-Andy King[18]; 17. 52B-Sam Bodine[10]; 18. 45-Kyle Bronson[19];
19. 2-Mitchelll Opatik[14]; 20. 27-Frank Paladino[12]
King of the Quarter Mile (10 Laps) – 1. Jeff Koz 2. Shawn Valenti 3. Tony Anderson
Photo Gallery