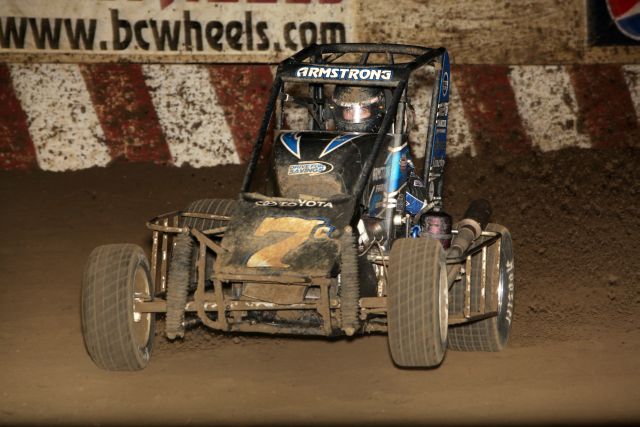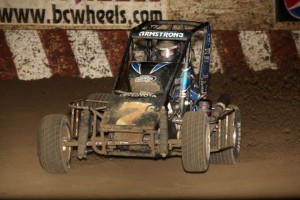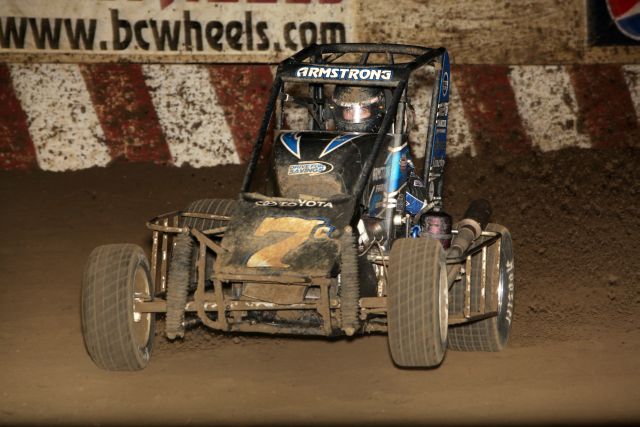 From Bryan Gapinski
Sun Prairie, Wis., September 1—Caleb Armstrong scored a thrilling victory in 31st annual Pepsi Midget Nationals at Angell Park Speedway on Saturday Night. The event sanctioned by The Stark Automotive Group/Mid-State Equipment Badger Midget Series concluded their 76th anniversary season of sanctioning midget auto racing. Car Owner Hans Lein captured the Car Owners Championship by forty-eight points over D&I Motorsports.
Dalton Armstrong took the lead at the start, while Caleb Armstrong passed six cars on the opening lap moving from tenth position to fourth. On the second lap a three-car accident involved Darren Hagen, Davey Ray and Bob Schreffler, ending Hagen's race. Ray would rejoin the field at the tail, eventually finishing fifth.
Thomas Meseraull passed Dalton Armstrong for the lead on the fourth lap, with Caleb moving into second place two laps later. Meseraull began lapping slower traffic on Lap 9 and two laps later encountered heavy traffic, allowing Caleb Armstrong to close the margin to less than one-car length. Dalton Armstrong stalled on the track on Lap 11, bringing out the caution.
Meseraull, and Armstrong moved away from the field on the restart. Cautions appeared at the midway point and one lap later for debris on the track. Meseraull driving the RAB No. 57 ran blistering laps around the track on the cushion, with Armstrong trailing by a few car lengths. Armstrong closed to Meseraull's rear bumper, and took the lead on the backstretch, with nine laps remaining. There were also several tight battles through the field for the top ten positions. Armstrong pulled to a slight advantage over Meseruall. With five laps remaining Armstrong continued to increase his advantage over Meseraull.
Armstrong appeared headed for a comfortable victory, but brushed the Turn 3 wall, on Lap 28, slightly losing his momentum. Armstrong driving the C&A Motorsports Spike/Toyota No.7c finished 2.98 seconds ahead of Meseruall, Jerry Coons Jr., 2012 Badger Driver Champion Bubba Altig and Ray. Seventeen cars finished the race out of the twenty-three car starting field.
"This is a great victory, the car was so perfect on the cushion and lapped traffic made the race interesting, my brush with the wall at the end really damaged the car" commented Armstrong who became the only the fourth driver (others are: Bill Engelhart, Kevin Olson, and Jay Drake) ever to win both the Pepsi Nationals and the Turkey Night Grand Prix.
Earlier in the evening Davey Ray won the 9th annual Dave Schulenberg Memorial Dash, collecting $600 from the $2,120 purse. David Budres flipped during the on the second lap of the race escaping injury in a wild series of flips.
Jason Treault led the entire distance winning the 15-lap Badger 600 Micro Series feature, finishing ahead of Gunner Cummings, 2012 Series Champion Chad Bogar, Matt Paderta and Bill Trusky. The Micro Series concludes their season on Sept. 22 at Beaver Dam (Wis.) Raceway.
SUMMARY
Badger Midgets
30-lap Feature: 1. Caleb Armstrong; 2. Thomas Meseruall; 3. Jerry Coons Jr.; 4. Bubba Altig; 5. Davey Ray; 6. Scott Hatton; 7. Danny Stratton; 8. Robbie Ray; 9. Mike Hess; 10. Travis Berryhill; 11. Cody Weisensel; 12. Taylor Ferns; 13. Riley Emmel; 14. Kurt Mayhew; 15. Kevin Olson; 16. Chad Bogar; 17. Rick Kelsey; 18. Brandon waelti; 19. Bryon Walters; 20. Dalton armstrong; 21. Bob Schreffler; 22. Darren Hagen; 23. Jason Treault.
10-lap Heat Race Winners: C. Armstrong, Altig, Coons.
Fast Time: D. Ray, 14.762 seconds.
Cars Present: 24 Feature Lap Leaders: D. Armstrong 1-4, Meseraull 5-21, C Armstrong 22-30.
**David Budres flipped on Lap 1 of Dash, uninjured.
Final Badger Midget Series points: 1. Bubba Altig 775; 2. Mike Hess 611; 3. Brandon Waelti 588; 4. Danny Stratton 558; 5. Scott Hatton 532; 6. Daniel Robinson 495; 7. Davey Ray 422; 8. David Budres 348; 9. Brad Kuhn 315; 10. Cody Weisensel 286.
Badger Micros
15-lap Feature: 1. Jason Treault; 2. Gunner Cummings; 3 Chad Bogar; 4. Matt Paderta; 5. Bill Trusky; 6. Bradan Fickas; 7. Scott Crawford; 8. Daniel Stefan; 9. Prestin Benisch.
8-lap Heat Race Winners: Bogar.
Fast Time: Bogar, 15.164 seconds.
Pepsi Midget Nationals notes:
—-Caleb Armstrong's only other Pepsi Nationals start came in 2009, when he finished in last position (25th). The victory was his second of the season, following a June 29 victory at Toledo (Ohio) Speedway. But the win marked his first career midget feature victory on a dirt track.
—-The win marked the third straight Pepsi Nationals victory for engine manufacturer Toyota.
—-Hans Lein used six different drivers: Danny Stratton, Davey Ray, Kevin Olson, Mario Clouser, Caleb Armstrong and Casey Shuman in Badger competition in the No. 2 car to win the Car Owners Championship.
—-Only Davey Ray (2003), and Brady Bacon (2008) have led the opening lap of the Pepsi Midget Nationals and won the race.
—-2007 winner Jerry Coons Jr. used his third place finish to move into the lead in the National Midget Driver of the Year points, now leading Darren Hagen by nineteen points.
—-Six drivers were competing in their first ever Pepsi Midget Nationals, with Meseraull turning in the best feature finish.
—-Badger Micro drivers Chad Bogar (RAB No. 57x), and Jason Treault (Manic No. 11x) made their midget debuts on Saturday.
—-Five-time event winner Kevin Olson finished in 15th position, and becomes the only driver to run in all four decades of the event.
Photo Gallery