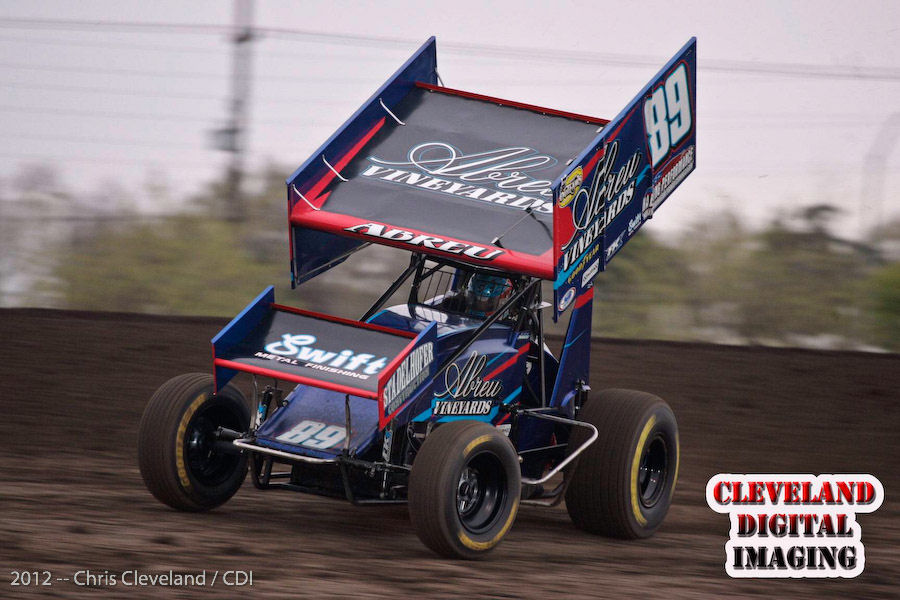 PETERSEN MEDIA
Following a strong run with the Civil War Series a little over a week ago, Rico Abreu and his Abreu Vineyards team went to battle with the series again on Saturday night at the Petaluma Speedway and scored a very strong second place finish.
Starting in the sixth spot for the feature event, the St. Helena, CA driver wasted no time getting to the front as he rocketed into the third spot on the second lap as he got past Billy Butler and Kyle Hirst.
Following a red that saw Hirst get upside down, Abreu moved into the second spot on the lap three restart as he made quick work of Art McCarthy, and set his sights on race leader, Andy Forsberg.
The two leaders put on a very entertaining battle, though Forsberg seemed to be better on this night, as he kept a very relentless Abreu at bay. Pulling alongside the series point leader several times, Abreu couldn't make anything stick to take over the lead.
With the white flag out, Abreu looked to throw a last lap slide job on Forsberg, but thought better of it at the last second and held on to the second spot.
"We had a great car tonight," said Abreu. "We chased some things last week, but I think Paul Silva and my guys found something at Antioch, and we were able to work off of that tonight. We had a shot at going for it on the last lap, but it might of taken both of us out, so I settled for second."
Rico started his night off by timing in second fastest with 35 cars checked in, and then proceeded to charge to third from his sixth place starting spot in his heat race.
Rico and his team would like to thank Abreu Vineyards, Toyota, ButlerBuilt,, Outlaw Wings, and Petersen Media for their partnership.
ON TAP: Rico will now climb back aboard his potent Keith Kunz Racing midget and take part in the Four Crown Nationals on Saturday night at the Eldora Speedway.
STAY CONNECTED: Stay updated with Rico by visiting his website at www.ricoabreuracing.com, 'liking' him on facebook at www.facebook.com/ricoabreuracing or following him on twitter @RicoAbreu.
VIDEO: Be sure to check out http://www.youtube.com/ricoabreuracing for video of Rico, as content is constantly being uploaded!