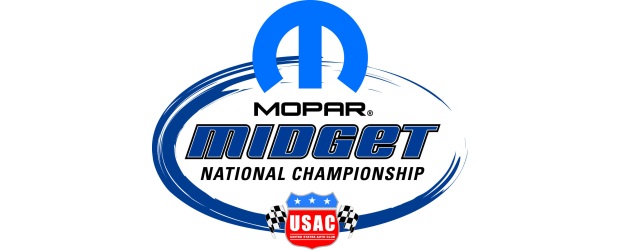 By Dick Jordan
Two years ago Darren Hagen dominated the DuPont "Gold Crown Midget Nationals" in impressive fashion, sweeping all three nights of the annual Mopar USAC National Midget extravaganza. He'd like nothing more than to do an encore this weekend at Tri-City Speedway in Pontoon Beach, Ill.
Hagen is well on his way to his first series championship, holding a 207-point edge over runner-up Tracy Hines going into this Thursday, Friday and Saturday's events. The Riverside, Calif. driver also leads the dirt track standings by 78 markers over Chris Windom.
Hagen was unstoppable in 2010 at the 3/8-mile dirt oval. He enters this year's "Gold Crown" in the RFMS Racing Liberty Village/McGladrey & Pullen DRC/Esslinger, already having logged in four feature wins, a second, two thirds, four fourths and a pair of fifths.
It's been eight years since a driver won the USAC National Midget title with a larger margin of victory than Hagen's 207-point edge. Bobby East obliterated Josh Wise by a whopping 472 points.
Hagen fell 16 points shy of Bryan Clauson last year and in 2007 fell just 71 points short of eventual titlist Jerry Coons Jr. Last year, Hagen started the "Gold Crown" by winning the 25-lap prelim, but he was seventh behind Kyle Larson in the second prelim and eighth behind "Gold Crown" champion Levi Jones. Jones will be unable to defend his title, recuperating from recent neck surgery.
Jerry Coons Jr. won the inaugural "Gold Crown Nationals" in 2008, while rain halted the 2009 event.
The three-night program offers $10,000-to-win for Saturday's finale, with Thursday and Friday night victories worth $3,000 each.
The "Gold Crown Nationals" will also figure into the 2012 USAC National Drivers Championship standings, with each night's program offering full points. Bryan Clauson, the 2010 and 2011 titlist, continues to lead the 2012 rankings.
2012 MOPAR USAC NATIONAL MIDGET POINT STANDINGS
1-Darren Hagen-1,079, 2-Tracy Hines-872, 3-Bryan Clauson-851, 4-Caleb Armstrong-758, 5-Kyle Larson-671, 6-Bobby East-644, 7-Brad Kuhn-630, 8-Mario Clouser-599, 9-Rico Abreu-583, 10-Chris Windom-568.
2012 MOPAR USAC NATIONAL MIDGET DIRT POINT STANDINGS
1-Darren Hagen-646, 2-Chris Windom-568, 3-Bryan Clauson-528, 4-Brad Kuhn-523, 5-Jerry Coons Jr.-519, 6-Tracy Hines-488, 7-Kyle Larson-435, 8-Davey Ray-403, 9-Caleb Armstrong-350, 10-Rico Abreu-346.