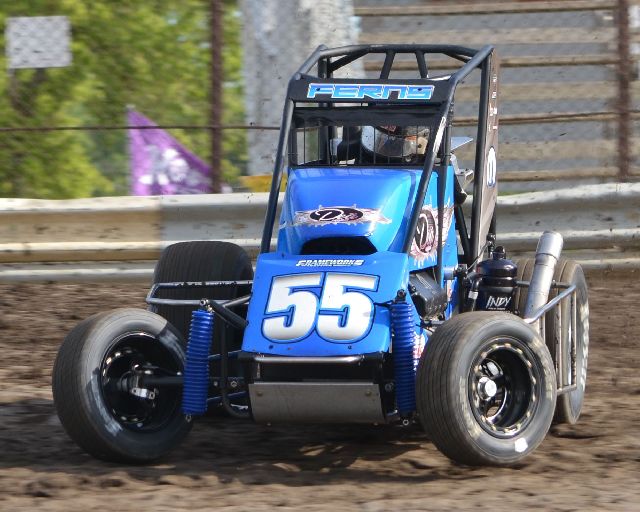 By Ferns Racing PR
Shelby Township, Mich.—October 4, 2012 — Taylor Ferns will always remember the 2011 Gold Crown Midget Nationals at Tri-City Speedway in Pontoon Beach, Ill. After all, that's the event and track at which she made her USAC Mopar National Midget Series debut at last year and won the first-ever heat race she competed in with the series.
The 4th DuPont Gold Crown Midget Nationals will kick-off for Ferns aboard her family-owned No. 55 Dea Eyewear Spike on Thursday, Oct. 4, with a full night of racing, including a 25-lap preliminary feature. The three-day event continues on Friday, Oct. 5, with another complete racing program highlighted by another preliminary feature. The weekend culminates on Saturday, Oct. 6, with a 50-lap, $10,000-to-win A-Feature.
"I learned quite a bit about racing at Tri-City last year," said Ferns. "I'm used to running on a lot of tracks that have a heavy cushion and Tri-City had a very thin cushion and went dry/slick, so you have to drive it a little different than other tracks. Having three nights there will help a lot again this year to get a feel for the track. You can take things you learn each night and apply them the next night."
In her USAC Mopar National Midget Series debut last season during the opener of the Gold Crown Midget Nationals, the native of Shelby Township, Mich., won the fourth eight-lap heat race to earn a spot in the 25-lap preliminary feature. Ferns would finish 16th in the main event, with a star-studded 54-car field in attendance. On the second night of the marquee event, she transferred from the first C-main into the B-main, where she finished 16th. The high-school junior wrapped up the three-day event with a 13th-place showing in the second B-main.
"Winning the heat race in my first USAC National Midget start last year really boosted my confidence," she noted. "There were so many good cars there, and being able to win a heat, let alone in my first heat race with the series, that was a good accomplishment."
Ferns, the reigning USAC Mopar D1 Midget Series champion, made her most recent start during the 4-Crown Nationals at the famed Eldora Speedway in Ohio, a couple weeks ago. She finished 11th in the USAC Mopar National Midget Series portion of the famed event. Ferns opened the night by timing in 15th during qualifying and finished seventh in a very strong first heat race.
"Eldora was an awesome place to race at," Ferns shared. "I had a lot of fun there. The track itself is really not all that hard to drive, but the challenging part is getting in the right mindset to run as close to the wall as you have to, at the speed you are going for the whole race. It was a great experience and I learned a lot running there that should help me the rest of this year."
The 16-year-old has spent a large portion of the 2012 season competing on the dirt in a midget, including contesting the full Indiana Midget Week for the first time in her young career. The start at Eldora, on the high-banked half-mile, marked the largest dirt track that Ferns has competed on in her career, with Tri-City Speedway, a three-eighths-mile, being the second-largest.
"There are going to be a lot of cars at Tri-City again this year, but I really try not to think about that," explained the winningest female in USAC history. "You have to treat it like any other race and focus on your car and what you need to do as a driver and hopefully the results will come your way. I try to approach each race with the same mindset and be as prepared as I can."
In addition to racing in a number of events with the USAC Mopar National Midget Series this season, Ferns has been in action with the POWRi Lucas Oil National Midget Series and the Badger Midget Auto Racing Association. She also made three starts on the pavement with the USAC Traxxas Silver Crown Series, finishing 10th in her debut with that series at Iowa Speedway and she also made four starts in an asphalt late model earlier this year, finishing 10th in her debut in a full-bodied stock car as well.
Taylor Ferns and Ferns Racing would like to thank their valued partners: Dea Eyewear, eBay Motors, FK Rod Ends, Frameworks Marketing Group, Lucas Oil, K&N Filters, Lansing Sanitary Supply (LSS), Simpson Race Products, Indy Race Parts, ButlerBuilt, Allstar Performance, Stanton Mopar, Lyn St. James Women in the Winner's Circle Foundation, Race4Girls and Racing2Cure.
###
Keep up to date
For the latest news, results and information on Taylor Ferns and Ferns Racing and to view a full 2012 schedule, visit www.TaylorFerns.com. Follow Taylor on Twitter at www.Twitter.com/TaylorFerns or @TaylorFerns and on Facebook at http://www.facebook.com/pages/Taylor-Ferns/116543998373.