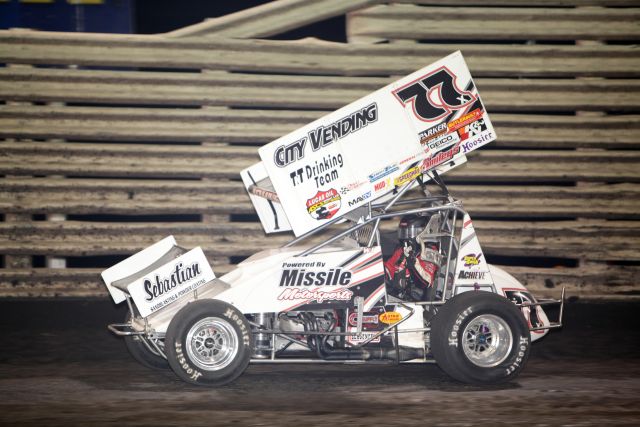 By Bill W
October 3, 2012 – After a busy schedule for the past few months, Wayne Johnson will be taking the weekend off. Last Friday and Saturday he ran fifth and seventh with the Lucas Oil ASCS National Series in the Jesse Hockett/Daniel McMillin Memorial at the Lucas Oil Speedway near Wheatland, Missouri.
Wayne drew outside row two for his heat, but ended up starting on the front row and winning his heat in Friday's preliminary. "We got a break when the guy on the front row couldn't start," he says. "We won, but we weren't very good to be honest. We really struggled on Friday night."
The Knoxville, Iowa driver lined up * in the main event. "It was pretty heavy and rough," says Wayne. "Everyone was running around the bottom. I started moving around to try to get some lapped cars and just screwed up towards the end."
The Wayne Johnson Racing #77x team had been chasing their setup all night, and they would checker fifth. "We kept messing with the car throughout the night to try and make it better," says Wayne. "The driver just made a couple of mistakes towards the end of the race in lapped traffic. That's how Shane (Stewart) got by me for the locked in spot at the end."
The draw saw Wayne start Saturday's heat on the pole. He would win going away. "Our lap times were pretty good in the heat," he says. "I felt pretty good about the car. It was feeling good."
The run was good enough for a starting spot outside of row six. He would climb five spots in the finale. "We made some adjustments to the car," says Wayne. "It was rubbering up pretty quick out there. Being able to go from 12th to 7th on that track wasn't too bad to be honest."
This weekend will allow for time to get the racecar ready and get some needed rest. The team's next action will be October 11-13 at the Lonestar Nationals at Lonestar Speedway in Kilgore, Texas. A busy October also sees big shows at the Devil's Bowl Speedway in Mesquite, Texas and the I-30 Speedway near Little Rock, Arkansas. "I think we'll take the week off," says Wayne. "We have a lot of big races coming up, and it will be good for us to get things organized heading forward."
Follow Updates on Facebook!
Wayne will update as his race night goes on at his Facebook page. Find it by searching for Wayne Johnson Racing or clicking the following link…
http://www.facebook.com/#!/WayneJohnsonRacing
Outlaw Wings – "The Wing with an Attitude"!
Check out the new "recessed rivet" design put out by Outlaw Wings. Talk to Wayne about purchasing Outlaw Wings for your car! Outlaw Wings – "The Wing with an Attitude"!
Wayne's World
Got a question for Wayne? Each week, Wayne will answer your questions about "Tech Tips", or anything that's on your mind. If you ever wondered what a part on a sprint car is all about, send an e-mail to us at sprntcar@iowatelecom.net, and we may answer it in this section! Put "? for Wayne" in your subject line. He'll try to keep it clean if you do!
Wayne's Fast Facts
Wayne won eleven sprint car races in 2007. Incredibly, he won those eleven races in ten different states. The features that year bested the nine he won in 2001, and the eight he won in 2000 and 2005. Wins in 2007 came at North Florida Speedway (FL), Devil's Bowl Speedway (TX), State Fair Speedway (OK), Malden Speedway (MO), Susquehanna Speedway Park (PA), Clay Hill Motorsports (TN), North Central Speedway (MN), Knoxville Raceway (IA), Wilmot Speedway (WI), Langlade County Speedway (WI) and Columbus Speedway (MS).
Partner of the Week – Hoosier Tire Southwest
Hoosier Tire Southwest is located in beautiful Balch Springs, Texas. They can be reached at 1-972-289-RACE (7223). Call them if you have questions about purchasing Hoosier tires. All Hoosier tires are sold through Hoosier's extensive distributor network. Retail tire prices are set by individual distributors and dealers. The goal is to have the tires you need when you need them. The extensive Hoosier distributor network was developed to bring American made tires closer to the end user as well as provide product support on a local level using many tire experts. If you want to become a member of the Hoosier "family," contact them about arranging a purchase. Find them online at www.hoosiertire.com/DIST/disthtsw.htm!
"Wednesday's with Wayne"
"Wednesday's With Wayne" is an up close look at the past, present and future of colorful andtalented sprint car driver Wayne Johnson. You'll never know what to expect next with Wayne, so don't miss us on Wednesdays!
To receive "Wednesday's with Wayne", send an e-mail to sprntcar@iowatelecom.net with"Wayne" in the subject line.
Wayne Johnson Racing would like to thank Vern Rengen and Missile Motorsports, Sebastian Sandblasting & Powdercoating, City Vending, Outlaw Wings, Team Achieve, The Oil Medics, Century Signs, Smiley's Racing Products, Hoosier Tire Southwest, Simpson, Butlerbuilt, Super Shox, Maxim, Speedway Motors, Rod End Supply, Schoenfeld Headers and RCM Design.