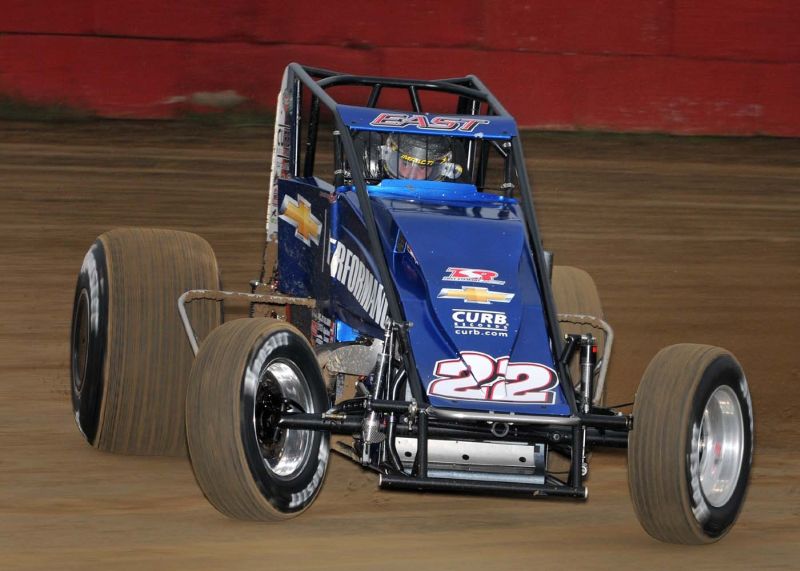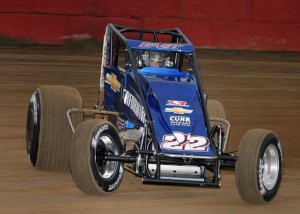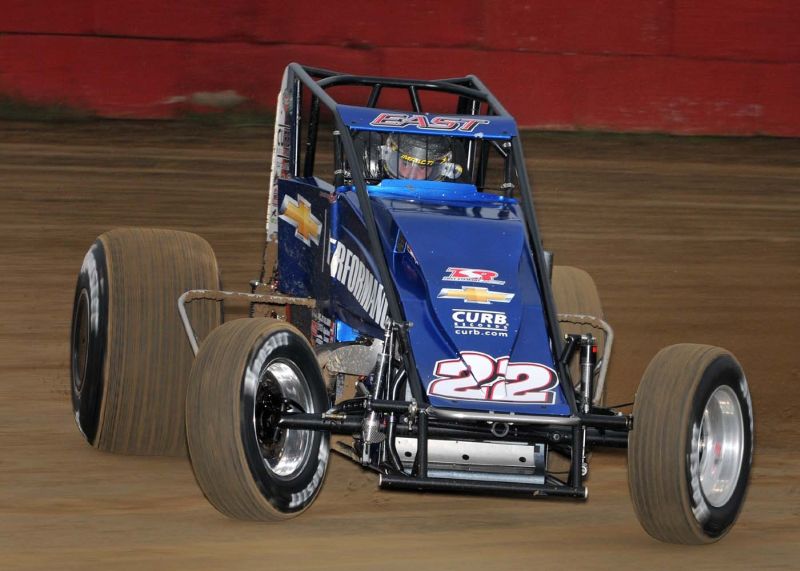 From Tony Stewart Racing
Brownsburg, IN — (October 15, 2012) —  Bobby East captured his first USAC Traxxas Silver Crown Series championship in style by dominating the Sumar Classic 100 Saturday night at the Terre Haute (Ind.) Action Track. The Tony Stewart/Curb-Agajanian Racing driver led all 100 laps and crossed the finish line 12.571 seconds ahead of runner-up Jerry Coons Jr. The victory was East's second this season in Silver Crown but first on dirt.
East became the 31st series champion in Silver Crown's 41-year history, and continued a run of Silver Crown driver's championships for the team as Tony Stewart/Curb-Agajanian Racing's Levi Jones earned back-to-back Silver Crown titles in 2010 and 2011.
"It's an awesome feeling that hasn't fully set in yet," said East, driver of the No. 22 Chevrolet Performance/Curb Records/Maxim. "I didn't even think about it being my first dirt Silver Crown win until someone reminded me. To be part of Tony Stewart/Curb-Agajanian Racing is an honor. This organization does so much for the sport and to be able to win this title with Chevrolet Performance and Curb Records behind me just makes it that much more special.
"This crew (John Sayne, Brad Mariscotti and Scott Benic) is awesome. Everyone is just awesome to work with on this team. Levi (Jones) coming out tonight to help us was also a huge part of our success. I knew he would be a big help. From the first hot-laps session to the last 10 laps of the race, he was helping me and giving me advice. He helped me figure out what I needed to change in order to make us good enough to win."
East entered Saturday's finale at Terre Haute with a four-point advantage over Coons. After qualifying second, East quickly took command of the race by beating polesitter Bryan Clauson back to the start-finish line on the opening lap. East never lost the lead despite numerous caution periods and restarts. Coons, meanwhile, kept his title hopes alive by climbing up to second after starting fifth, but he was never able to overtake East. The victory gave East a 412-400 advantage over Coons in the final standings.
The 2012 title continued a legacy synonymous with the East name and that of team co-owner Tony Stewart. Bob East Sr. and Stewart, the three-time and reigning NASCAR Sprint Cup Series champion, shared ownership of a team that captured four straight Silver Crown owner titles from 2002 to 2005. The 2012 campaign was the younger East's first as a member of Tony Stewart/Curb-Agajanian Racing.
"We're a racing family," said East, who grew up in Brownsburg. "My parents have helped me out and taught me so much. My dad helped us out on the pavement side a lot this season and his knowledge was definitely an asset. He was a big part of helping us win this championship. When you surround yourself with winners, you can become a winner. My family and this team definitely have a history of being successful, and they've been a huge source of support throughout the season."
Consistency is what earned East his first Silver Crown title and second in USAC, as East was the 2004 USAC National Midget Car Series champion. The 27-year-old began his 2012 Silver Crown title hunt in May with an 11th-place finish in the season opener at the Indiana State Fairgrounds in Indianapolis. He concluded the eight-race season with two victories, one pole, six top-five finishes and one top-10. His lone victory prior to Saturday night came on pavement in a 100-lap feature June 22 at Iowa Speedway in Newton.
Stewart, who on Saturday night was preparing for the fifth race of the 10-race Chase for the NASCAR Sprint Cup at Charlotte (N.C.) Motor Speedway, offered East perspective prior to the Silver Crown season finale.
"Tony sent me a text Saturday afternoon telling me to go have fun," East said. "He told me we'd done all we could do and that I just needed to go have fun and do the best I could in the last race. Getting that message from him really set the tone for the way I approached this race. He's been in this position many times and hearing from him made me relax and not over-think the moment."
Upon hearing the results of the race in Terre Haute, Stewart smiled with pride as his grassroots racing organization racked up another championship.
"It takes a lot to win a championship," said Stewart on Sunday. "Everyone at TSR and Curb-Agajanian take a lot of pride in winning championships, and I can't say enough how proud I am of Bobby and the entire team for winning this Silver Crown championship. The USAC Silver Crown Series is one of the most competitive in all of racing.
"To win another championship with Curb Records and Chevrolet Performance makes this even more special. We can't compete at a championship level without these partnerships. Winning this championship is an accomplishment I'm really proud of, and the same is true for everyone associated with TSR."