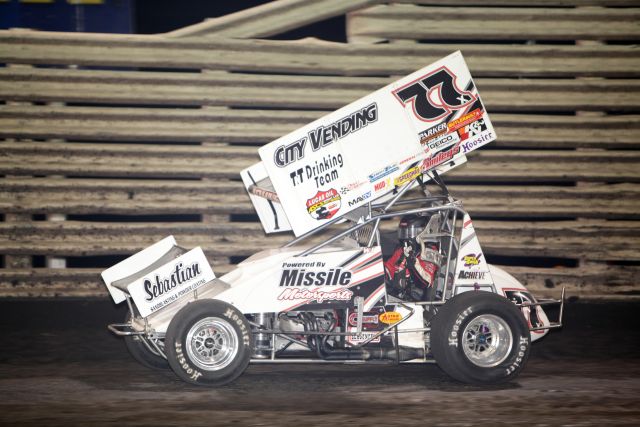 By Bill W
October 17, 2012 – When it was all said and done at the 2nd Annual Lonestar Sprint Nationals, Wayne Johnson stood in Victory Lane with the $13,000 check. The event at the Lonestar Speedway near Kilgore, Texas saw 50+ of the best in the 360 business doing battle on the high banks. This weekend, the Knoxville, Iowa driver will try to keep it rolling in Texas at the Devil's Bowl Speedway near Mesquite.
Wayne started things out right in Thursday's prelim with a heat win from outside of row one in the Wayne Johnson Racing #77x. "The car was pretty good there in the heat," he says. "The track was pretty rough, so it helped that we drew a good number. That put us in the redraw."
He would start outside row two in the main event and got as far forward as second. "There was nothing spectacular that night," says Wayne. "The racetrack was rough and that put me in ride mode to make sure we were locked in for Saturday. I didn't want to push the issue."
He would checker third and lock himself into Saturday's finale. "I was running second for a while and Shane (Stewart) slid me," he says. "I tried to throw some moves back on him, but the track was rough and I didn't want to take any chances."
The draw for Saturday's big finale did not go the best, but in the end, it was the perfect spot to start. "We drew the seven," says Wayne. "Before there was ever one lap in, we were starting on the pole! Those guys were crashing and wrecking…I mean it was crazy."
Wayne took off from the pole and led all forty laps. "After we got going, we were pretty good," he says. "Doug (Rankin) talked me into a little harder tire, and that ended up winning us the race, 'cause it was used up at the end."
Wayne is glad he brought Rankin along. "I just didn't think the track would be that abrasive on the tires," he says. "It was a forty-lap race, and it was the right call. It worked out. I think on the longer runs, the softer tires got worse and the harder ones got better."
Though some complained about the roughness, Wayne didn't. He took a spill in 2011 on the first night of the event and was done for the weekend. "The track was the best it had been all week on Saturday," he says. "Some guys were complaining about how rough it was, but it wasn't anything compared to Thursday, or last year."
Follow Updates on Facebook!
Wayne will update as his race night goes on at his Facebook page. Find it by searching for Wayne Johnson Racing or clicking the following link…
http://www.facebook.com/#!/WayneJohnsonRacing
Outlaw Wings – "The Wing with an Attitude"!
Check out the new "recessed rivet" design put out by Outlaw Wings. Talk to Wayne about purchasing Outlaw Wings for your car! Outlaw Wings – "The Wing with an Attitude"!
Wayne's World
Matt Sandy asks: How do you feel about Knoxville's decision to go to Hoosier Tires for 2013 and beyond?
Wayne answers: Well, I like it. It sure makes it easy for me to come into town and race. Before, I had to buy Goodyear tires to do it. There was one night this year that I could have raced, but that was after they went to Goodyear on all four corners. I didn't have all four corners, and I didn't want to buy them and let them sit. It's good for me anyway. I think an open-tire would work for a lot, but Hoosier has been good to me.
Got a question for Wayne? Each week, Wayne will answer your questions about "Tech Tips", or anything that's on your mind. If you ever wondered what a part on a sprint car is all about, send an e-mail to us at sprntcar@iowatelecom.net, and we may answer it in this section! Put "? for Wayne" in your subject line. He'll try to keep it clean if you do!
Wayne's Fast Facts
Wayne's eleven wins in 2008 marked one of his most successful years and gave him 123 in his career up to that point. He didn't start running Knoxville Raceway (IA) on a regular basis until 2002, but already owned six 410 wins at the famous ½ mile including a Nationals prelim that season. He also had eight 360 wins there, bringing his win total at the time at the Sprint Car Capital of the World to 14.
Partner of the Week – Simpson Performance Products
Simpson Performance Products is headquartered in New Braunfels, TX with more than 80,000 sq. feet of manufacturing and warehouse space. Many of our restraints, helmets and flagship parachutes are manufactured and tested right here. Simpson fire suits and crew uniforms are manufactured outside of Los Angeles, CA in our 52,000 sq. foot facility. Simpson also employs the largest customer service and sales team devoted solely to servicing NASCAR customers of any racing safety supplier, based in the heart of NASCAR country, Mooresville, NC. Visit us online at www.TeamSimpson.com!
"Wednesday's with Wayne"
"Wednesday's With Wayne" is an up close look at the past, present and future of colorful andtalented sprint car driver Wayne Johnson. You'll never know what to expect next with Wayne, so don't miss us on Wednesdays!
To receive "Wednesday's with Wayne", send an e-mail to sprntcar@iowatelecom.net with"Wayne" in the subject line.
Wayne Johnson Racing would like to thank Vern Rengen and Missile Motorsports, Sebastian Sandblasting & Powdercoating, City Vending, Outlaw Wings, Team Achieve, The Oil Medics, Century Signs, Smiley's Racing Products, Hoosier Tire Southwest, Simpson, Butlerbuilt, Super Shox, Maxim, Speedway Motors, Rod End Supply, Schoenfeld Headers and RCM Design.