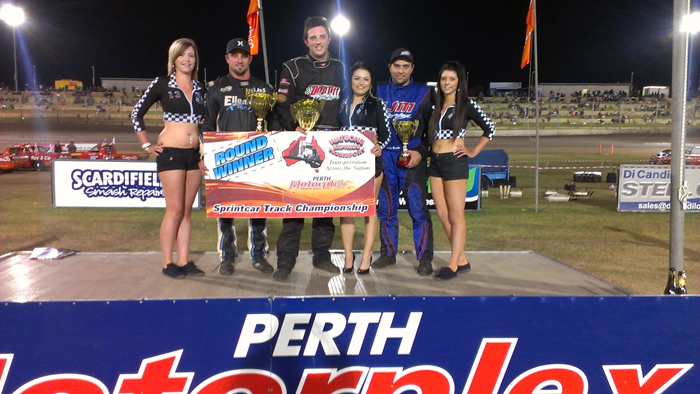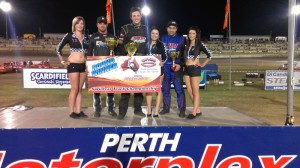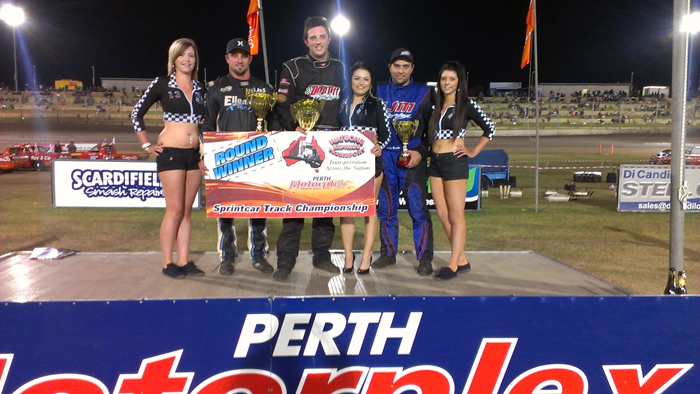 Perth, AU — (October 20, 2012) — Cameron Gessner has started his relationship with the Steve Duggan-owned sprintcar team in the best possible fashion at the Coates Hire Grand Opening Showdown.
Gessner won the first round of the Watsons Express Transport Sprintcar championship from Ben Ellement and Jamie Maiolo.
"The thing was going around there really well," Gessner said after he started on the second row.
Ellement started on the front row with Kye Scroop and was locked in an intense duel with Gessner for much of the 25-lapper.
"We were coming on there towards the end," Ellement said.
Maiolo, who struggled with the #99 machine for much of the night, put in a huge effort after starting 17th on the grid and staying out of much of the trouble in front of him.
"It was just one of those nights," Maiolo said.
"It was a good job to end up on the podium after the way the night started out."
It was a disappointing end for Scroop who was one of the quickest all night and deserved his front row start.
Unfortunately he ran too high and went over in pits bend on the first lap.
Moments later Trent Pigdon and Rob Watson came together and spun their way down the main straight.
David Priolo, who started seventh, was looking forward to a podium finish before he suffered a flat rear tyre at the same time Lee Nash, Mark Wells, Shaun Bradford and Jason Kendrick all stopped with the last three pushing for a top five finish.
Only Wells got a restart and finished sixth.
Callum Williamson, who started from third, held on for a well-deserved fourth with Nathan Brady (who started 13th) finished fifth.
Watsons Express Transport Sprintcars
Qualifying: Lee Nash 14.343, Kye Scroop 14.364, Trent Pigdon 14.398, Ben Ellement 14.457, Robert Watson 14.520, Mick Goode 14.542, Cameron Gessner 14.528, Shaun Bradford 14.611, Callum Williamson 14.623, Jason Kendrick 14.638, Nathan Brady 14.705, Mark Wells 14.754, Bradley Maiolo 14.807, Daniel Harding 14.847, Jason Boland 14.851, David Priolo 14.903, Sheldon Brady 14.932, Mat Muir 14.956, Jamie Maiolo 14.965, Dayne Kingshott 15.167, Ben Butcher 15.428.
Heat 1: 1st Bradley Maiolo, 2nd David Priolo, 3rd Jason Boland, 4th Ben Ellement, 5th Trent Pigdon, 6th Nathan Brady, 7th Shaun Bradford, 8th Dayne Kingshott, 9th Mick Goode. DNF: Robert Watson.
Heat 2: 1st Callum Williamson, 2nd Daniel Harding, 3rd Sheldon Brady, 4th Mark Wells, 5th Jason Kendrick, 6th Cameron Gessner, 7th Ben Butcher, 8th Jamie Maiolo, 9th Lee Nash, 10th Kye Scroop, 11th Mat Muir.
Heat 3: 1st Kye Scroop, 2nd Ben Ellement, 3rd Robert Watson, 4th Daniel Harding, 5th David Priolo, 6th Shaun Bradford, 7th Nathan Brady, 8th Callum Williamson, 9th Ben Butcher, 10th Mat Muir.
Heat 4: 1st Cameron Gessner, 2nd Mick Goode, 3rd Lee Nash, 4th Mark Wells, 5th Jason Kendrick, 6th Jamie Maiolo, 7th Trent Pigdon, 8th Dayne Kingshott, 9th Bradley Maiolo, 10th Sheldon Brady.
Top 8 shootout: Bronze: Callum Williamson 13.671, Mark Wells 13.894, David Priolo 13.947, Mick Goode 14.137. Silver: Callum Williamson 13.515, Kye Scroop 13.571, Mark Wells 13.596, Daniel Harding 13.789. Gold: Ben Ellement 13.097, Kye Scroop 13.237, Cameron Gessner 13.373, Callum Williamson 13.426.
Feature: 1st Cameron Gessner, 2nd Ben Ellement, 3rd Jamie Maiolo, 4th Callum Williamson, 5th Nathan Brady, 6th Mark Wells, 7th Mick Goode, 8th Bradley Maiolo, 9th Daniel Harding, 10th Ben Butcher, 11th Sheldon Brady, 12th Jason Boland. DNF: David Priolo, Shaun Bradford, Jason Kendrick, Lee Nash, Mat Muir, Trent Pigdon, Robert Watson, Kye Scroop and Dayne Kingshott.
It was a race of attrition in the first round of The Pool Shop Kalumunda Speedcars with Dene McAllan surviving the battle to win the round.
He was locked in an entertaining race with Scott Glazebrook before the latter tagged the wall and the race was declared.
Glen Mears was second with Daniel Golding third.
"It has been a long winter for us," McAllan said.
"We have a good consortium of people who have got on board this year."
McAllan was also happy with his motor program, saying "it is where we want it to be."
Mears said he was a bit surprised to be on the podium and "luck just went our way".
The start of the feature race was marred by a big crash involving Bryn Lake, Travis Whyte and Alfonso Guadagnino.
Then on a restart Neville Lance had a soft roll in pits bend and despite getting a restart he withdrew from the battle shortly afterwards with an ill-handling car.
Race 1: 1st Neville Lance, 2nd Scott Glazebrook, 3rd Dene McAllan, 4th, Daryl Clayden, 5th Glen Mears, 6th Alfonso Guadagnino, 7th Travis White, 8th Bryn Lake, 9th Daniel Golding. DNF: Karl Prall, Dayne Kingshott and Perry Farcich.
Race 2: 1st Dayne Kingshott, 2nd Scott Glazebrook, 3rd Dene McAllan, 4th Daryl Clayden, 5th Alfonso Guadagnino, 6th Neville Lance, 7th Bryn Lake, 8th Travis White, 9th Glen Mears, 10th Daniel Golding, 11th Karl Prall. DNS" Perry Farcich.
Race 3: 1st Dene McAllan, 2nd Dayne Kingshott, 3rd Glen Mears, 4th Daniel Golding, 5th Karl Prall. DNF: Scott Glazebrook, Neville Lane, Alfonso Guadagnino, Bryn Lake, Travis White, Perry Farcich and Daryl Clayden.