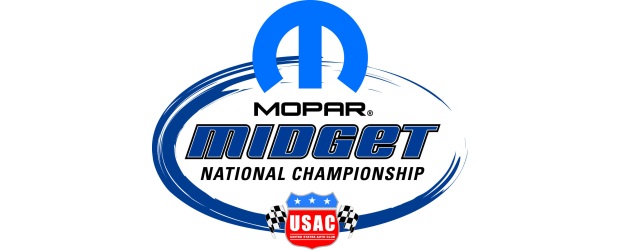 By Dick Jordan
Darren Hagen's path to the 2012 USAC Mopar National Midget Championship winds through Arizona this weekend as Canyon Speedway Park in Peoria hosts the "Western Classic" Friday and Saturday.
Hagen, of Riverside, Calif., has a 184-point lead over runner-up Tracy Hines with 222 points remaining in the remaining three races. The series concludes November 22 in the "Turkey Night Grand Prix" at Perris (Calif.) Auto Speedway.
Hagen also leads the sub-series dirt and pavement points since he has been proficient on both surfaces in his RFMS Liberty Village/McGladrey & Pullen entries. In 21 appearances so far this season he has two dirt and two pavement wins, a dirt second and thirds on both dirt and pavement. He's only finished out of the "top-10" three times.
Hines, who now ranks fourth in USAC's all-time National feature winner list with 83 in the three USAC National series, has three Midget wins in 2012 to go with three thirds. Third-ranking National Midget driver Bryan Clauson has won twice, added three seconds and a third.
Brad Sweet won USAC's last National Midget race in the Grand Canyon State, in 2010 at Tucson. A victory by Tucson's Jerry Coons Jr. at Peoria would tie A.J. Foyt and Dave Steele as USAC's winningest driver in Arizona history. A sweep of both Peoria wins by Coons would put him with a record nine Arizona USAC victories.
2012 MOPAR USAC NATIONAL MIDGET POINT STANDINGS
In
1-Darren Hagen-1,152; 2-Tracy Hines-968; 3-Bryan Clauson-924; 4-Caleb Armstrong-831; 5-Kyle Larson-791; 6-Brad Kuhn-741; 7-Bobby East-732; 8-Rico Abreu-691; 9-Chris Windom-670; 10-Jerry Coons Jr.-636.
2012 MOPAR USAC NATIONAL MIDGET DIRT POINT STANDINGS
1-Darren Hagen-719, 2-Chris Windom-670, 3-Jerry Coons Jr.-636, 4-Brad Kuhn-634, 5-Bryan Clauson-601, 6-Tracy Hines-584, 7-Kyle Larson-555, 8-Davey Ray-499, 9-Rico Abreu-454, 10-Caleb Armstrong-423.