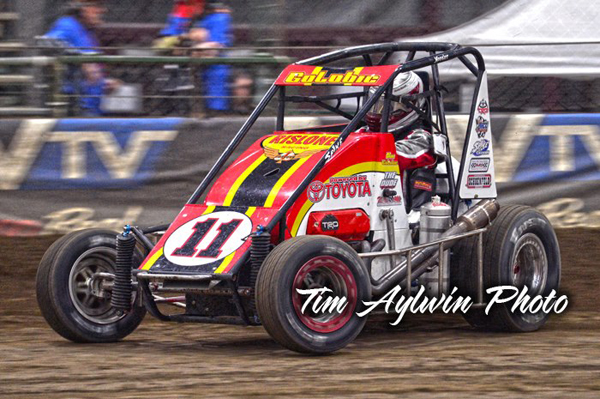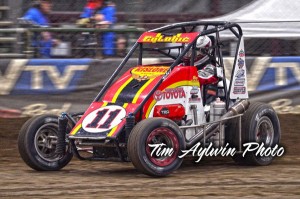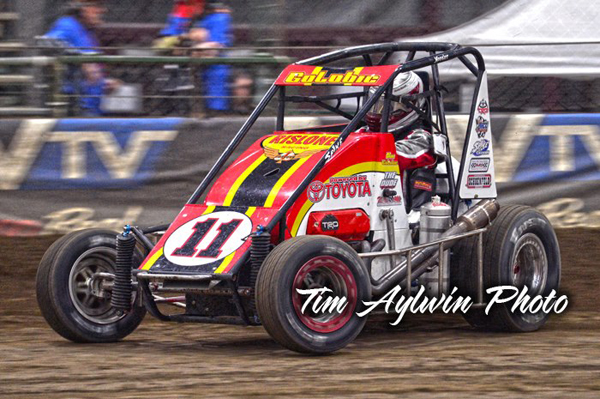 From Steven Blakesley
Fremont, CA — (January 15, 2013) — Taking advantage of a tremendous opportunity to drive for Wilke-Pak Motorsports, Fremont's Shane Golobic finished seventh in the feature for the 2013 Chili Bowl Midget Nationals in Tulsa, OK last week. Golobic went up against a field of more than 270 entries from around the world as the drivers jockeyed for a position in the 24 car, 55 lap feature on Saturday night.
The seventh place performance is Golobic's best in six career Chili Bowl appearances and gives him great momentum along with national recognition as he prepares for a busy 2013 season.
"It's definitely one of the best weeks of my career so far," Golobic said. "We've had some pretty good success at the Chili Bowl but this year everything kind of fell into place just right. It's something I'll never forget and hopefully we'll keep improving on it in the future!"
Golobic ran a tribute paint scheme to the 1968 Indianapolis 500 car driven by legendary Bobby Unser. Unser met Golobic on Friday afternoon to encourage the team and sign the car.
After a successful set of hot laps in Monday practice, Golobic turned his focus on the Wednesday night qualifying night. Golobic won his heat race from the outside pole, and then charged from fourth starting position to finish second in the A Qualifier. Those performances placed the San Jose State engineering student sixth for the 25 lap feature where he finished fifth.
That fifth place run set up Golobic to participate in the 15 lap B Feature #2 where he finished second to lock himself into the 55 lap Chili Bowl Midget Nationals feature that night. Racing against a tough field and tough track conditions, Golobic worked himself up to the fifth position before eventually falling to seventh at the checkers.
"Wilke Pak gave me a really good car for the feature setup wise, especially during the middle laps when the track was racy," Golobic said. "(The track) ended up taking rubber and at that point it was just survival. We were actually running fifth with about five to go and lost two spots to Jerry Coons and Dave Darland but we're happy with the top-ten finish."
Golobic will return to his studies at San Jose State at the end of the month before his racing season begins in earnest in March.
A complete schedule of events for Shane Golobic Racing will be posted on his website when available. Sponsorships are still available with Shane Golobic by contacting him through shane@shanegolobic.com
Shane Golobic racing is sponsored by Country Builders with a special thanks to Joe Vonschriltz, Wilke-Pak Motorsports, Keith Day, Doug Bock, and Steve Osborne for the support. Race fans can follow Shane Golobic on Twitter @ShaneGolobic or on his website at www.ShaneGolobic.com