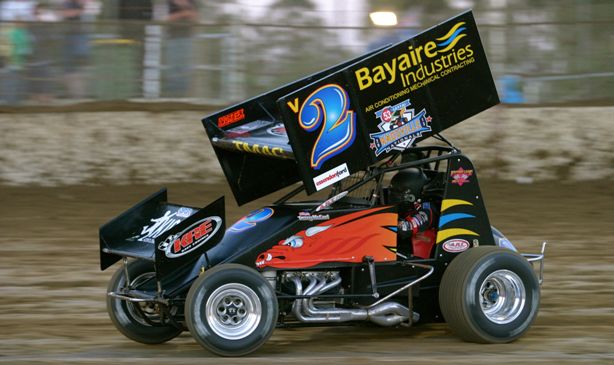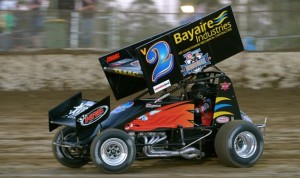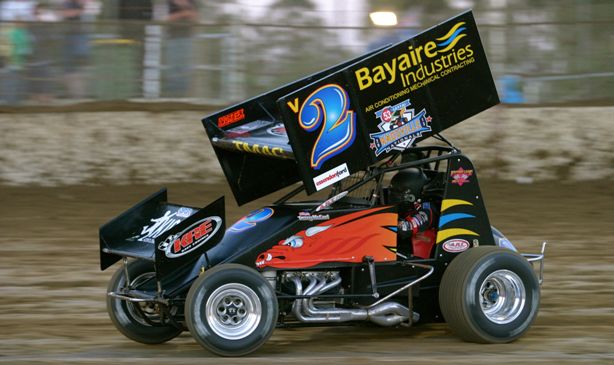 From Bill W
February 5, 2013 – Terry McCarl had a successful trip "Down Under" culminating in a second place finish at the Grand Annual Sprintcar Classic in Warrnambool, Victoria, Australia aboard the Bayaire Industries #V2.  Preparations are underway back in the States for the World of Outlaws opener at Volusia Speedway Park.
TMAC jelled well with a team he had never met.  "I had a great time," he says.  "I had never met (owner) Colin Bulmer.  He owns Bayaire Industries.  Shane (Stewart) won the Classic for him in 2010, and he threw my name in the hat, so I have to thank him.  Colin is a great guy.  His crew chief Sean, Wayne-o, Mick and Riley are all super great guys who worked hard and gave me everything I needed."
The growing pains usually evident with a new team were just not there.  "Whenever you drive for someone, it's all brand new," says TMAC.  "There are usually bugs.  There was nothing like that.  We started the car at the shop and nothing was leaking, and the brakes were working great.  That shows you what a good crew and team they have there."
In preparation for the Classic, the team ran the President's Cup at Avalon Raceway in Melbourne, Victoria.  "We ran well," says TMAC.  "I felt so good in hot laps, I about lapped the field!  The car was so good.  We qualified sixth.  It's kind of a tight round racetrack.  You get no points for qualifying and we ended up in the B main."
After running from seventh to third in the B main, TMAC moved through the feature field to a top ten finish.  "Sean made a little change before the B main, and it really made things more comfortable," he says.  "Unfortunately, time was short and we didn't get the right tire on for the feature.  We started in the back and got up to ninth, but we sealed the right rear up and didn't go any further."
Saturday and Sunday, January 26 and 27 marked the 41st running of the Classic at Sungold Stadium Premier Speedway.   "I'd liken Warrnambool to a combination of Huset's and East Bay," says TMAC.  "Those are two of my favorite racetracks.  It's kind of round like East Bay, but you have to race it like Huset's…right on the concrete fence.  I've always felt comfortable there.  I think I've been there five times, and we haven't ever run a B main I don't think."
Things went satisfactorily in qualifying on Saturday.  "It's always a tough race," says TMAC.  "I think there were 102 cars.  They split the cars into two groups and we were in the second set of time trials.  I drew 20, which means I was in the 20th set of two cars in my group.  To qualify twelfth made me happy.  It had really dried off.  The car was awesome and felt great."
After winning his first heat, TMAC came back in the second and ran from the back to a runner-up finish.  He would start in the second row for the preliminary feature.  "I got up to second right away, and Steven Lines was leading," he explains.  "I thought we had something for him.  We kept having reds, and we went with a little too hard a tire that night.  It started sealing, and I got tight on the cushion.  We ended up losing a couple of spots and we ended up fourth.  It was a real solid night in points (3rd)."
In Sunday's finale, TMAC would run third in the first heat and come from the back to fourth in the second.  That would put him fourth in overall points, starting outside of row two in the 40-lap main event.   "Tim Kaeding won opening night, and it was kind of a California kind of track," he says.  "I was able to get by Jason Sides and Steven Lines on the start.  I ran with Tim there for a while.  I thought I had a shot at him in traffic, and Steven Lines passed both of us!  We were three-abreast going into turn one.  That was pretty awesome for the fans."
TMAC disposed of Kaeding and set his sights on Lines.  "I got behind Steven, and felt pretty good," he says.  "I was a little tight early.  I was waiting for traffic and for the fuel load to get off a bit.  Every time we got in traffic, it seemed the yellow came out.  Later in the race, the track was just perfect.  There were plenty of grooves to run.  Late in the race, I thought I had a shot at Steven and the red came out one last time.  He was really good on the restarts, and we settled for second."
TMAC was thankful to be hooked up with such a good team.  "All in all, it was fantastic," he says.  "To run second in a car I'd never driven…it was good.  It was an A.R.T. chassis, which I'd never been in…I was really happy with the team and the motors and everything.  Hopefully, they will have me back next year and we can win the thing."
The fan in TMAC appreciates Australia's biggest sprint car event.  "David Mills and his staff at Warrnambool do an amazing job," he says.  "The whole event reminds me of the Nationals in the '70's.  It's the Nationals of Australia.  Any American who wants to go to Australia, needs to go to the Classic.  It's an amazing time."
The TMAC Motorsports #24 team will hit the track with the Outlaws in Volusia in two weeks.  "We plan to start there," says TMAC.  "We'll hit East Bay for the 360's, and then pick up with the Outlaws again in Las Vegas."
To check out opportunities to partner with TMAC Motorsports on a nightly basis, visit www.TerryMcCarl.com or call 515 957-0020!
Websites for the McCarl Gang!
Driverwebsites.com develops the websites for the McCarl boys. Check out www.TerryMcCarl.com, as well as www.AustinMcCarl.com and www.CarsonMcCarl.com!
Today in TMAC History!
TMAC has two career wins on February 5, and both are in Florida.  The first came in 1994 with the All Star Circuit of Champions at JAX Raceways in Jacksonville.  He took legendary Pennsylvania car owner Bob Weikert's #29 to victory lane ahead of Frankie Kerr, Kelly Kinser, Joey Saldana and Brian Tyler.  In 1997, he won an All Star race at Volusia driving Junior Holbrook's #8h.  Finishing behind him were Jim Nace (Weikert 29), Todd Shaffer, John Bankston and Kerr.