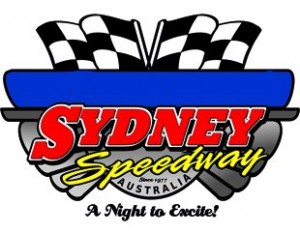 From Sydney Speedway
Sydney, AU — (February 9, 2013) — Max Dumesny has claimed round eleven honours of the Sydney Speedway Track Championship after a dramatic final lap.
After making her return to Sprintcar Racing, Kelly Linigen piloted her number four machine to pole position for the thirty lap main event. However after a troublesome start, the female racer quickly headed back to the pits with dramas sidelining her for the rest of the race. After starting out of the fourth spot, Dumesny was on a charge and by lap seven made his way to the head of the field. The race was highlighted by the incredible battle that went on for the minor placing's on the podium. Trevor Green, Roddy Bellbowen and Danny Reidy all went wheel to wheel lap after lap throughout the middle stages of the race. It was incredible to watch as they all three drivers not only battled for positions but battled through the lap traffic as well. Dumesny was under attack, with twelve remaining Bellbowen went for the slide job at turn one and made it stick, however just after he completed his pass the caution lights came on and the lead went back to Dumesny for the restart.
As the green flag dropped once again Dumesny got the start, but with only two laps to go Green found a way underneath Dumesny into turn one. Green shot away, the win was his, but on the last lap and on the final turn he lost the rear of the car, lopped himself around and the win was handed back to Dumesny right at the end. The crowed was left stunned but Dumesny was able to claim his second win of the season. James Thompson was a quiet achiever coming home in the second spot with Roddy Bellbowen placed third after an appeal was heard. coming home third to round out the podium. Matt Smith was awarded fourth and Trevor Green was fifth. Tunks, Walsh, Atkinson, Ferguson and Brady rounded out the top ten.
The prestigious Bendy 500 was dominated by Tony Irwin claiming the $1000 pay cheque and the life size trophy. Out of the twenty seven that started only eleven finished as they all fought it out in typical Fender Bender style.
It was a Brett one – two in the Legend Cars as Brett Morris took out the feature. Brett Mitchell tried to run him down in the closing stages but just didn't have enough underneath him.
A chaotic Super Sedan A-Main was one by Bernie Roberts with John Brown and Barry Towers rounding out the podium.
Next week the Sprintcars hit to the clay once again with another round of the Club Shows. Wingless Sprints, Street Stocks, Late Models and Microsprints are also on the program.