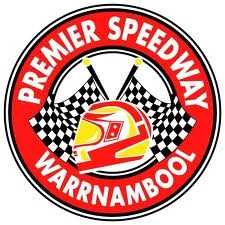 From Premier Speedway
Warnambool, AU — (February 22, 2013) — Local hero Jye Saunders vaulted to the point standings following a bruising opening night of the Heytesbury Stockfeeds Australian Wingless Sprint Title at Warrnambool's Sungold Stadium last night. Over 2 hours was lost due to persistent drizzle however the event was concluded with Saunders outrunning defending national champ Todd Wiggzell and northern rivers speedster David Eggins in third.
Saunders led every lap of the 20 lap preliminary feature despite pressure from Wigzell in heavy traffic that saw the pair make contact when Wigzell got a little too close the tail of the winner. Eggins held a charging pack at bay to finish third while Adam Butler stayed clear of Charlie Brown who raced to fifth.
Queensland champ Dan Moes finished a strong sixth ahead of Jack Lee, Rhys Baxter, Andy Hibbert and Victorian champ Jeff Judd in tenth.
James Wren came home 11th ahead of Mathew Balcombe, Stevie Trigg, Joel Chadwick, Glenn Watts, Mick Rigby, Tom Payet who faded after running strongly inside the top 10, Gary Bell and Sean McKeever rounded out the finishers.
Daniel Storer was the only non finisher in the A-main following a spectacular exit that saw the once immaculate #43 bicycle in turn 3 and then cannon into the concrete. Fortunately he walked away however he wasn't the only driver to come to grief during the night with several heavy crashes punctuating the night.
Chadwick won the last chance B-main to advance to the A-main while Bell, Watts and McKeever also transferred.
Tasmanian Josh Padman crashed out of the B-main when he and Luke McCutcheon got together with 3 laps to run.
The ensuing restart saw another spectacular exit, this time from Justin Barton when South Australian Daniel Obst tried an inside move in turn 1 that saw him make contact with the left rear of Barton sending him high into the night sky and into the catch fence. Luckless West Australian Scott Elst was also caught up in the accident.
Corey Pretlove and Chris Gallagher advanced from the C-main.
Saunders drove by Judd in the opening heat of the night to win convincingly ahead of the Victorian champ with Sean McKeever in third. The event will be remembered for the wild flip that severely damaged the chassis of young WA star Michael Keen when he clashed wheels with Skelton.
South Australian Robert Heard had a commanding lead in heat 2 before a bicycle in turn 3 sent him into the wall and out of the event. West Australian Scott Elst impressed as he romped from tenth to first finishing ahead of Adam Butler and ninth starting Wigzell.
Local Jake Smith won heat 3 ahead of a fast finishing Dan Moes with Daniel Storer in third in record time.
Heat four went to Charlie Brown who defeated Jack Lee and James Wren.
A front row start saw Wigzell power to the win ahead of Joel Chadwick and Daniel Obst with all three South Australians showing great speed in heat 5.
A mid race incident saw Dan Dubois flip out of heat six when leader Jason Langdon got crossed up, Sean McKeever was also involved. David Eggins would take the win from eighth finishing ahead of Lee and Baxter.
Heat 7 saw Adam Butler win from the front ahead of Rigby and Peter Temby. Aidan Corish changed a right rear before the race had started when he banged the wall in hot laps following the rain delay. Elst was also a casualty when he knocked the front end out while before the rain delay Elst was cruising out in front with heat 7 proving to be critical for the aspirations of Elst.
Moes led all the way in heat 8 finishing ahead of Saunders and Cole in the non stop event.
Rhys Baxter motored to the win in heat 9 finishing ahead of Mathew Balcombe and Wigzell in another non stop heat race.
Storer won heat 10 ahead of the consistent Rigby with Stevie Trigg in third while Judd managed to finish despite front end damage following minor contact.
Gary Bell won heat 11 ahead of Luke McCutcheon and Jack Lee but it was the damage sustained to Luke Cole's #12 following his shunt with the wall that proved how tough this night really was.
West Australian Tom Payet won the final heat race ahead of Andy Hibbert and Eggins in record time.
The V8 Dirt Modifieds were a welcome addition to the program with a good field putting on some excellent racing with Steve Milthorpe eventually taking the A-main win ahead of Dave May and Brett Clark.
Tonight will see the continuation of the Australian Wingless Sprint Championship with the second half of the competitors taking to the track for their qualifying night. Drivers such as former national champ Daryl Clayden, WA champ Daniel Keen, Victorian Sprintcar champ Darren Mollenoyux, Stephen Bell and Brett Milburn will all be on hand with hot laps beginning at 5pm and heat race action from 6.
Night 1 Points
Jye Saunders 78
Todd Wigzell 77.5
David Eggins 75
Jack Lee 74.5
Adam Butler 72.5
Charlie Brown 70
Dan Moes 69.5
Rhys Baxter 69
Daniel Storer 68
Mathew Balcombe 67
Andy Hibbert 64
Tom Payet 63
Mick Rigby 62
Jeff Judd 61.5
James Wren 59.5
Stephen Trigg 59
Joel Chadwick 54.5
Justin Barton 52
Gary Bell 50.5
Sean McKeever 48.5
Daniel Obst 47.5
Josh Padman 45.5
Luke McCutcheon 45
Bayden Knight 44.5
Glenn Watts 39.5
Dan Dubois 39
Heath Hunter 38.5
Sean Dicker 38
Warren King 36.5
Jonathan Cornwill 35
Peter Temby 34.5
Scott Elst 34
Corey Pretlove 32.5
Jake Smith 31
Ray Klemm 29.5
Jason Langdon 28
Luke Cole 24
Aidan Corish 20
Chris Gallagher 16
Karl Jason Skelton 11
Michael Keen 4
Robert Heard 0