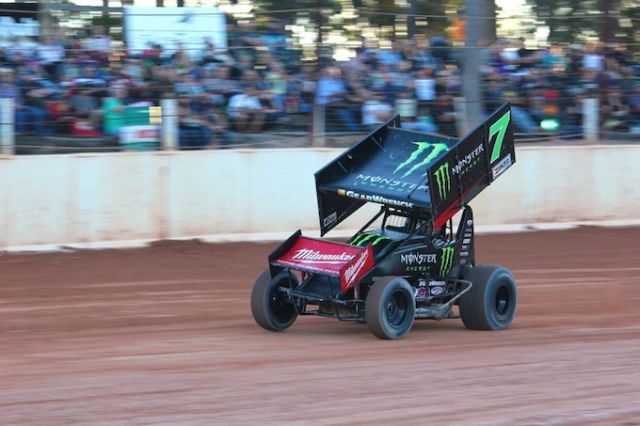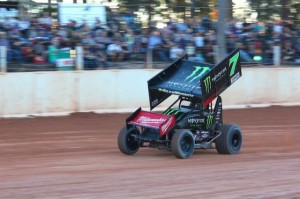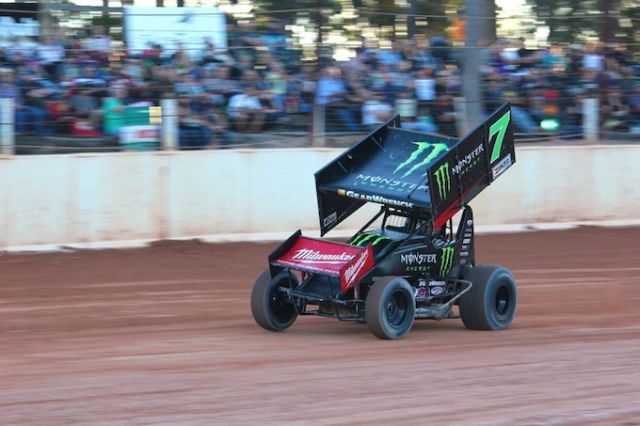 From Supercheap Archerfield Speedway
Brisbane, AU — (March 23, 2013) — American ace Shane Stewart was just too good for his rivals at Supercheap Auto Archerfield Speedway Saturday, racing to victory in round 10 of the KRE Race Engines Sprintcar Track Championship. Starting from position three in the 30-lap feature event, Stewart took his Monster Energy Maxim to the front on lap 5 and was never headed from that point, despite the best efforts of early leader Darren Jensen. In a perfect prelude to his upcoming Tri-City Challenge campaign, Stewart was precision personified as he charged to the chequer to yet add another feature race trophy to his collection.
Having stormed into the lead from the outside front row, Jensen had a significant advantage after just one lap, only to have the race halted when Peter Lack speared infield on the back straight. Jensen again shot clear of the field at the resumption, but it wasn't long before he was reeled in and relegated by Stewart. With a couple of interruptions for minor incidents, Jensen was able to remain within reach of the lead and, with Stewart mired deep in lapped traffic, he launched a final raid with two laps remaining. Jensen rounded up the leader on the outside through turn four, only to bounce over the cushion and lose momentum, which sealed the result in Stewart's favour.
Pole qualifier David Murcott was entrenched in third spot when he inexplicably spun in turn four with 9 laps remaining, taking 4th-placed Wanless and 6th-placed Ian Madsen with him. With the trio languishing at the rear of the field for the subsequent restart, previous round winner David Muir pounced to secure a third place result aboard the Titan Garages Maxim and make further inroads in the battle for the track championship title.
Bryan Mann, Andrew Scheurele and Kevin Titman completed the top six in advance of Lack, who bounced back strongly from his opening lap mishap, and Brock Dean.
Time trials kicked off proceedings and it was Wanless who set a cracking pace, stopping the clock at 11.236 to edge out Stewart (11.294), Murcott (11.344), Madsen (11.365) and Scheurele (11.532). In fact, such was the quality of the track surface, 18 of the 28 drivers clocked sub-12 second laps.
The six heat races, presented by Lucas Oils and Right Price Exhausts, saw wins shared between Jensen, Muir, Lack, Luke Tinson, Steven Johnson and TJ Hartman. Dan Murray was an early casualty when he tipped over in turn three in the opening heat. The only other incident came when Scott Doyle flipped in the same spot while leading heat five.
Wanless topped qualifying but drew position six for the Spanloc Dash, electing to have Scheurele start alongside on the back row for the 6-lap thrash. Jensen inherited pole position, alongside Murcott. Happy to take advantage of his opponents 'squabbling over points', Murcott outgunned Jensen to win, with Muir besting Stewart for third as neither Wanless nor series rival Scheurele could advance their position.
Lack took out the East Coast Logistics B Main, leading home Hartman, Adrian O'Connell and Brett Thomas. Unfortunately for the front row-starting pair of Johnson and Steven Rowell, an ill-tamed pass from the latter in turn three on the opening lap sent them crashing out.
Series leader Michael Kendall reasserted his authority in the Polar Ice Midget Series, leading throughout the 20-lap feature race. Todd Wanless pounced with two laps remaining to snare second spot ahead of Anthony Chaffey, while Troy Ware was impressive in advancing from ninth to finish fourth. Darryl Bonell, Mark George, Michael Harders, Matt Greenwood were next best head of Brett Thomas, who couldn't reproduce his brilliant from form the previous round.
In Dirt Modified action, Kevin Britten was again unstoppable as he scored his third consecutive feature race win. Despite a heat race crash that resulted in a rear-of-field start in the 20-lap feature event, Britten faced little resistance from a depleted field as he surged to the front to defeat Jai Stephenson, David Clark, Barry Ashen and Brandon Rawlings.
Next Saturday night (March 30), Sprintcars return when Supercheap Auto Archerfield Speedway hosts round two of the East Coast Logistics Tri-City Shootout. Shane Stewart will be back in action, along with the very best drivers from throughout Queensland and interstate. Wingless Sprints will also be on the card, along with title events for Ford vs Holden Sedans and BIS Sedans.