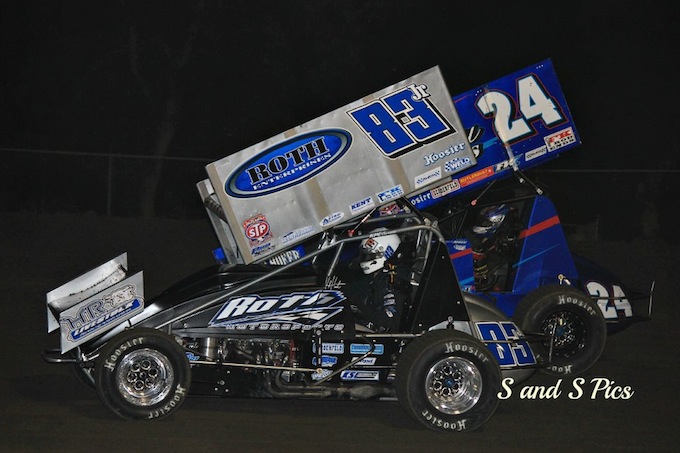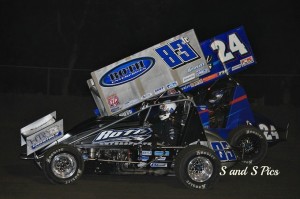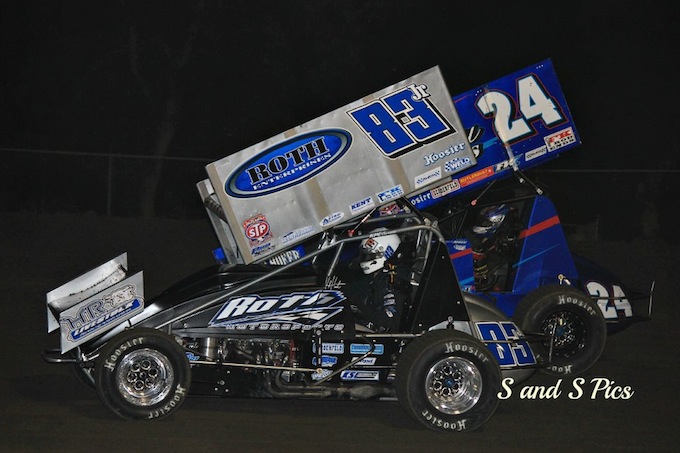 From Peterson Media
On a track that was extremely tough to pass on, Kyle Hirst charged from his 11th starting spot, and scored a third place finish on Saturday night during the King of the West Series opening event at the Antioch Speedway.
"We were bad fast, and it is great to get a top finish after struggling a bit with the World of Outlaws," Hirst said. "The track was tough, but my guys put a good piece under me."
Starting in the sixth row for the 30-lap affair, Hirst was awesome in his run to the front, as he made some moves that allowed him to carve his way to the front.
Piloting his Roth Enterprises/HR Livestock Transporation/3H Cattle backed entry, Hirst was able to roll through the middle and pick off positions.
Working his way up to the fifth spot early in the race, Hirst hooked up with Brent Kaeding with a very entertaining battle for the fourth spot.
Doing everything he could to get around the California legend, Hirst finally cleared him on lap 20, and chased after third running, Bobby McMahan.
On the 22nd lap, Hirst was able to make a nice move to get around him in turns one and two, but the caution waved, negating his pass.
On the restart, KH got his elbows up, and cleared McMahan on the 24th lap, and eyed the lead duo of Rico Abreu and future brother-in-law, Willie Croft.
Unable to get to the duo, KH settled for the final spot on the podium.
"If were going to lose a race, I'm glad to see Willie Croft win," he said. "Dennis and Teresa Roth have given me a wonderful opportunity, so hopefully next week we can get in the dash, and start a little closer to the front."
To start the night off, Hirst timed in sixth fastest, and in heat race action got bottled up on the start, and rebounded to a third place finish.
Kyle and his Roth Motorsports team would like to thank Roth Enterprises, HR Livestock Transportation, 3H Cattle, Mobil1, FK Rod Ends, Weld Wheels, Brown and Miller Racing Solutions, Kent Performance Center, Kaeding Performance, and Astro Titanium for their support.
2013 ROTH MOTORSPORTS BY THE NUMBERS: Starts-13, Wins-0, Top 5's-2, Top-10's-5.
2013 BY THE NUMBERS: Starts-25, Wins-0, Top 5's-5, Top 10's-13.
ON TAP: Hirst and his team will head to the Placerville Speedway this Saturday night for round two of KWS action.
STAY CONNECTED: Stay connected with the Roth Motorsports team by visiting www.rothmotorsports83.com. You can also follow Kyle on Twitter @KyleHirstRacing.