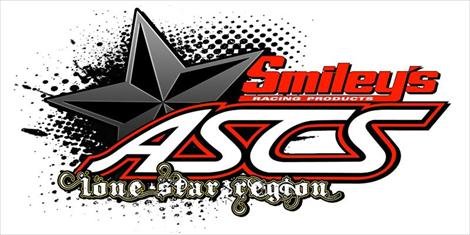 By Bryan Hulbert 
TULSA, Okla. (April 22, 2013) The Smiley's Racing Products Lone Star Region returns to competition Friday, April 26 at the Boyd Raceway in Boyd, Texas and Abilene Speedway in Abilene, Texas on Saturday, April 27.
A pair of night's into the 2013 season, Shawn Petersen has assumed the advantage by a slim five points with Brandon Hahn also in the mix a mere 18 markers behind in the show position. Seated between the two is 2012 regional champion Matt Covington. Justin Melton currently holds fourth in regional standings with Patrick Stasa making up the top five. In the early goings, a slim 33 markers separate the top five with only 51 separating tenth place Jake Martens from the points lead.
A weekend of true short track fair, the quarter-mile Boyd Raceway gets underway at 8:00 P.M. with gates opening at 6:00 P.M. Along with the Smiley's Racing Products Lone Star Regional Sprint Cars, the IMCA Modified, IMCA Stock Car, IMCA Southern Sport Mod, IMCA Hobby Stock, 305 Sprint Cars, and Mini Stock divisions will also be on hand. More information about the Boyd Raceway can be found at http://www.boydraceway.net.
From one quarter-mile to another, the Saturday, April 27 at the Abilene Speedway brings IMCA Modifieds, IMCA Stock cars, Hobby Stocks, Sport Mods, and Street Stocks to the card in addition to the Lone Star Region. Gates for the 5:00 P.M. with events getting underway at 8:00 P.M. More information concerning the Adeline Speedway can be found at http://www.abilenespeedway.com/
The 2013 season marks the twenty-second year of sanctioning Sprint Car racing for the American Sprint Car Series, which brings the best of Sprint Car racing to dozens of different tracks throughout the nation and into Canada. Anchored by the Lucas Oil American Sprint Car Series, ASCS also consists of nine different Regions throughout the nation.
Additional information regarding the American Sprint Car Series is available at www.ascsracing.com as well as Twitter (@LucasOilASCS) and Facebook. News and information can also be sent to you with the ASCS E-News by texting ASCS to 22828 with any mobile device.