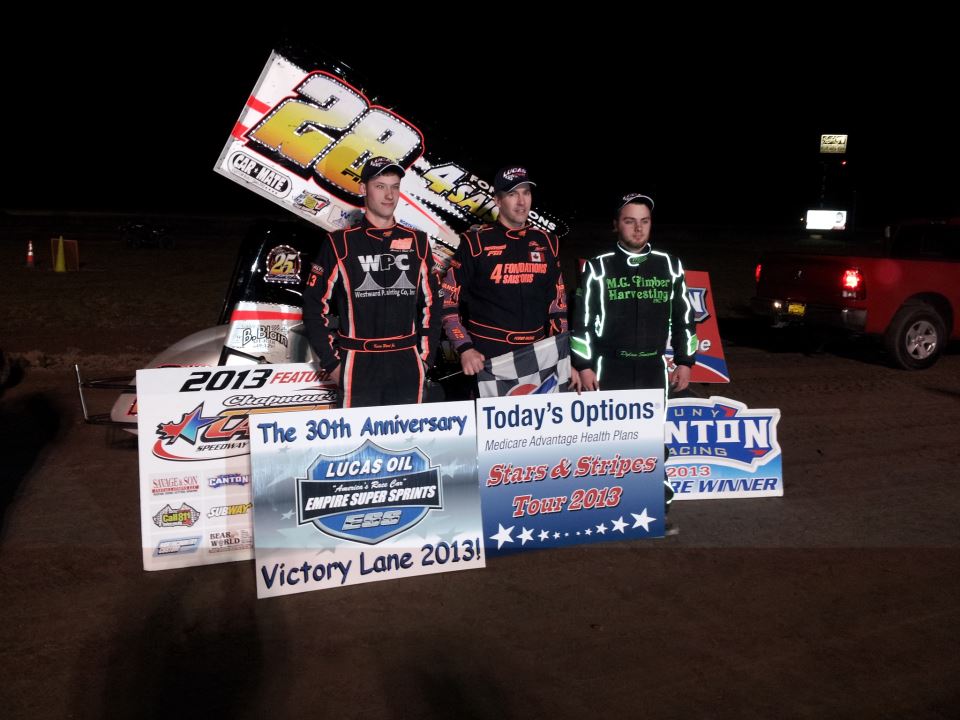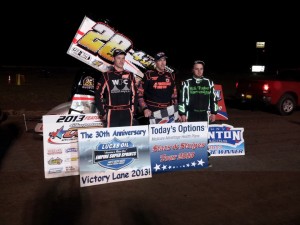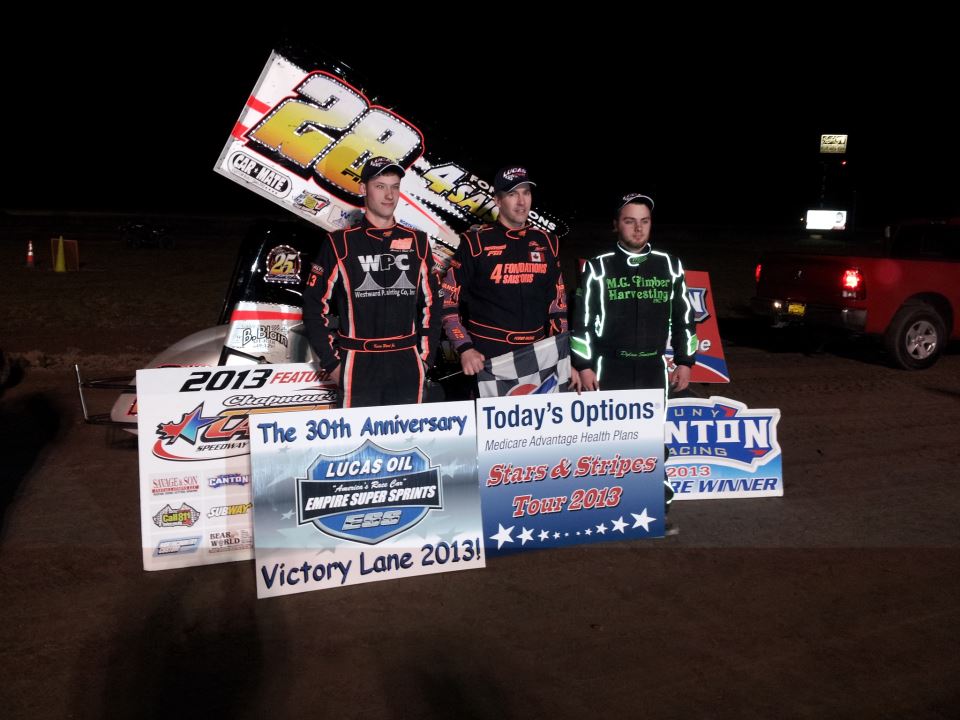 LaFargeville, NY — (April 26, 2013) —
LAFARGEVILLE, NY – Steve Poirier said numerous times over the off-season he was coming back full-time in 2013 and was looking to regain the form that won him three prior Lucas Oil Empire Super Sprint Championships. Poirier was limited in 2012 due to a knee injury and missed much of the season rehabbing from that.
On Friday night at the Can-Am Motorsports Park Speedway the full point season kicked off for the series and Poirier wasted little time asserting himself as a title contender. Poirier led all 25-laps of the SUNY Canton Series, Today's Options Stars and Stripes Tour A-Main event for his 40th career series win.
"This is a super good start to the season," said Poirier who collected $1,800 on the night. "Being away last year made us work a little more on our stuff. We were searching more for a victory and we started super good tonight."
Matt Tanner and Michael Parent started on the pole after qualifying for the 38 car field was complete. Parent got the jump on Tanner and beat him into the first turn at the green. Poirier was able to advance to second in turns one and two and then he used a slide job in turns three and four to drive by Parent for the lead from his fourth starting position.
One lap was in the books when caution slowed the field as Jared Zimbardi slowed with mechanical issues and Jason Barney skated off the top-side of turn one. On the double-file restart Poirier elected for the outside and he easily held onto the lead as he pulled away from Parent.
"My car was super good." said Poirier. "I don't think anyone could have beat me on turn three entry."
Traffic was an issue for Poirier by the sixth circuit which kept Parent and company close to his back bumper. Poirier was struggling a little bit with the traffic allowing the field to creep closer to him.
The final caution flag of the event was shown on lap 12 as Bryan Howland slowed with an issue in the rear-suspension. On the ensuing restart, Parent got the edge on Poirier coming down the front straightaway. He was almost a full car length in front as they entered turn one. Poirier dove to the bottom of the turn one and once again pulled the slide job to regain the lead.
"The engine wasn't quite as good on restarts and starting on the outside made it interesting because the guy on the bottom could take your line," stated the Quebec driver. "I slid Michael (Parent) there a little bit because he jumped the start there a bit. My car was very good on turn entry and I had enough to get him back."
A new challenger emerged late in the race as Poirier entered traffic for a second time. Dylan Swiernik, who had started 12th, worked his way to second and began closing in on Poirier. As Poirier struggled Swiernik took the straightaway lead that Poirier had amassed and brought it down to just a few car lengths.
In the end though Poirier was just too strong and was the first to the checkered flag. Swiernik was all smiles after his second place finish. It was the second consecutive race that the Port Leyden, N.Y., driver had passed numerous cars and end with the solid finish.
"We started off strong a few weeks ago at Selinsgrove with a ninth and it is nice to come out with a good run," commented Swiernik. "We came out here with our new engine, a Kriner. It was the best thing we've ever done and it was worth the expense."
Swiernik had something for Poirier but in the final few laps Swiernik was forced to alternate his line as he entered into the slower traffic at the tail end of the field.
"I got stuck in traffic there for a bit," said Swiernik. "I thought I was going to get him but that is racing and it happens. We'll come out and get him next time."
Kevin Ward, another Port Leyden, N.Y., driver, came home third. Ward battled for much of the race with Sammy Reakes IV and then Parent in the closing laps for the third place finish.
"I had some good battles out there," commented Ward. "I was hoping to race up with leaders there at the end of the race. We were able to make it up to third so I guess we are happy with this."
Parent eventually crossed the line in fourth while Reakes, the defending race winner, came home in the fifth position. Rounding out the top ten were Jessica Zemken, past ESS champions Justin Barger and Lance Yonge, Shawn Donath, who earned the hard charger bonus after starting 24th and Cory Sparks.
ESS/Cam-Am Notes – The 38 car field was the largest opening night field since 2006…Making first ever ESS starts were, Vinnie Vitale, Dave Axton and Clint Ide…Doug Emery had the fourth heat won when a fuel pick up problem forced him pit side, he was a DNQ,…Billy Dunn blew a motor in his heat ending his night early…Despite the very cold temperatures, a good crowd came out and not one sprint found itself on its wing…Next up will be the Mach 1 Spectacular at the Selinsgrove Speedway, ESS' first full point show since 1996 which will pay $3,000 to win and $300 to start.
Lucas Oil Empire Super Sprints – Can-Am Motorsports Park – 38 cars.
Luacs Oil A-Main – Steve Poirier ($1,825), Dylan Swiernik, Kevin Ward Jr., Michael Parent, Sammy Reakes IV, Jessica Zemken, Justin Barger, Lance Yonge, Shawn Donath, Cort Sparks, Paul Kinney, George Suprick, Dale Gosselin, Alain Bergeron, Martin Roy, Jeff Cook, Etienne Girard, Kyle Dutcher, Mike Stelter, Matt Tanner, Jared Zimbardi, Bryan Howland, Jason Barney, Chuck Hebing, Patrick Vigneault.
DNQ – Charlie Donk, Joe Trenca, Paul Habeck, Paul Pekkonen, Clint Ide, Dave Axton, Vinnie Vitale, Zach Weigand, Doug Emery, Billy Dunn, Tyler Rice, Chris Jones, James Hanson.
Car Mate Custom Built Trailers Heat 1 – Tanner, Sparks, Parent, Stelter, Zemken.
Car Mate Custom Built Trailers Heat 2 – Hebing, Suprick, Swiernik, Vigneault, Kinney.
Car Mate Custom Built Trailers Heat 3 – Poirier, Gosselin, Reakes IV, Barger, Yonge.
Car Mate Custom Built Trailers Heat 4 – Howland, Zimbardi, Ward Jr., Roy, Barney.
Grampa's Garage Appraisals/Cobra Coaches Dash – Hebing, Tanner, Poirier, Howland.
B-Main – Bergeron, Cook, Girard, Donath.
Provisional – Dutcher
Lap Leader – Poirier 1-25
Bonuses:
Westward Painting Company Halfway – Poirier $100
Ohsweken Speedway Winner's Bonus – Poirier $100
Fondations 4 Saisons Hard Charger – Donath (15 pos,) $50
North Eastern Pool and Spa Power Pick – Barney,
Fondations 55 Pick 5 – Reakes IV $50
Jimmy D's Speed and Machine Fast Time – Poirier $25
Go Nuclear Late Models Go Fast Award – Poirier $25
Car Mate Custom Built Trailers – Tanner, Hebing, Poirier, Howland $25
Next Event – May 18 – Selinsgrove Speedway – Mach 1 Spectacular $3,000 to win, $300 to start