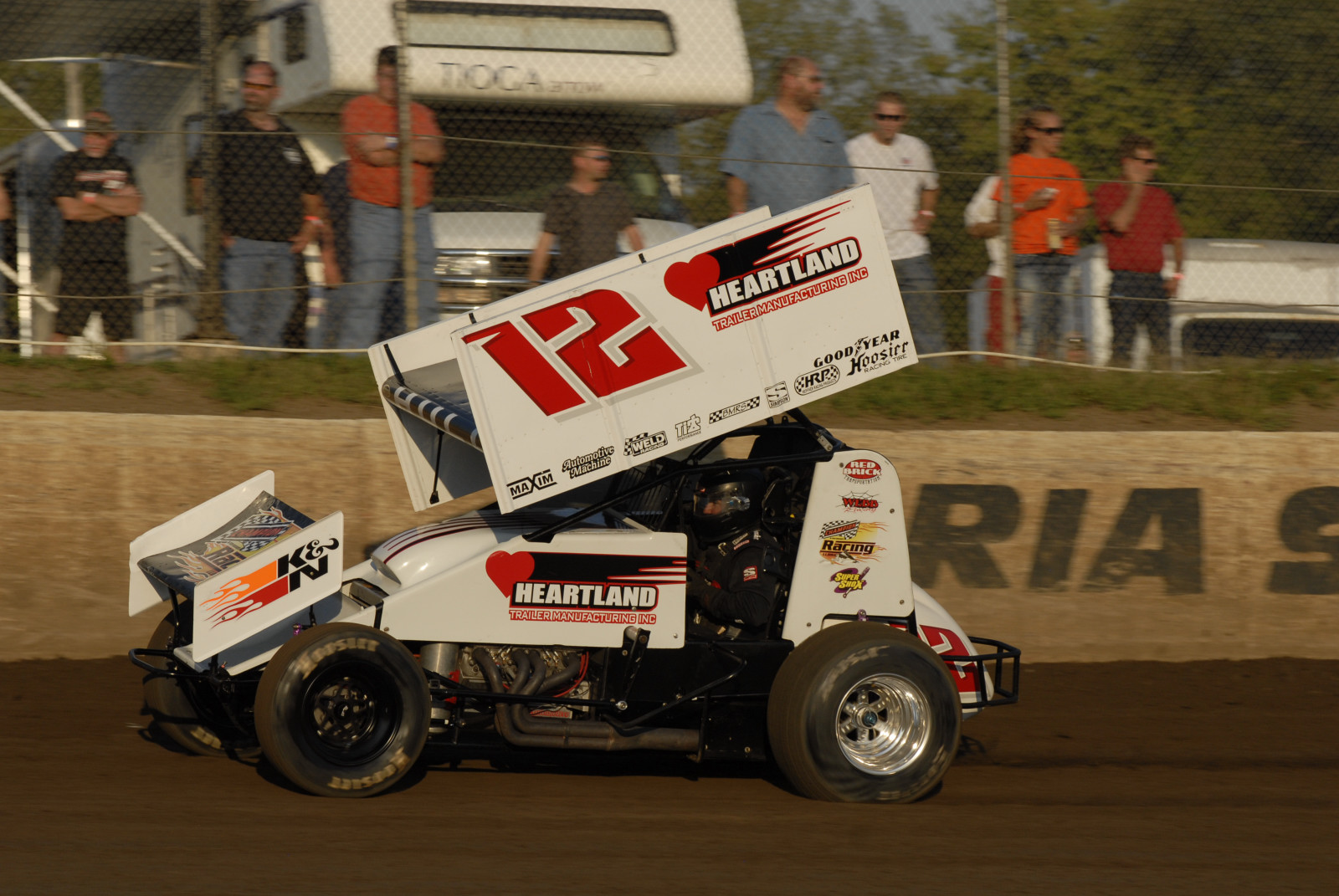 By Bill W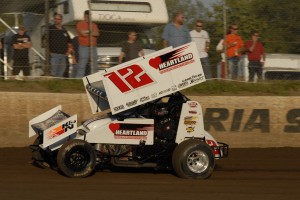 May 1, 2013 – Jerrod Hull was hoping to test and tune at Jacksonville Speedway in Jacksonville, Illinois last Friday night.  He wasn't planning on being on his lid for the second week in a row.  Though an unfamiliar position for the Sikeston, Missouri driver, that's racing.  With the MOWA show canceled at Spoon River Speedway this weekend, Jerrod is looking forward to his next opportunity at the track.
A draw system for the heats saw Jerrod start at the tail of the first heat, where he would make a charge.  "We didn't draw well," he says.  "That put us starting last (7th) in the first heat.  Everything went great there.  We were passing cars, and we were able to get up to second."
The finish put Jerrod on the outside of row two for the main event.  "We were able to get to third on the first lap," he says.  "We were passing for second, but we had a caution, so we had to go back and restart.  I did the same thing.  I went in low.  The track was rough."
That's when the tumble came.  "Coming out, there was a ledge and I hit it," says Jerrod.  "I biked up and it was pretty much all over after that.  I turned to the right and flipped over on the left side.  I collected Chris Urish, and that took him out too."
The incident happened so fast, that Jerrod wasn't sure of the cause.  "I didn't really know what happened," he says.  "I turned over so quickly.  Someone said someone hit me, but after reviewing it, I just clipped the berm halfway through the turn.  We just lost the wings.  It did flatten both left side tires, but it just knocked them off the beads.  It didn't even bend the wheels."
Despite two weeks of misfortune, Jerrod is looking forward to his next outing in the Rockwell American #12.  "We're looking forward to the rest of the season," he says.  "(Crew chief) Scott (Bonar) is confident going forward and so am I.  Sometimes crashing gets you down, but we both know what happened, and that's part of racing.  We're getting rid of all of our bad luck early.  The rest of the season should be pretty good!"
Jerrod and the #12 team would like to thank: Rockwell American, Midland Performance, Super Shox, Sebastian Sand Blasting & Powder Coating, Inc., Sherwin Williams, Chuck's Small Engines, Don Hamilton, HRP, Lighthouse Christian Center, Logo Daddy, Hoosier Tire, Simpson, Weld, Automotive Machine, Maxim and Heartland Trailer Manufacturing.