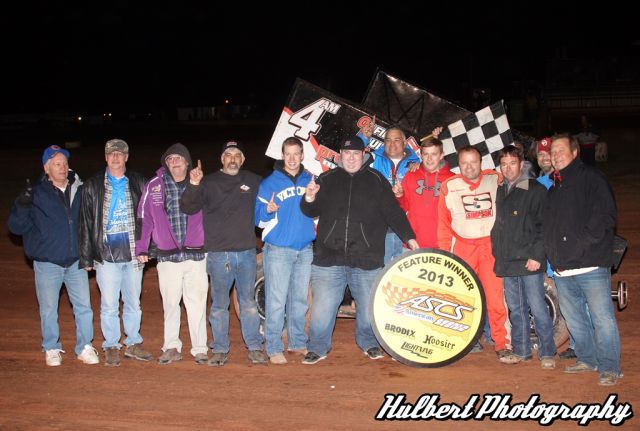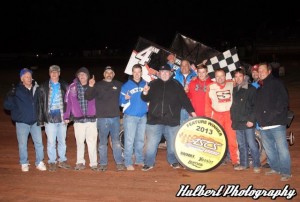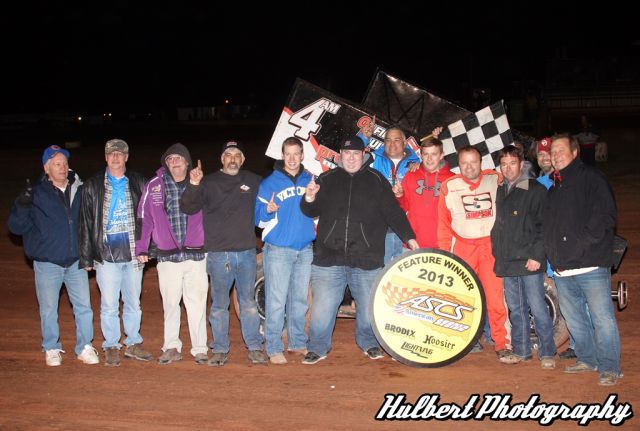 From Bryan Hulbert
Lawton, OK — (May 4, 2013) — Taking the third round of competition of the 2013 season with the American Bank of Oklahoma Sooner Region, Mike Goodman worked into the race lead early and held off a hard charging Danny Wood at the Lawton Speedway.
Challenged in the final laps, Goodman was chased across the line by Wood with Jake Martens third. After a crash on the opening lap sent the No. 23 of Seth Bergman to the tail, the Snohomish, Wash. driver charged back to forth with Alex Sewell completing the top five.
Robert Sellers, Kolt Walker, Wyatt Burks, Matt Covington, and Danny Jennings made up the remainder of the top ten.
American Bank of Oklahoma Sooner Region
Lawton Speedway – Lawton, Okla.
Saturday, May 4, 2013
Car Count – 31
Heat 1 (8 Laps): 1. 11W-Wyatt Burks; 2. 03-Joe Wood Jr; 3. 23-Seth Bergman; 4. 17W-Harli White; 5. 2W-Whit Gastineau; 6. 6-Ryan Beechler; 7. 45-Tyler Thomas; DNF 22K-Kevin Barksdale
Heat 2 (8 Laps): 1. 81-Danny Wood; 2. 7S-Robert Sellers; 3. 48-Jake Martens; 4. 4J-John James; 5. 22-Koby Barksdale; 6. 1J-Danny Jennings; 7. 9$-Kyle Clark; DNS 35-Rick Wright Jr
Heat 3 (8 Laps): 1. 2K-John Kelly; 2. 15-Shane Sellers; 3. 94L-Layne Himebaugh; 4. 5-Joe Bob Lee; 5. 12W-Dale Wester; 6. 8-Shane Pace; 7. 57-Kyle Chady; DNS 97-Kevin Cummings
Heat 4 (8 Laps): 1. 8X-Alex Sewell; 2. 21-Brandon Jennings; 3. 4AM-Mike Goodman; 4. 95-Matt Covington; 5. 12M-Kolt Walker; 6. 27-Andy Shouse; 7. 10K-Kyle Ezell
B Feature (15 Laps): 1. 2W-Whit Gastineau; 2. 12M-Kolt Walker; 3. 6-Ryan Beechler; 4. 1J-Danny Jennings; 5. 9$-Kyle Clark; 6. 12W-Dale Wester; 7. 22K-Kevin Barksdale; 8. 45-Tyler Thomas; 9. 10K-Kyle Ezell; 10. 8-Shane Pace; DNF 57-Kyle Chady; DNF 22-Koby Barksdale; DNF 27-Andy Shouse; DNS 35-Rick Wright Jr; DNS 97-Kevin Cummings
A Feature (25 Laps): 1. 4AM-Mike Goodman; 2. 81-Danny Wood; 3. 48-Jake Martens; 4. 23-Seth Bergman; 5. 8X-Alex Sewell; 6. 7S-Robert Sellers; 7. 12M-Kolt Walker; 8. 11W-Wyatt Burks; 9. 95-Matt Covington; 10. 03-Joe Wood Jr; 11. 1J-Danny Jennings; 12. 5-Joe Bob Lee; 13. 2W-Whit Gastineau; 14. 94L-Layne Himebaugh; 15. 4J-John James; 16. 2K-John Kelly; 17. 15-Shane Sellers; 18. 6-Ryan Beechler; DNF 21-Brandon Jennings; DNF 17W-Harli White