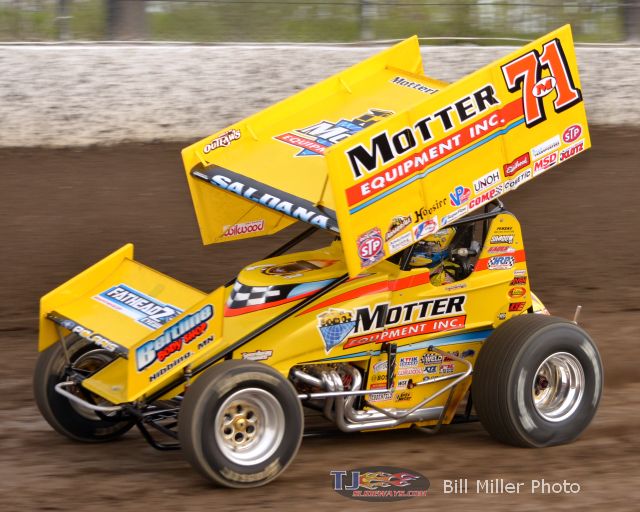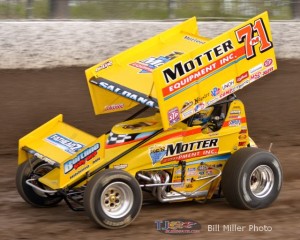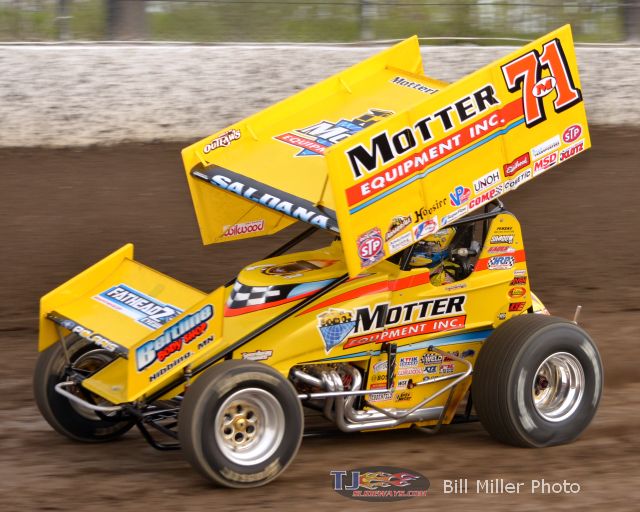 From Susan Arnold
Knoxville, IA — (May 11, 2013) — A large contingent of drivers came to the sprint car capital of the world to compete in the World of Outlaws Mediacom Shootout at Knoxville Raceway.
In August the crown jewel of the World of Outlaws STP Sprint Car series, the Knoxville Nationals, will be contested at this track.
Joey Saldana, driver of the Motter Equipment Fatheadz Eyewear 71M was one of 51 drivers who came to gain track time on the black Iowa soil.  Focused not only on winning the event at hand, the 71M team hoped to gain some valuable data for their notebook. With only this event and a Mediacom Shootout in June in Knoxville, every lap around the half-mile track was critical for gaining knowledge for the biggest race of the year.
Saldana was fourth quick in qualifying, covering the hallowed ground of Knoxville Raceway in 14.887 seconds.
For the first time this season in Outlaws competition there were five scheduled heat races.  Saldana started fourth in heat four.  During heat race action, Saldana made a calculated move for third place, trying to pass Cody Darrah.  Darrah slammed the door, making contact with the front of the 71M.  Saldana bobbled but was able to gather the car up without losing position and finished fourth, earning a starting spot in the A-Main.
Temperatures were in the mid-40 degree range as the drivers lined up for the A-Main.
Saldana started in the thirteenth position.
The green flew briefly before caution came out with five laps complete as Brad Sweet's right rear tire lost air pressure.
Back to racing and the red flag was displayed on lap 18 when Tim Kaeding got sideways, and Rager Phillips, with no place to go, took a hard ride and flipped coming off turn four.  Phillips was out of the car and okay.
Not even one lap was completed before the red flag waved again when several cars started bouncing and careening off each other on the front stretch.  The accident gathered up Sammy Swindell, Jason Sides, Lucas Wolfe, Davey Heskin and Mark Dobmeier.  All drivers were okay.  Saldana had advanced to the ninth position.
When racing resumed, there was a caution-free run to the end of the 25-lap event.
Saldana finished tenth.
"We were experimenting with some different set-up ideas in the Feature," said Saldana,
"and they didn't work very well.  It was still a learning experience for us as we learned what direction we didn't want to go.  We lost a position on the very last lap when we got passed on the high side."
Donny Schatz won the event, Craig Dollansky was second, and Brian Brown was third.
The Motter Equipment Fatheadz Eyewear team heads to Abbottstown, Pa. for the Gettysburg Clash Wednesday, May 15, followed by a doubleheader at Williams Grove May 17-18, and then on to Orange County Fair Speedway in Middletown, N.Y. Sunday.