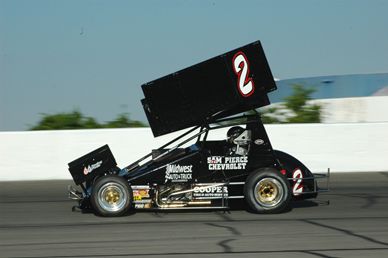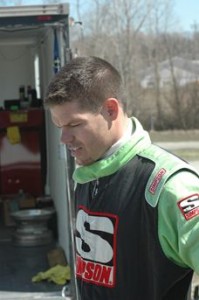 From Must See Racing
Holly, MI — (May 14, 2013) — Defending Hoosier Outlaw Sprint Series (HOSS) champion Joe Swanson will tackle the high banks of Winchester Speedway during the Must See Racing Xtreme Sprint Series (MSRXSS) sanctioned Xtreme Speed Challenge May 19.
Swanson will be making a rare MSRXSS start as he primarily has competed with the HOSS series to date. Swanson lists wanting to run at Winchester Speedway and the lure of racing on a Sunday afternoon as reasons for his entry in the Xtreme Speed Challenge.
"I ran at Winchester in 2009 and loved it. I never got to practice beforehand and spent the first half of the day just getting laps and figuring the car out" explains Swanson. "Once I started going fast the car started bottoming out. Going fast at Winchester is definitely a different feeling".
Swanson insists one of the main reasons for competing May 19 is a chance to get to race another event in 2013."I work a lot, and with it being a Sunday afternoon, it helps a lot. There aren't too many Sunday afternoon shows around".
Must See Racing features some of the best winged pavement sprint car drivers in the country and Swanson realizes he will have to bring his A-game. "It's a stiff level of competition. The depth of the field is very good. Must See races some tracks I don't get to run with HOSS. I feel pretty good. It's gonna be a learning experience. I feel I have a good chance of getting a good finish and feel confident I can run with those guys. I like the challenge of competing against the best".
Swanson will have a busy weekend to say the least. On Saturday night he will compete in a HOSS event in Michigan as he attempts to defend his title. Then will head to Winchester for Sunday afternoons event. Swanson will be driving for the Sam Pierce Chevrolet Racing Team at Winchester in their back up Hurricane Chassis car. "Aaron Pierce is a good friend of mine and has helped me with my non-winged program. They gave me the opportunity to drive the spare car at Winchester and possibly Anderson a few days later if things go good
at Winchester" concludes Swanson.
Swanson has gotten off to a phenomenal start thus far in 2013. Swanson finished second to Aaron Pierce in the Glen Niebel Classic at Anderson Speedway April 14. He then took the victory at Spartan (MI) Speedway April 27 to record his first-ever non-winged pavement victory. Swanson might be a dark horse in the running to capture the Xtreme Speed Challenge, but don't count him out because this Warsaw, IN driver is as confident as they come.