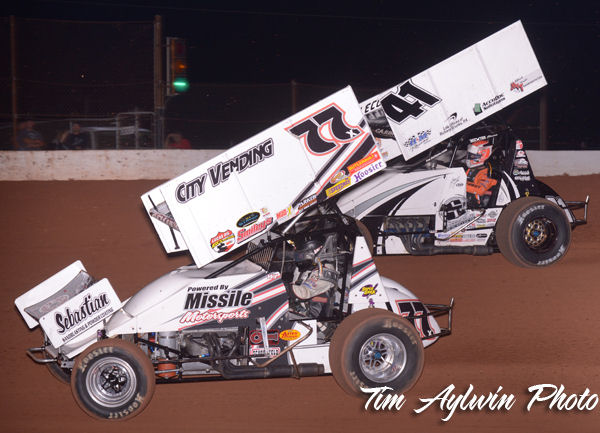 By Bill W
May 22, 2013 – It proved to be a long night of racing for the Wayne Johnson Racing #77x team at Knoxville on Saturday night.  The team had to replace a pair of rear-ends during the night's events and almost lost a third in the feature.  They'll rebound with three races this week, starting tonight with the ASCS National series at Valley Speedway in Grain Valley, Missouri.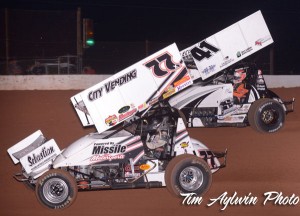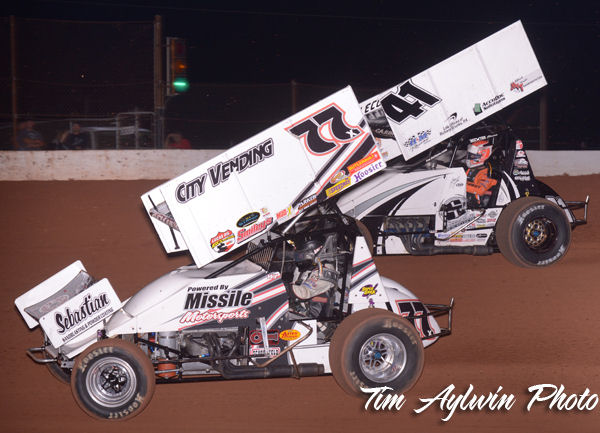 The first issue with the rear-end was found in hot laps.  "We went out to hot lap and it shucked the inboard caliper off," says Wayne.  "We didn't have time to change rear-ends, so we just went out and qualified with no brakes.  That's why I ran the top and we ended up 13th quick."
The Knoxville, Iowa driver started outside row one of his heat, and was able to win it comfortably.  "We put a brand new rear-end in for the heat," says Wayne.  "It was brand spanking new, and the last lap of the heat race, it kicked the inboard caliper off again.  We changed the rear-end again for the feature."
The frustrated driver struggled with the handling of the car and finished where he started (12th) in the main event.  "We weren't good," says Wayne.  "I got home.  We got everything washed up and put back in the shop, and doing maintenance, it was about to throw another caliper off.  I don't know what's going on…if it's a bent driveshaft or what."
After just one race last weekend, things will get busier, starting tonight.  "We're looking forward to going back to Valley Speedway tonight," says Wayne.  "Then we're going to I-80 Speedway (near Greenwood, Nebraska on Thursday) and back to Knoxville (Saturday)."
Next week, things will really get ramped up as Wayne goes on the road with the Outlaws for a month and a half.  "Things will be getting busy for us," he says.  "We'll be running with the Outlaws for a while, starting at Attica (Ohio on May 31) and continuing with them pretty much through the King's Royal."
Looking for a Mechanic
Wayne is looking for a full-time mechanic that is motivated and would relocate to Knoxville.  Wayne is running around a 70-race schedule.  You would not need a CDL, but would need experience driving a big truck and trailer.  Experience maintaining a sprint car is a must.  Salary depends on experience
E-mail Wayne at WayneJohnsonRacing@yahoo.com with the following information:
Please include a bio with your experience working on a racecar.
Follow Updates on Facebook!
Wayne will update as his race night goes on at his Facebook page.  Find it by searching for Wayne Johnson Racing or clicking the following link…
http://www.facebook.com/#!/WayneJohnsonRacing
Outlaw Wings – "The Wing with an Attitude"
Check out the new "recessed rivet" design put out by Outlaw Wings.  Talk to Wayne about purchasing Outlaw Wings for your car! Outlaw Wings – "The Wing with an Attitude"!
Wayne's World                                                       
Got a question for Wayne? Each week, Wayne will answer your questions about "Tech Tips", or anything that's on your mind. If you ever wondered what a part on a sprint car is all about, send an e-mail to us at sprntcar@iowatelecom.net, and we may answer it in this section! Put "? for Wayne" in your subject line. He'll try to keep it clean if you do!
Wayne's Fast Facts
Wayne's first two wins at the Devil's Bowl came exactly one year apart, and both saw Garry Lee Maier in the bridesmaid position.  On June 18, 1996 he beat Garry, Danny Wood, Bobby Davis Jr. and Terry Gray to the stripe, and on June 18, 1997 he bested Garry, Gary Wright, Sean Michael and Glenn Forbes.
Partner of the Week – Schoenfeld Headers
Founded in 1974, Schoenfeld Headers is the largest circle track header manufacturer in the world.  At Schoenfeld Headers, they listen to you, the customer, understanding your needs and giving you a quality product at a fair price.  Check out their catalog at www.SchoenfeldHeaders.com today!
"Wednesday's with Wayne"
"Wednesday's With Wayne" is an up close look at the past, present and future of colorful and talented sprint car driver Wayne Johnson. You'll never know what to expect next with Wayne, so don't miss us on Wednesdays!
To receive "Wednesday's with Wayne", send an e-mail to sprntcar@iowatelecom.net with"Wayne" in the subject line.
Wayne Johnson Racing would like to thank Vern Rengen and Missile Motorsports, Sebastian Sandblasting & Powdercoating, Williams Motorsports, Outlaw Wings, Team Achieve, The Oil Medics, Smiley's Racing Products, Hoosier Tire Southwest, Simpson, Butlerbuilt, Super Shox, Maxim, Speedway Motors, Rod End Supply, Schoenfeld Headers, 517 Design and Canyon Apparel.