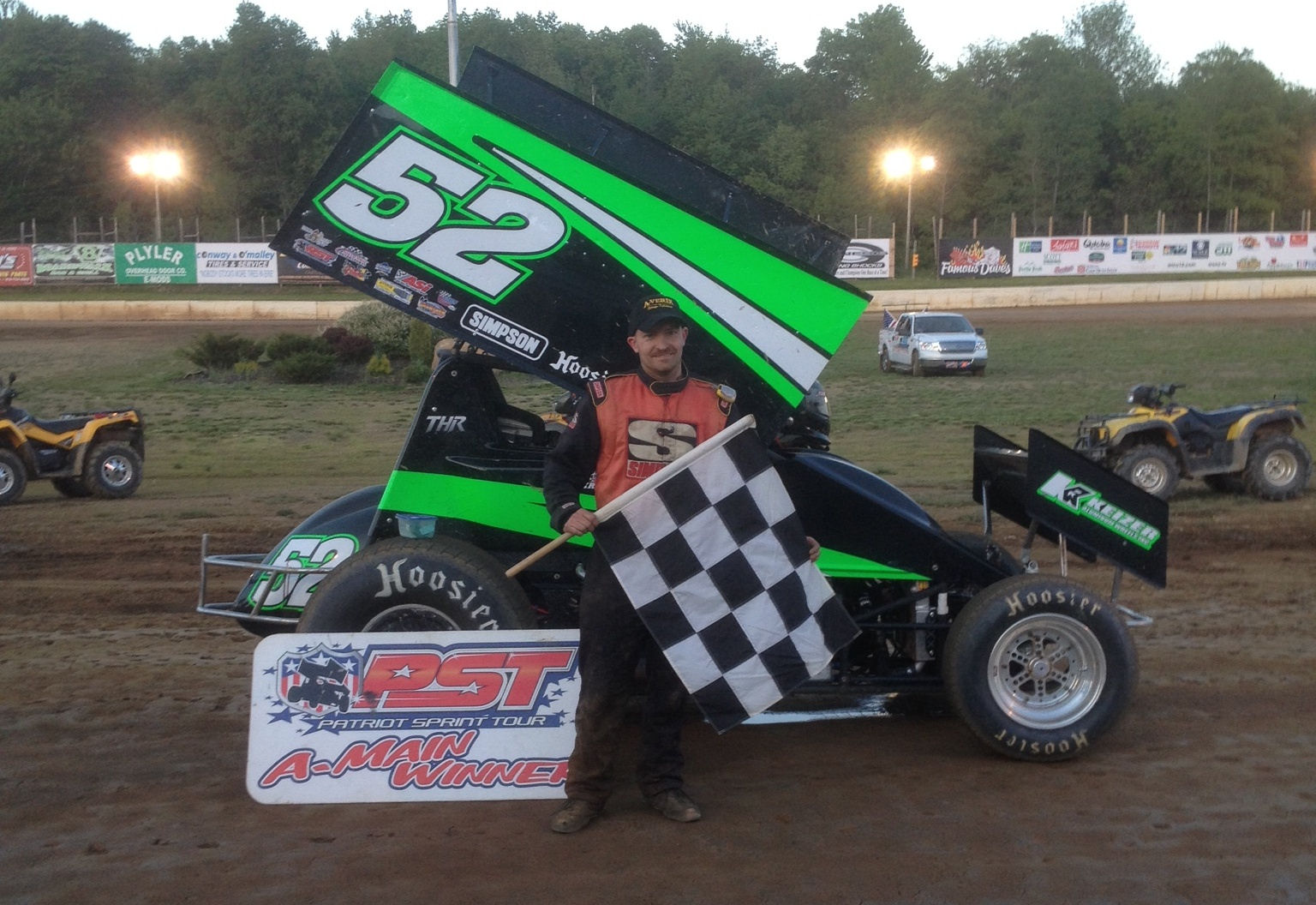 By Rich Vleck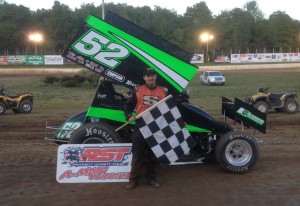 HAMMETT, PA, (May 26, 2013)- Scott Kreutter entered Sunday as the only driver to win multiple Patriot Sprint Tour races at Eriez Speedway, a distinction he would continue to hold leaving the 1/3-mile oval as he pulled off the three-peat.
Kreutter, 26, of Alden, NY, claimed his third consecutive victory at Eriez Speedway Sunday Night in shocking fashion, inheriting the lead on lap 17 after Justin Barger spun out of the top spot and then staved off charges by Bryan Howland and Dave Ely for his fifth career PST win, his third at Eriez.
"I love this track," declared Kreutter in Victory Lane.  "For some reason we just have great luck here.  Early on I didn't think we had what we needed.  We were a little off on setup and we threw something at it similar to what we had been doing here and it worked out.  I love this place."
Kreutter struggled in his heat race, surrendering second place on a lap 7 restart.  He would earn just enough passing points to make the redraw, which was where luck started going his way.  Because the defending PST America Champion was the eighth and final driver to qualify for the redraw, he would receive the starting spot that was left, which would end up being the pole position.
Despite inheriting the pole, Kreutter would settle in to second place behind Barger.  Kreutter's No. 52 was unable to hang with Barger's No. 5 and the "Straight Shooter" found himself spending more time fending off a hard-charging Bryan Howland, who was moving up swiftly.
"I couldn't get it to hold down (on the bottom), but I knew if I couldn't go up top, it was going so slick coming off (the corner) up there, so I just figured I'd bide my time and be patient, I think that's what it takes here."
Kreutter was able to put some distance on Howland after what would be the race's final restart on lap 13 when the inexplicable happened.  Justin Barger, who had been dominating out front on the rim of the track, spun out coming off of turn four, surrendering the lead to Kreutter.  Barger would do a '360' and keep going in fifth place.
"I saw it happened and I thought 'don't bring the caution out'.  I figured it would be better for him to not bring out the caution because he only lost a handful of spots.  I was really happy a caution didn't come out because on restarts I couldn't really hit my line good going into (turn one).
The final eight laps were downright thrilling as Howland stalked Kreutter through lapped traffic.  With the two past PST Champions having to carefully pick through the back of the field, Dave Ely was able to run them down to make it a three-car battle.
With three laps remaining, Ely made a bid on the very bottom of turn four to begin a three-wide maneuver but did not have the momentum.  His addition to the fray would allow Jared Zimbardi, as well as Barger, to make it a five-car scramble for the final two laps.
Coming to the white flag, Barger, who was hanging it all out running a perilous line on the top of the speedway, once again ran out of race track and looped his No. 5, did a '360', and kept going after falling to ninth.  With a caution flag once again not needed, Kreutter was clear to capture the three-peat.
When Kreutter won at Eriez last year, it was a shocker because it was accompanied with the $10,000 Patriot America Champion, this time around he was just as shocked at how things played out.
"We didn't have anything perfect tonight but we bided our time and stayed patient," stated Kreutter in Victory Lane after climbing down from his wing dance.
Bryan Howland was gracious as the runner-up, quickly running over with a big smile to congratulate Kreutter in Victory Lane on their orchestration of such a quality race.  Howland felt that he once again had a great setup, but Kreutter did his job to not surrender the lead.  With his second-place showing, Howland retains the PST America Point lead.
Dave Ely completed a quality weekend in Northwest Pennsylvania at two tracks he had never been to, as he crossed in third.  Ely dominated his heat race and was in the mix down to the final two laps for the win.
Jared Zimbardi, like Ely and Barger, dominated his heat race and drove up from seventh to finish in fourth.  Lone Canadian competitor Mitch Brown scored his first top five on America soil.
Tommy Wickham flipped in his heat race but he and his crew made repairs to his No. 75 and drove from 21st to finish sixth for the second straight race.  Kyle Drum won the Original Pizza Logs Four Laps of Fame and finished seventh, ahead of George Suprick, who was eighth.
Justin Barger may have spun twice, but by not stalling his No. 5, he finished ninth and in doing so, salvaged a ton of points in his pursuit of the championship.  Bruce DeWick scored his second top 10 in as many starts at Eriez.
A great field of 22 sprint cars filed in to the pits for a beautiful afternoon event at Eriez.  Only one car was not running at the finish and the checkered flag on the sprint cars fell at 8:25 P.M.  The series will return to Eriez on September 1 for the traditional Labor Day event. For more information, visit www.PatriotSprintTour.com.
Patriot Sprint Tour America Series Results: 5/26/13, Eriez Speedway, Hammett, PA.
A-Main (25 Laps)- 1. Scott Kreutter (52), 2. Bryan Howland (51), 3. Dave Ely (65), 4. Jared Zimbardi (35), 5. Mitch Brown (10), 6. Tommy Wickham (75), 7. Kyle Drum (47), 8. George Suprick (87), 9. Justin Barger (5), 10. Bruce DeWick (22D), 11. Steven Hutchinson Jr. (2), 12. Geoff Quackenbush (25), 13. Clint Ide (3), 14. Brandan Warner (10B), 15. Dennis Wagner (38o), 16. Dave Wickham (80), 17. Brad Knab (38), 18. Tyler Graves (25G), 19. Dave Just (54J), 20. Derek Jonathan (81), 21. Adam Anderson (69), 22. Scott Just (54JX).
Lap Leaders- Barger 1-16, Kreutter 17-25.
Original Pizza Logs Four Laps of Fame Dash (4 Laps)- 1. Kyle Drum (47), 2. Clint Ide (3), 3. Steven Hutchinson Jr. (2), 4. Scott Just (54JX), 5. Dave Wickham (80).
Heats (8 Laps Each)-
Race 1: Zimbardi, Howland, Ide, Hutchinson, Quackenbush, S. Just, Wagner, Warner.
Race 2: Barger, Brown, Kreutter, Drum, D. Wickham, Graves, T. Wickham.
Race 3: Ely, DeWick, Suprick, Jonathan, Knab, D. Just, Anderson.
Patriot Sprint Tour America Point Standings (Top 10)- Howland 568, Kreutter 552, Barger 543, Zimbardi 542, Suprick 519, T. Wickham 513, Quackenbush 463, Ide 455, Knab 450, Jonathan 437.
Original Pizza Logs Four Laps of Fame Dash Series Standings (Top 5)- Collins 13, Suprick and Drum 9, Barney 8, Bodo and Ide 7.
Gater Racing News Hard Charger of the Season Standings (Top 5)- Howland 21, T. Wickham 19, Ward and Kreutter 13, S. Just and Zimbardi 12.