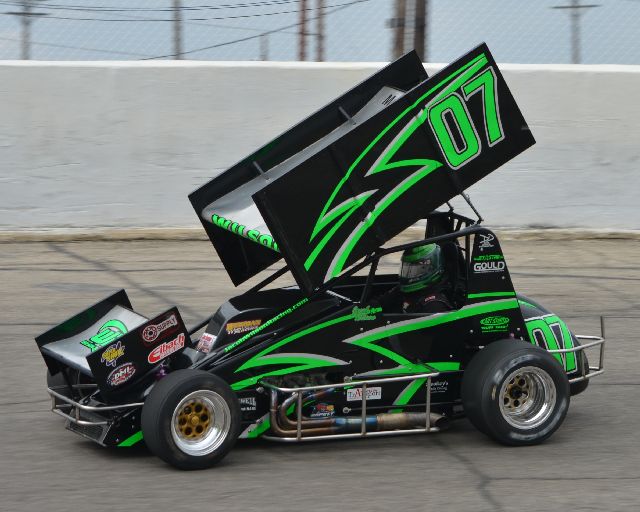 From Jim Hanks
HOLLY, MI. – Can he make it three in a row?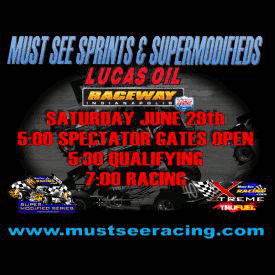 Jacob Wilson, fresh off his Must See Racing 60 and prestigious Payless Little 500 victories in one week at Anderson Speedway, is looking forward to the June 29th Must See Racing Lucas Oil Raceway event.
"I would love to keep the streak going," said Wilson. "The Wilson Brothers Racing team has done a tremendous job preparing the car and we have been running up front all year. We are currently second in points, which is where we finished in 2012, behind JoJo Helberg. We are really looking forward to this race and hope to get into victory lane."
"I think it's going to be a great race. You can run in almost any groove, so that's really exciting. I know the track is very challenging, because it's constantly changing. That makes for great competition because it's all about who can have exactly the right setup on any given night." added current MSRXSS points leader JoJo Helberg.
Last year Brian Gerster set an all time new track record with a blistering 17.407 seconds and backed it up with a thrilling feature win.
Xtreme Sprint Series point leader JoJo Helberg of Rohnert Park, CA will attempt to maintain his place atop the standings. Helberg has faced tight competition thus far in 2013 from Wilson, Brian Gerster, Canada's Ryan Litt, and Troy DeCaire. MSRXSS regulars Jimmy McCune, Mike Larrison, Davey Hamilton Jr., Aaron Pierce, Jimmy Kite, Brian Olson, Jeff Bloom, Jerry Caryer, Tom Tolbert, Ryan Myers, Jim Sheets, Ryan Gillenwater Cody Gallogy, Sondi Eden, Tanner Swanson and others
will provide stiff competition on the .686 mile famed oval.
SUPERMODIFIEDS RETURNING TO LUCAS OIL RACEWAY
The Must See Racing Supermodified Series will join the MSRXSS
winged sprints for the June 29th "Night of Speed" returning
supermodified racing to the famed oval track for the first time
since 1995.
Canada's Dave McKnight leads the supermodified points chase with victories at Winchester and Anderson Speedway. In close pursuit are 2012 MSRSMS Champion Doug Edwards, Mike McVetta, Jimmy McCune, California's Kyle Vanderpool and Jim Paller. Others expected to challenge are Sondi Eden, Florida's Brian Gingras, Rod Sauder, Brad Wyatt, Larry Lehnert, Rich Reid, Zach Gibson, Don Johnson, D.J. Shullick, A.J. Liesicki, Denny Fisher, Jon Henes, Cord Erhart, Shane Johnson, Matt Palmer and others.
Both series will run a full program of time trials, heat races, and a 30-lap features that can be seen tape delayed on MAVTV, DirecTV and other cable outlets to over 100 million households with hosts Rick Benjamin, Dave Argabright and Tom Bigelow.
More information is available at www.mustseeracing.com and www.lucasoilraceway.com.