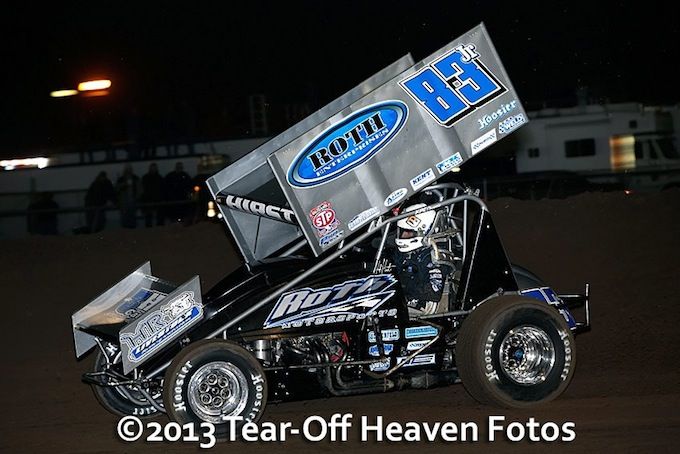 PETERSEN MEDIA- Kyle Hirst had a very wild weekend, that saw him have horrible luck with lapped cars while leading Friday night at the Silver Dollar Speedway before he tallied his seventh second place finish of the year Saturday night at the King's Speedway in Hanford, CA.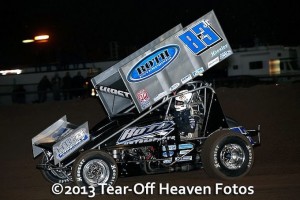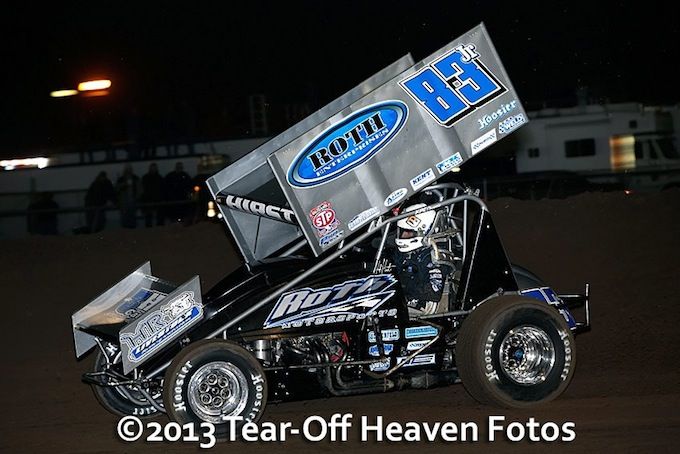 "I have to thank Dennis and Teresa Roth for this opportunity, and surrounding me with such a great team," he said. "Each night I'm in a car capable of winning, and I really need to get over the hump and get some more wins."
Hirst's weekend kicked off on Friday night as he was in action for the inaugural David Tarter Memorial at the Silver Dollar Speedway.
With 23 cars on hand, Hirst timed the Roth Enterprises/HR Livestock Transportation/3H Cattle machine in four fastest putting him in the first heat.
Hirst got up on the wheel as he worked up to the second spot, looking to get to the top spot and earn a spot in the dash for cash, but he came up short, though he would find himself on the pole for the feature event.
When the green flag dropped, Hirst got the jump over Sean Becker, and began to set sail on the field, as he quickly found himself in lapped traffic.
On the ninth lap, three lapped cars got together in front of Hirst, and Hirst was collected with them, nearly getting upside down, but the Sacramento, CA driver was able to keep it fired, and kept his spot.
Under the red flag condition, it was discovered Hirst had a left front flat tire from the contact, but elected to stay on the track.
Back underway, Hirst continued to flex his muscle with a flat front tire, as he was simply in his own zip code.
On the 25th lap, a lapped car again spun in front of Hirst, and this time, contact resulted in Hirst's muffler being dislodged from his machine, and he was DQ'd from the event.
"We had a great car Friday night, we just do not seem to have any luck at these memorial events," he said. "It would have been special to win it for the Tarter family, but it was not meant to be."
Saturday night, Hirst and his team headed to the King's Speedway in Hanford, CA where he looked to rebound from his bad luck on Friday night.
Timing in eighth fastest, Hirst proceeded to win his heat, but the '0' pill was drawn for the inversion, and KH found himself starting in the fourth row.
Hirst had his elbows up in the feature as he clawed his way up to the second spot, as he began chasing down fellow King of the West competitor, Craig Stidham.
With Stidham in command, Hirst was unable to get around him, and settled for second.
"I have had my fair share of second place finishes, so hopefully I can step it up a little in the coming weeks and starting picking up some wins," he said. "We have a great team, and a great car, and have had some great finishes, but nothing is better than racking up some wins."
Kyle and his Roth Motorsports team would like to thank Roth Enterprises, HR Livestock Transportation, 3H Cattle, Mobil1, FK Rod Ends, Weld Wheels, Brown and Miller Racing Solutions, Kent Performance Center, Kaeding Performance, and Astro Titanium for their support.
2013 ROTH MOTORSPORTS BY THE NUMBERS: Starts-24, Wins-1, Top 5's-10, Top-10's-15
2013 BY THE NUMBERS: Starts-38, Wins-2, Top 5's-15, Top 10's-25
ON TAP: Hirst and his Roth Motorsports team will now head to the King's Speedway on Saturday night to take on the California Civil War Series.
STAY CONNECTED: Stay connected with the Roth Motorsports team by visiting www.rothmotorsports83.com. You can also follow Kyle on Twitter @KyleHirstRacing.