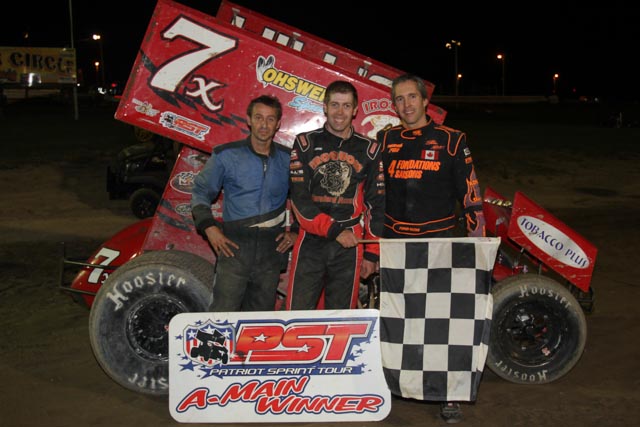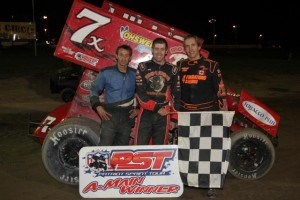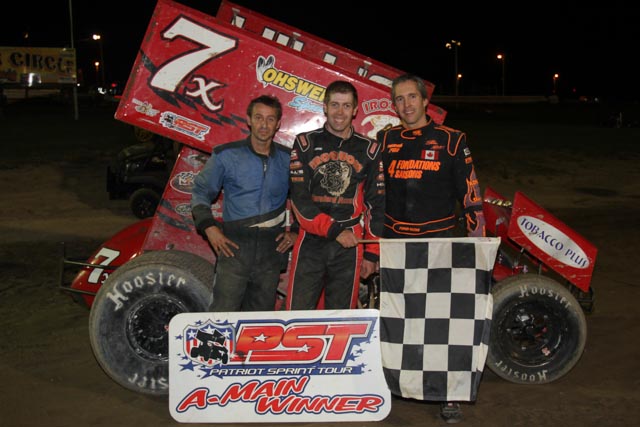 From Rich Vleck
Chatham, ON — (June 22, 2013) — Two weeks ago, Chris Jones chased down Jamie Collard but came up just two feet short of claiming a win in an event near his Picton, Ontario home; on Saturday, they were once again engaged in a battle for the lead, and once again Collard came out on top.
Collard, of Burford, Ontario, notched the Patriot Sprint Tour win in the Mid-Season Championship at South Buxton Raceway on Saturday Night for his fourth career series win at a fourth different track in Ontario. Collard effectively stole the $3,000 top prize from Chris Jones who was in pursuit of his first career Patriot Sprint Tour feature win. In the process, Collard became the eighth different winner in eight Patriot Sprint Tour events in 2013.
Collard started in sixth for the 25-lap feature and steadily picked off spots to move up to second, but it was Jones who had a comfortable lead for the majority of the race. Jones' 11J had a healthy advantage until the second and final caution flag appeared on lap 20, not only bunching up the field, but removing the lapped cars and allowing Collard an opportunity to pounce.
In the final five laps, Jones was able to hold off Collard for the majority of the sprint, but as the duo worked through the final set off corners, Jones slipped up just enough to allow Collard to dive underneath him and out-drag "Jonesy" back to the finish line, located in the middle of the curved frontstretch. Even though Collard might not even have been able to drive in front of the No. 11J in turn two, he was able to be six feet ahead when it mattered.
As Collard and Jones duked it out for the win, Steve Poirier was battling hard to post a quality point night, finishing just ahead of Justin Barger, who earlier in the night won the Original Pizza Logs Four Laps of Fame over Poirier. Local favorite and heat race two winner Kyle Patrick completed the top five.
Jason Barney finished in sixth in his first appearance at South Buxton, ahead of local runner Justin Martin. Southern Ontario drivers Glenn Styres, Mitch Brown and Conor Mahoney completed the top 10 finishers.
On the first lap of the first heat race, pre-race favorite Dustin Daggett took a wild ride in his No. 2M, flipped hard in turn one. He was alright but would be done for the night.
For more information, visit www.PatriotSprintTour.com.
Patriot Sprint Tour Canada Series Results: 6/22/13, South Buxton Raceway, Chatham, Ontario, CANADA.
A-Main (25 Laps)- 1. Jamie Collard (7x), 2. Chris Jones (11J), 3. Steve Poirier (28FM), 4. Justin Barger (5), 5. Kyle Patrick (33k), 6. Jason Barney (87), 7. Justin Martin (7M), 8. Glenn Styres (0), 9. Mitch Brown (10), 10. Conor Mahoney (5c), 11. Jim Lingar (70), 12. Doug Bowman (57), 13. Jared Zimbardi (35), 14. Tommy Wickham (75), 15. Keith Dempster (5K), 16. Dain Naida (07x), DNS: Dustin Daggett (2M).
Lap Leaders- Jones 1-24, Collard 25.
Original Pizza Logs Four Laps of Fame Dash (4 Laps)- 1. Justin Barger (5), 2. Steve Poirier (28FM), 3. Glenn Styres (0), 4. Jared Zimbardi (35), 5. Conor Mahoney (5c), 6. Jim Lingar (70).
Heats (8 Laps Each)-
Race 1: Brown, Naida, Dempster, Barney, Poirier, Barger, Styres, Wickham, Daggett.
Race 2: Patrick, Jones, Collard, Mahoney, Martin, Zimbardi, Lingar, Bowman.
Patriot Sprint Tour Canada Series Standings (Top 10)- Barney 423, Poirier 417, Barger 415, Collard 403, Styres 387, Brown 379, Zimbardi 375, Wickham 370, Mahoney 302, Dempster and Naida 293.
Original Pizza Logs Four Laps of Fame Dash Series Standings (Top 5)- Suprick 15, Collins 13, Ide and Zimbardi 11, Poirier 10.
Gaters Racing News Hard Charger of the Season Standings (Top 5)- Howland 26, Barney 25, Wickham and Kreutter 21, Collard 20.