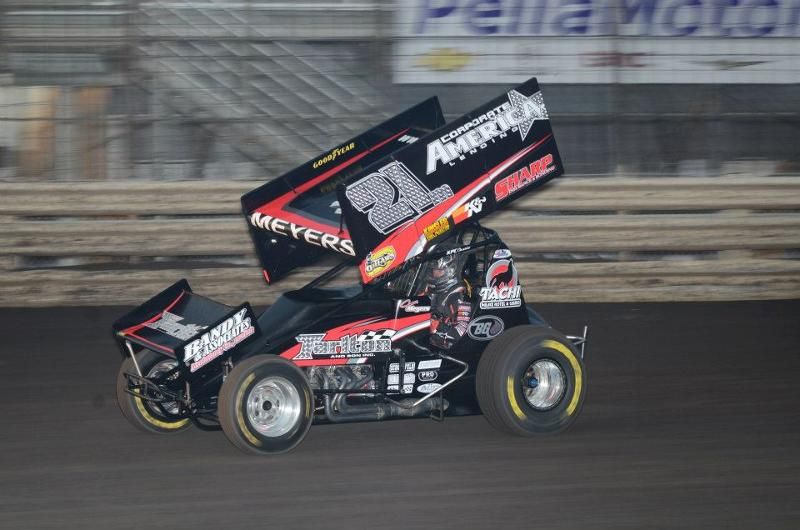 From Peterson Media
Competing in his first Jim Raper Memorial Dirt Cup at the Skagit Speedway since 2006, Jason Meyers teamed up with Tarlton Racing over the weekend, and the two-time World of Outlaws Series Champion ended his weekend with a seventh place finish.
"We were fast all weekend, but we got wrecked during the day show Saturday, and that really hurt out point totals," he said.
The weekend got off to a great start for Meyers and his Tarlton Racing team, as he paced the field during time trials on Friday night aboard his Corporate American Investments/Tarlton and Son/Bandy Associates No.21M machine.
Lining up fourth in his heat race, Meyers was able to secure the third and final transfer spot to the feature event, and with his point totals, he lined up in the 15th spot as he was the night's high point earner in preliminary action.
On a very slick Skagit Speedway, Meyers got off to a slow start as traffic was brutal for the Clovis, CA driver in the initial laps.
Breaking into the top-10 late in the feature event, 'Hotfoot' began to come alive, as he began grabbing spots as the laps wore down.
In the final few laps, Meyers came from nowhere, and scored a sixth place finish at the line, ending his night second in event points.
"Friday night we were awesome," he said. "Paul Baines and the guys gave me a great car, and we were able to make a big run late in the feature."
In action Saturday morning to make up Thursday's rain out, Meyer's did not get the lap he was looking for in time-trials, and ended up 14th quick aboard the Pro Signs/BG Lubricants/All Star Performance machine.
Starting on the front row of his heat race, Meyers was hard on the throttle when the green flag waved, and he proceeded to pick up the win, transferring to the feature, where he rolled off on the grid from the eighth spot.
Meyers feature event would be short lived however, as contact ensued on the fourth lap, and he was shoved up into the wall, and his car ended up on his side, and his feature was done, as he took a hit in points with a 22nd place finish.
"We just got cleaned off the track early in the feature, and that really put us behind the eight ball with track conditions," he explained.
Sitting seventh in points heading into the night program, Meyer's missed out on a dash berth by one position, thus putting him in the fourth row for the 40-lap feature event.
On a very slick track, after a near 13-hour race-day, track conditions made it tough to pass, and Meyers did everything he could to get moving towards the front.
Going both high, and low, Meyers was unable to get the run he had hoped for, and ended his Dirt Cup with a seventh place finish.
"We really had a fast car all weekend, and it's a shame the way things worked out," he said. "I have to thank the Tarlton's for letting me get back up to the Dirt Cup, I wish we could of handed them the big check at the end of the night though."
Tarlton Racing would like to thank Corporate America Investments, Tarlton and Son, Bandy and Associates, Pro Signs, BG Lubricants, All Star Performance, Winters Performance, XYZ Machining, Factory Kahne, Carillo Rods, Victory Valves, Kinser, Fel Pro, Bosch, Brown and Miller, and Astro Titanium for their continued support.
2013 BY THE NUMBERS: Races-16, Wins-2, Top 5's- 3, Top 10's-7.
STAY CONNECTED: Stay connected with Jason by visiting www.eliteracing.net or follow @Tarlton_Racing on Twitter.