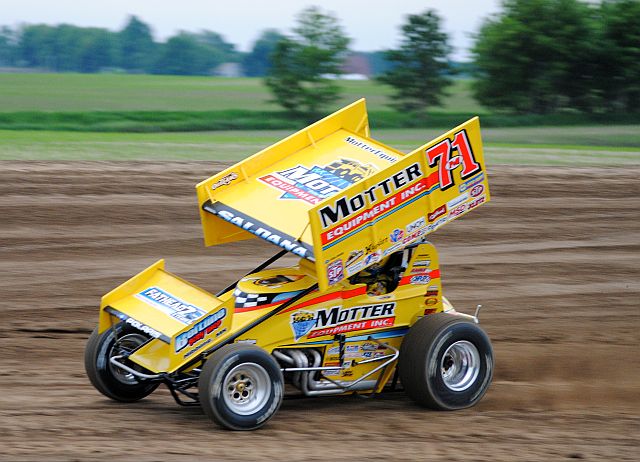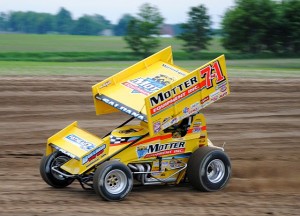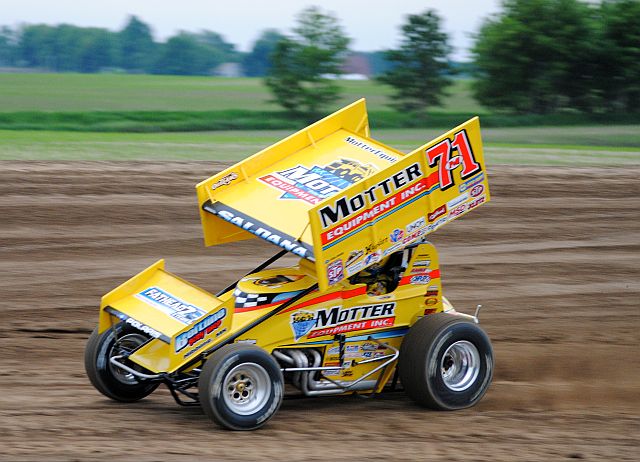 From Susan Arnold
Fergus Falls, MN — (June 22, 2013) – .Joey Saldana arrived at I-94 Speedway tonight ready to get back to business and finish the job that was abruptly interrupted last night.  After leading a lap at last night's World of Outlaws event in Grand Forks, N.D. and while running second, a blown tire sent Saldana on a ride that looked like a segment out of some 'race cars gone wild' film.
Partially a testimony to his hours of PitFit training in Indianapolis where he goes through conditioning exercises specially designed for this form of racing, Saldana was in good physical shape, high spirits and ready to get back on the horse.
The Motter Equipment Fatheadz Eyewear team spent the night building a new 71M sprint car in Grand Forks at Senske & Sons, who graciously allowed the team the use of their shop.
"We are indebted to Senske & Sons for their generosity, and we want to thank all the fans and members of the racing community who sent prayers and were concerned for Joey's well-being," said team owner Dan Motter. "We were fortunate that he was able to walk away."
"Tonight we're focused on the task at hand."
In preliminary action at the inaugural Outlaws race at I-94 Speedway, Saldana lapped the 3/8-mile high bank in 13.181 seconds to earn the No. 6 qualifying position.
In heat race three, Saldana rolled to the green flag in third position.  When the green flew, pole sitter Jason Solwold took the lead, followed by the second place starter Cody Darrah.  Saldana was third, with Paul McMahan in hot pursuit.  A spirited battle between two friends ensued:  McMahan got by Saldana, Saldana reclaimed third spot.  With
two laps complete, Thomas Kennedy lost control and slid to a stop sideways on the track bringing out the yellow.  When racing resumed, Saldana made a run on Darrah, trying to gain a spot in the dash, but ran out of laps.  Solwold won the heat, Darrah was second and Saldana crossed under the checkered flag in third position.
In the 30-lap A-Main, Saldana started 12th. At the drop of the green, pole sitter David Gravel jumped to the lead challenged by second place driver Daryn Pittman.  By lap four the leaders encountered lapped traffic which helped insulate the separation between the front runners.  There was one yellow at the halfway mark for Jody Rosenboom who slowed on the race course. Back to green and Gravel was back in the lead, ultimately celebrating a wire-to-wire win to commemorate his 21st birthday. Daryn Pittman was second and Sammy Swindell was third.
Saldana gained one position to finish 11th.
"There was very little passing tonight on this track," said Saldana.  "It was all about track position and trying to come from the middle of the field through traffic was nearly impossible. We gave it our best shot."
The Motter team gears up for three-in-a-row starting Friday, June 28 in LaSalle, Ill, followed by Beaver Dam, Wis. Sunday will find the World of Outlaws teams in New Richmond, Wis.