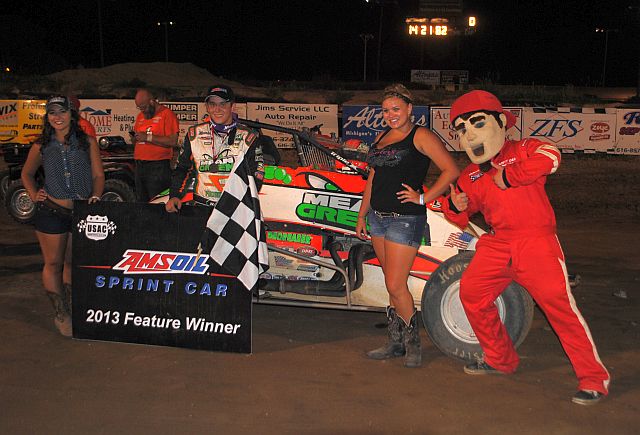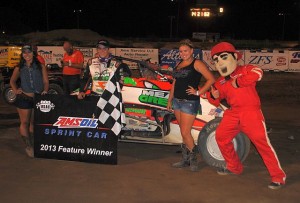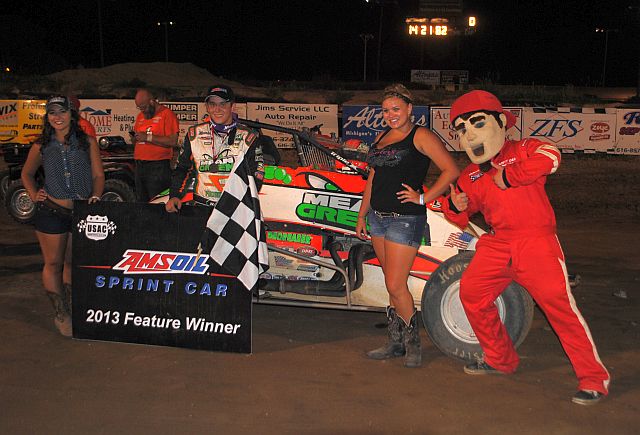 From Bill W
July 2, 2013 – Brady Bacon and the Hoffman Racing #69 team celebrated their first win of the season on Saturday, June 22 at the I-96 Speedway in Lake Odessa, Michigan.  They'll be back at it this Thursday night, the Fourth of July, at Lincoln Park Speedway in Putnamville, Indiana.  Meanwhile, Brad has been busy in his #99 at both Ohio and Pennsylvania Speedweek.  He'll be racing at Grandview Speedway (Bechtelsville, PA) tonight and Hagerstown (Maryland) Speedway tomorrow night before flying back to Putnamville.
At I-96 Speedway in the #69, Brady qualified second quick.  "I bobbled a little bit on my second lap and almost got upside down, otherwise we may have had quick time," he says.  "I got a little too greedy and got over the cushion a little bit."
Starting sixth in his heat, he would run fourth.  "They reworked the track before the heats, which made it a little hard to pass," says Brady.  "We were still able to transfer."
Brady would start fifth in the main event.  "We were able to get up to third in a couple of laps," he says.  "Kevin Thomas was leading it, Bryan (Clauson) was second and I was in third.  We had a caution when Kevin cut a tire.  That gave me a chance to adjust the shocks a little bit."
The adjustment proved to be the winning formula as Brady went by Clauson for the win.  "After that, we had a really good car," he says.  "I was able to pressure Bryan by moving to the bottom.  I was able to make him move around a little bit.  We had another yellow and I was able to get by him on the bottom.  I ran the top the rest of the race, and it went really well."
The win was a long time coming for Brady and the team.  "It seems like we should have had a couple already, but things just haven't gone our way," he says.  "It was a nice relief to get that monkey off our back.  Hopefully, we can carry that momentum into Putnamville on Thursday."
After suffering some mechanical ills during Ohio Speedweek in Waynsefield and Orrville, Brady raced at Limaland Motorsports Park in Lima on Friday.  "We went out early in qualifying and the track was still a little greasy from the rain," he says.  "We were fortunate to get the race in really.  We were able to win the heat race by quite a bit.  We started 19th in the feature, and we were able to move up to 11th."
The feature was a good preparation for the upcoming Brad Doty Classic at Lima a week from tomorrow.  "We were able to slide a few early, but the top was so fast," says Brady.  "Everyone was getting around there pretty well.  It felt good to go forward though.  We'd been struggling when the tracks got slick."
It was on to Fremont Speedway Saturday.  "We qualified ninth at Fremont," says Brady.  "We were pretty good all night.  They reworked the track before the heats and that really helped.  We were able to finish third in the heat and won the Dash from the pole."
Brady was able to finish in Ohio with a top five.  "Tim Shaffer got the jump on me to start with," he says.  "Dale Blaney got by me, and I ran third most of the way.  The feature was fifty laps.  With about ten to go, Kyle Larson and Shane Stewart slipped by us.  We got a top five there, and we needed that.  It feels like we're back where we should be."
It was on to Pennsylvania on Sunday night.  Big Diamond Speedway in Minersville played host.  "We qualified eighth and won the heat," says Brady.  "I messed up at the start of the feature and fell back to fifth.  We were a little too tight in traffic, especially when I got behind someone.  (Greg) Hodnett and (Danny) Lasoski slipped by me, and I ended up seventh."
Against the tough Pennsylvania Posse, a driver can feel good about finishing seventh.  "Obviously, it's always tough out there," says Brady.  "There were probably fifteen cars that could have won that race.  It was nice to come out here and be competitive.  Hopefully, we can have a good night at Grandview."
After tonight at Grandview and tomorrow in Hagerstown, Brady will run Putnamville with USAC on Thursday.  Friday, Saturday and Sunday will see him back at Pennsylvania Speedweek at Williams Grove, Port Royal and Selinsgrove.


Follow Brady on his Website, Twitter and Facebook!
Follow Brady at his website located at www.BradyBaconRacing.com! Also keep up with him on Facebook and Twitter (which also can be accessed at the website) at the following links…
Twitter Link – http://twitter.com/BradyBacon
Facebook Link – www.facebook.com/pages/Brady-Bacon-Racing/278125555137