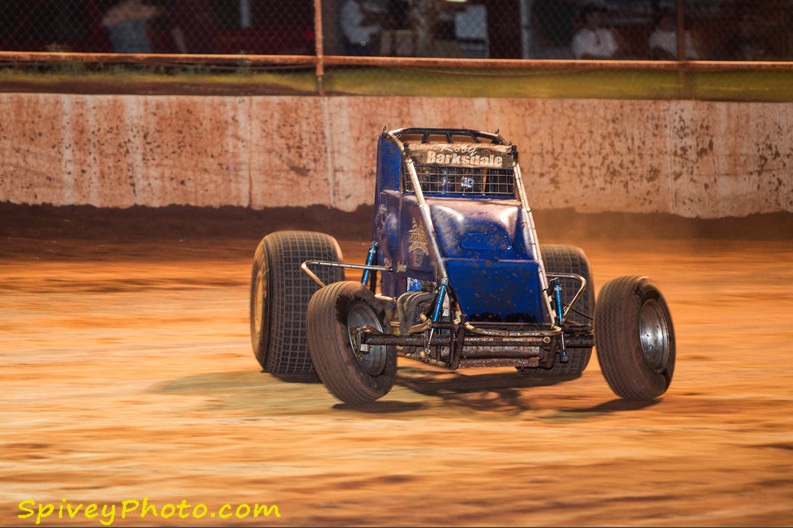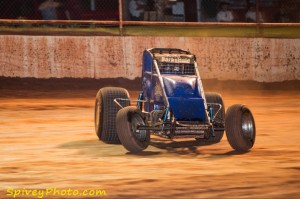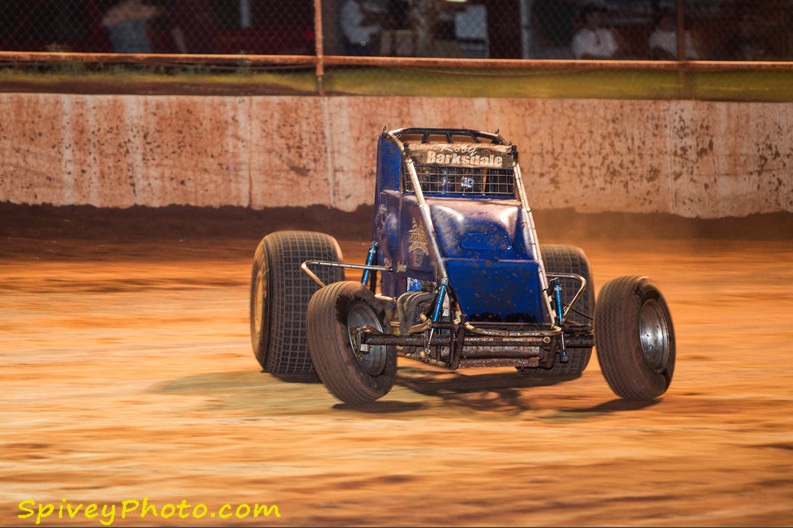 From John Lemon
Tulsa OK —  (July 2, 2013) —  In the spirit of celebrating our nations independence, the newly named "Osage Casino Caney Valley Speedway" will once again host those versatile, exotic, wild and thrilling sprint cars from the series that has everyone's attention: the Oil Capital Racing Series. OCRS will bring the "wingless" style of sprint cars to Osage Casino Caney Valley Speedway this Saturday night. This will be the fourth and final non-wing event on the OCRS schedule in 2013. There are eleven winged events left on the docket.
Harli White will look to win her second non-wing race of the season as she captured the first wingless race at Brill Motor Speedway in March. Brian (B-Mac) McClelland took topless checkers at the West Siloam Speedway last month, as did Danny Smith at BMS just last weekend (Friday). White was the last winner with the wings attached, which took place last Saturday night at the Lawton Speedway in Lawton Oklahoma. White's win derailed Smith's bid to win three in a row and was White's fourth OCRS score of the season.
Non-Wing Champion To Be Crowned
With the last scheduled non-wing sprint race set for Saturday night, Miss White will look to secure the non-wing title she has led since opening night on March 30th. All Miss White has to do to secure the non-wing title portion of the 2013 OCRS schedule is to finish 19th (or better) in the evenings main event. The non-wing champion will earn a cool $1,000 bonus from several supporting sponsors. While White just needs to finish one spot ahead of last place in the main event to get the lions share of the non-wing points fund, there is extra cash available for the top five in the non-wing points as well and those spots are very much up for grabs.
Alex Sewell sits in the runner-up position with 208 non-wing points with Danny Smith and Alex DeCamp each only a mere 7 markers behind Sewell at 201. Then factor in Layne Himebaugh and Joe Wood Jr who are each only four points behind Smith and DeCamp at 197.  Johnny Kent, Brian McClelland, Kyle Clark and Robert Sellers round out the top ten. There are only 38 points separating the fifth place driver (Himebaugh) and the tenth place driver (Sellers). Joshua Tyre sits barely outside the top ten only one point behind Sellers.
Fireworks To Be Seen Throughout The Night!
Race fans can expect a full night of fireworks as the OCRS sprint cars, along with the stock car and micro sprint classes of the OCCVS, will be sure to provide excellent action packed excitement. Adding to that will be a fireworks program in its truest form as the racetrack will have an Independence Day fireworks show sponsored by Jake's Fireworks. Whether you like your fireworks of the wheel banging variety on the track or exploding high into the air or both, the Osage Casino Caney Valley Speedway is where you need to be this Saturday night!
What: Oil Capital Racing Series Sprint Cars plus Fireworks by Jake's Fireworks
Where: Osage Casino Caney Valley Speedway / Caney Kansas
When: Saturday July 6, 2013
Time: Gates open at 5p / Hot laps at 7:00p / Racing begins at 7:30p/
OCRS drivers meeting at 6p
Tickets: 13 yrs and up: $12 / 9-12 yrs and seniors: $5 / 8 yrs and under are FREE
Pit passes: $30
Track Phone: (620) 330-0485
Track website: www.caneyvalleyspeedway.net
The track is easy to locate, as it is just 0.8 mile west of the junction of US 75 and US 166 on CR 1600.