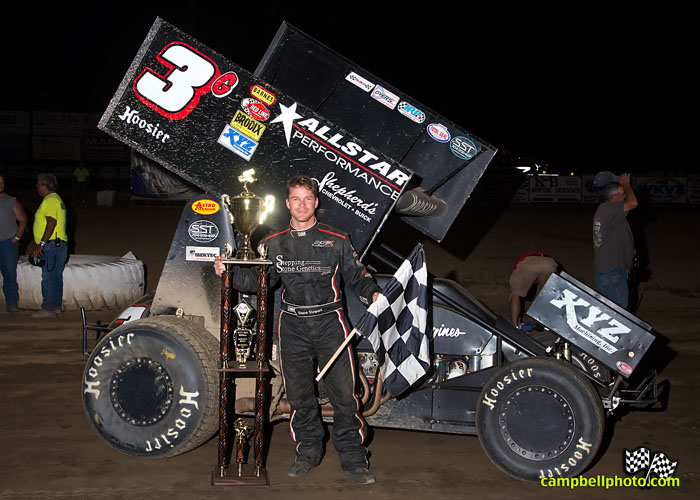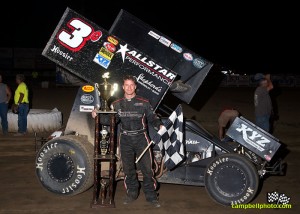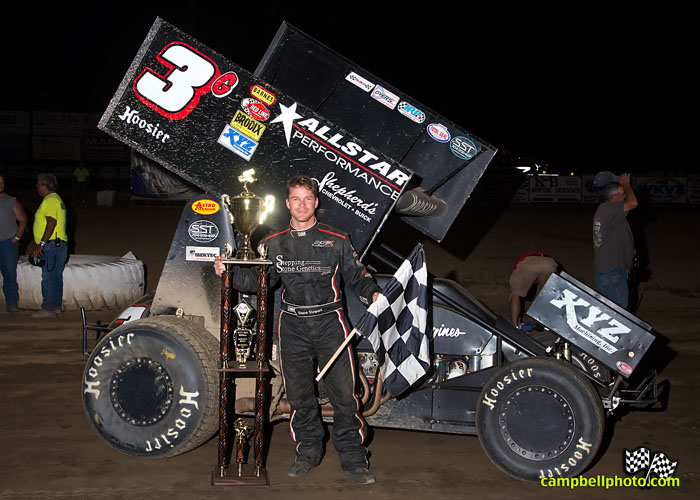 From Peterson Media
Spending the weekend competing with a 410ci engine under his hood, Andy Gregg had a fast racecar as he charged his way up to a fourth place finish at the Silver Dollar Speedway on Friday night, before being involved in an altercation on Saturday at the Placerville Speedway.
Competing at the Silver Dollar Speedway on Friday night, Gregg got off to a great start as he timed in with the quickest lap during qualifications.
A fourth place finish in his heat, put him in the fifth row of the feature event, as the '10' pill was drawn to set the night's inversion.
Working up to the front of the pack, Gregg had a bit of bad luck, as contact to his left rear broke his air-bleeder, and deflated his tire, forcing him to the work area, and to the rear of the field.
Restarting in the 16th spot, the Placerville, CA driver dazzled the crowd as he worked the technical track to near perfection, as his lapped times rivaled those of race leader, Jonathan Allard.
Working into the fourth spot with just a few laps remaining, Gregg closed in on third running Brad Bumgarner in a hurry, and narrowly missed a podium finish.
"We got this 410 engine back the other night, and I forgot how good it ran," he said. "We had a really strong car in the feature event, and I would of liked to see if we had anything for Jonathan, had we not had a tire issue."
Saturday night, Gregg returned home to the Placerville Speedway as he went to work against the King of the West Series.
Gregg was strong again in time-trials, as he set the standard, putting him in the first heat race.
Gregg's heat race got off to a chaotic start, and contact actually damaged Gregg's left rear wheel, but somehow it held air, and he tallied a second place finish, putting him in the dash, where he scored a sixth place finish.
In the feature event, Gregg had a rough start, as he got into the turn three, and four cushion too hard, and his car all but tipped over, and he slipped back to the 12th spot.
On the 16th lap, Gregg got collected as a driver spun in front of him, and extensive damage was done to his car, but his crew was able to make it drive-able, and he restarted.
With a depleted field, Gregg was able to work his way up to the 7th spot by lap 21, until he came to a stop on lap 23, and his night was done, and he was credited with a 12th place finish.
"We just had some bad luck in the feature event, and bent some parts," he said. "My guys did a great job of fixing what they could, and hopefully we can put a strong showing together on Thursday night."
Andy would like to thank Coors Light, LivFast Clothing Co., GUTS Racing, Meyers and Son Drywall, Ervin Sales Group, K&N Products, FK Rod Ends, Eagle Motorsports, King Racing Products, BR Motorsports, Hinchman, Brown and Miller Racing Solutions, and 103.5 The Blaze for their support in 2013.
2013 BY THE NUMBERS: Races-24, Wins-4, Top 5's-12, Top 10's-15
ON TAP: Andy will be back in action this Thursday night at the Placerville Speedway for the 2nd Annual Tiner Family Classic.
STAY CONNECTED: Stay up to speed with Andy by following him on twitter @andygregg16x.