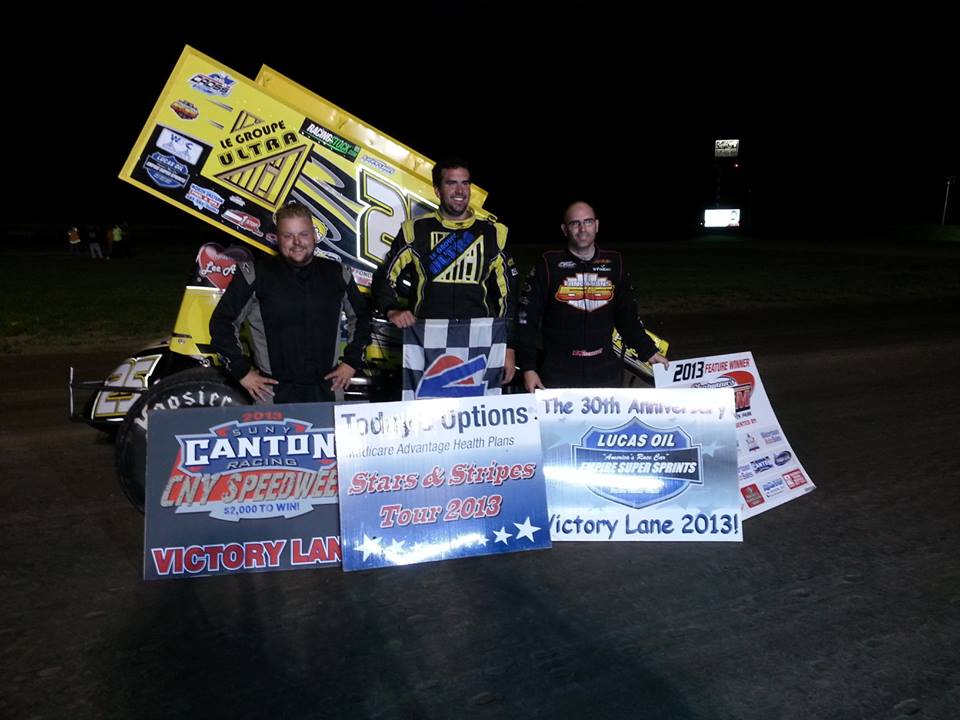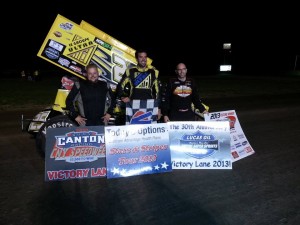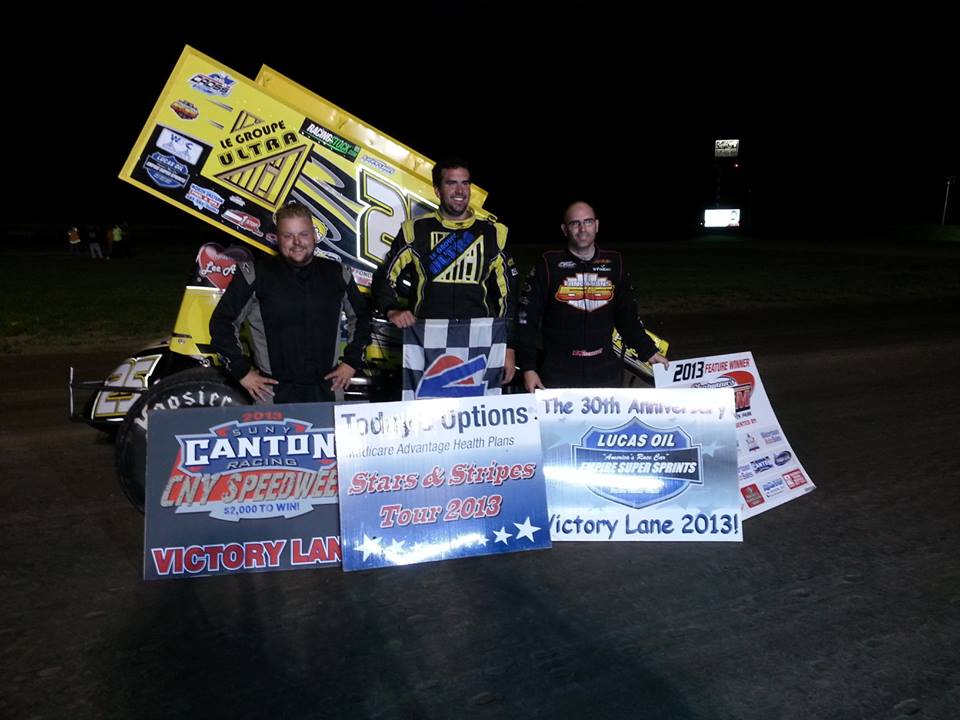 From Mike Mallett
Lafargeville, NY — (July 5, 2013) — Michael Parent continued his hot streak on Friday night at the Can-Am Speedway with his second win of SUNY Canton Central New York Speedweek with the Lucas Oil Empire Super Sprints.  The Granby, Que. driver now has three podium finishes in the first three races with two more races yet to come.  He is the current Speedweek point leader.
Parent came into the week with one win already on the season at the Lebanon Valley Speedway back in mid-June and ever since he's been on a tear not finishing outside the top ten.  It was career win number five for the driver of the AMB Moteurs powered No. 25.
Parent's win closes the gap between himself and current series point leader Steve Poirier who finished in eighth.  He also gained points in the chase for the Today's Options Stars and Stripes tour American Tour title as well as the SUNY Canton tour.
"This car is on rails," stated Parent.  "This is so freaking awesome.  We are going well right now.  We got two wins this week.  It is amazing."
Parent started inside of fellow Quebec driver Patrick Vigneault on the front row.  It was Parent who jumped to the lead at the initial green flag while Vigneault stayed close behind.  Parent worked the extreme top of the speedway with Vigneault working his way around the bottom.
They remained in those lines as the caught slower traffic with a handful of laps complete.  Parent's high line continued to prove useful until lap 10 when the bottom finally came around for Vigneault.  Vigneault came off the inside of turn four to take the lead from Parent at that point.
Vigneault opened up a slight edge on Parent initially until Parent changed lanes and moved to the bottom of the speedway.  Parent then chased down Vigneault looking for an opportunity to get back to the top spot in the race.
That opening came on lap 17 as Vigneault just missed his mark coming off of the second turn and slid up opening the door for Parent to shoot by as they excited the corner.
Once he took the lead Parent found his lane.  He drove away from Vigneault and held on to win by a comfortable margin thanks in part to a proper tire selection that had the car come in later in the race.
"We put the hard tire on and I saw the moisture came back with the class before us," stated Parent.  "So I was scared with my hard tire but it came in at the end.  Patrick opened the door a little bit and we were able to pass him."
Vigneault held on to finish in the second spot which was a career best for the Trois Riveres, Que., driver.    Although he got passed for the lead he was still elated when he got out of the car on the front straightaway with his Mach 1 Chassis No. 55.
"This is the first podium for us and I can't be more happy than that," stated Vigneault.  "I know that Michael has a different way to start the race.  I knew I could get by him early but I knew he had a different tire.  It is a relief for us to finish here.  We work pretty hard to be here.  Hopefully it will keep getting better for us."
Cory Sparks made his first start of Speedweek finishing third.  The Edinburg, N.Y., was able to get to Vigneault in the closing laps but not pass him for second.  After completing his interview Sparks proposed to his long-time girlfriend Ashley Dingman and she said yes making the night even more special.
"We always have a good runs when we come here," commented Sparks.  "We were really hoping to come out at Speedweek with a win but I got to thank my crew and my sponsors.  I'm really happy, coming here is one of my favorite race tracks and I was hoping to pull off the win but a third will do."
Brewerton, N.Y., driver Jason Barney finished a weeklong best fourth on Friday night while Sammy Reakes IV completed the top five. The next five was made up of Sammy Reakes IV, Jessica Zemken, Justin Barger, Steve Poirier and Shawn Donath.
ESS Speedweek Night 4 Notes – Another stellar field of 34 sprints on hand in front of Can-Am's biggest crowd in two years…Sparks, Paul Pekkonen and Chris Jones joined the Speedweek on Friday night…Night 4 its off to the high banks of the Fulton Speedway.
SUNY Canton CNY Speedweek A-Main – Michael Parent ($2,000), Patrick Vigneault, Cory Sparks, Jason Barney, Sammy Reakes IV, Jessica Zemken, Justin Barger, Steve Poirier, Shawn Donath, Lance Yonge, Dylan Swiernik, Tommy Wickham, Larry Wight, Jared Zimbardi, Chris Jones, Paul Kinney, Dave Ely, Curt Michael, Kevin Ward Jr., Jeff Cook, Mike Stelter, Vinnie Vitale, Matt Tanner, Chuck Hebing.
Did Not Qualify – Steve Hutchinson, Tyler Rand, Paul Pekkonen, Joe Trenca, Zach Weigand, Tim Hogue, James Hanson, Paul Habeck, Etienne Girard, Kyle Moffit.
Lap Leaders – Parent 1-9, Vigneault 10-17, Parent 18-25.
Car Mate Custom Built Trailers Heat 1 – Reakes IV, Barney, Barger, Poirier, Tanner, Ely
Car Mate Custom Built Trailers Heat 2 – Sparks, Donath, Wickham, Parent, Cook, Hebing
Car Mate Custom Built Trailers Heat 3 – Vigneault, Zemken, Vitale, Wight, Jones, Yonge
SUNY Canton/Cobra Coaches Dash – Donath
Lacaillade Masonry B-Main – Kinney, Zimbardi, Swiernik, Michael
Provisional Starters – Ward Jr., Stelter
Bonuses:
Westward Painting Company Halfway – Vigneault $100
Ohsweken Speedway Winners Bonus – Parent $100
Fondations 4 Saisons Hard Charger – Swiernik (13 pos.) $50
Fondations 55 Pick 5 – Reakes IV $50
North Eastern Pool and Spa Power Pick – Yonge, Wickham $50
Lacailade Masonry B-Main – Kinney $50
Car Mate Custom Built Trailers –  Reakes IV, Sparks, Vigneault $25
Dirt Track Digest Hard Luck Award – Pekkonen $25
Mike Emhof Motorsports – Reakes IV, Swiernik $25
For more information on the Lucas Oil Empire Super Sprints:
Web: www.empiresupersprints.com
Twitter: @ESSprints
Facebook: www.facebook.com/#!/EmpireSuperSprints
Android App: Empire Super Sprints