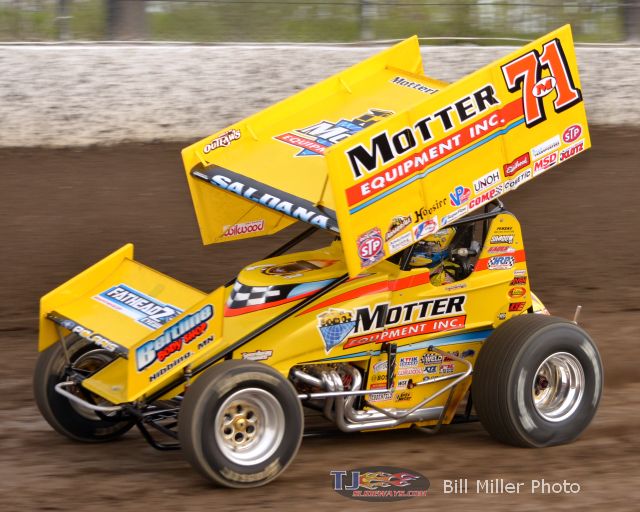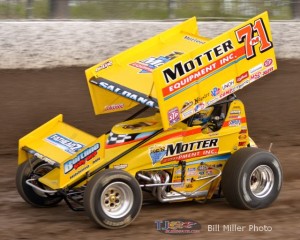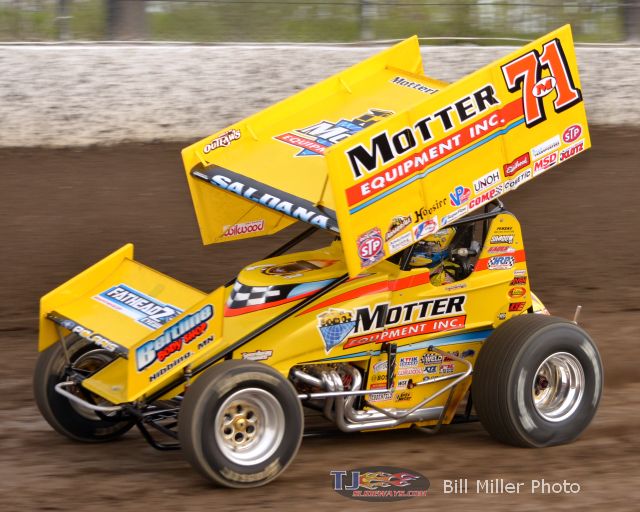 From Susan Arnold
Dodge City, KS — (June 6, 2013) — Mother Nature contributed triple digit temperatures and high winds to the second and final night of the World of Outlaws Boot Hill Showdown at Dodge City Raceway Park.  Racing conditions promised to be as tricky as last night, though much different.  Tonight the track was a little rough and heavier with more moisture and a thicker cushion.
In preliminary action, Joey Saldana drove the Motter Equipment Fatheadz Eyewear 71M Sprint Car to the No. 12 qualifying spot with a lap of 13.304 seconds.
After applying the Outlaws formula to the qualifying times and subsequent heat race line-ups, Saldana was awarded the pole of the third heat race.  Saldana brought the field down for the start, and when the green flag flew, it was a three-wide drag race between Saldana, Daryn Pittman and Kerry Madsen for the lead.  Saldana prevailed and grabbed the lead, turning laps in the 12-second zone, quicker than the evening's fastest qualifier, ultimately pulling away from the field and building up a two-second lead.  At the checker it was Saldana as the wire-to-wire winner.
In the dash, the Brownsburg Bullet started 10th and in the short six-lap event, he was able to run down and pass David Gravel, coming home ninth at the checkered flag.
As green flag flew in the A-Main to set the field free, Donny Schatz took the lead followed by Daryn Pittman and Paul McMahan.  Saldana started ninth and maintained his position past the half way point of the race.  With nine laps to go, the yellow was displayed for James McFadden who shredded a left rear tire.  At the same time, it was hard luck for Schatz who had a right rear tire going down.  He was forced to come into the work area to change the tire. Though he was able to rejoin the field, his hopes of a double victory vanished. At the checkered flag, Pittman crossed the finish line first, followed by Paul McMahan and Cody Darrah.
Saldana was sixth at the end of the 30-lap A-Main.
The Outlaws will race Wednesday night (July 10) in Lima, Ohio.