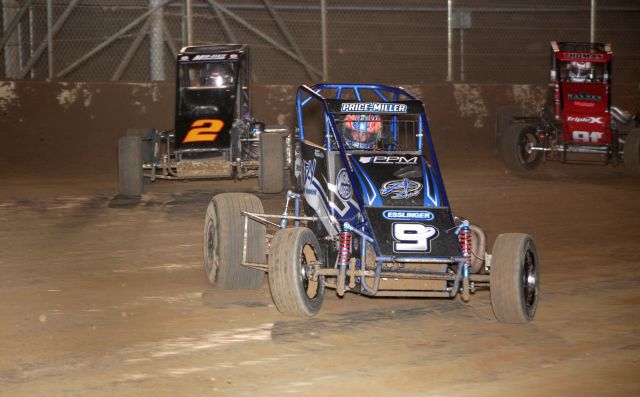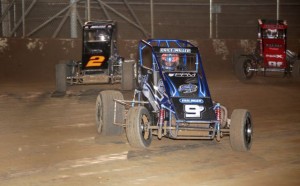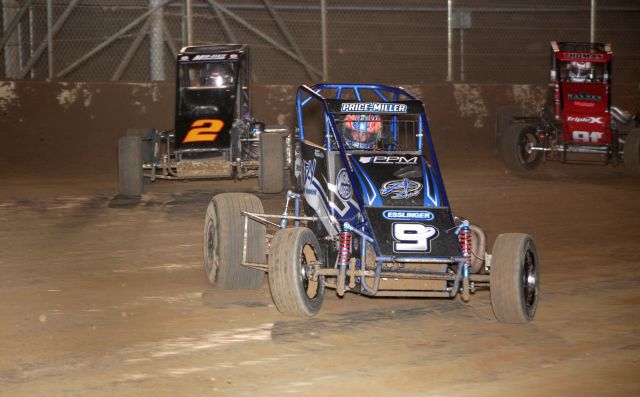 From Tim Tuttle
Rookie Parker Price-Miller has climbed to seventh in the championship of the POWRi Lucas Oil National Midget Series going into Saturday's (July 13) seventh annual Salute to Harry Turner at Wilmot (Wis.) Raceway and Sunday's 77th Anniversary Season race at Angell Park Speedway in Sun Prairie, Wis. Both events are co-sanctioned by the Stark Automotive Group/Mid-State Equipment Badger Midgets.
Price-Miller began a turnaround by finishing seventh in the feature at Macon (Ill.) Speedway on June 8. The 15-year-old from Kokomo, Ind., skipped the next event on June 23 at Angell Park, then finished 11th at Bloomington (Ind.) Speedway and 14th and 13th on back-to-back nights at Belle-Clair Speedway in Belleville, Ill.
Racing in the features represented a dramatic improvement for Price-Miller. He didn't reach them in three of the six events that began the season. Price-Miller's best result in them had been 13th in the feature at Macon on May 18. He'd also been 20th at Angell Park, where he crashed hard, and 22nd at Belle-Clair.
"It was just really a good night at Macon when we finished seventh," Price-Miller said. "We'd had a lot of bad luck, motors breaking, parts breaking, bad nights. It got my confidence going and we started finishing races.
"We went to Bloomington and were third in the heat race. It got us in the main and it was a good points night. At Belle-Clair, it was my first time running with USAC (whose Honda National Midgets co-sanctioned the Belleville Bash) and we qualified 13th. We should have won our heat, but finished second and started 12th."
There were 52 entries in the Bash opener. Price-Miller finished 14th.
"My dad (Scott Ronk) says I should be happy with that considering how many cars were there, but I was disappointed," Price-Miller said.
Price-Miller finished 13th in the 49-car field the next night. He started 13th in a Spike-Esslinger.
"We had a pretty fortunate night," Price-Miller said. "Our motor was struggling real bad in the heat (where he finished fourth), coughing real bad, and we were fourth in the qualifier. We actually figured out the problem in the motor and we were racing Tracy Hines pretty well early in the race. He's always been one of my heroes, one of the guys looked up to, and it was pretty cool trading sliders with him."
Brady Bacon, who drove Price-Miller's Ronk-owned backup car to victory in the POWRi feature at Macon on May 18, has been a mentor to Price-Miller. Bacon suggested Price-Miller begin his Midget career with a full season in POWRi.
"Two years ago, we got hooked up with Brady and he wanted me to run a Midget in POWRi," Price-Miller said. "He helps me out a lot, what to work on, what to do better. My dad owns a machine shop and he wanted to get into titanium products in racing and we make stuff like bolts and Brady is one of our dealers. We also own one of his Sprint cars."
Price-Miller ran four events in the POWRi Speedway Motors 600cc Outlaw Micro Series early in the 2012 season, with a best finish of ninth at Peoria (Ill.) Speedway.
"I ran up to the first week in June with POWRi and then we bought a Sprint car and I drove it the rest of the season," Price-Miller said. "Because of all the rain outs, I've run the Sprint car more than the Midget this year. We're running for the track championship at Kokomo."
Price-Miller is a leading candidate for Rookie of the Year in POWRi National Midgets.
"It would be nice to win Rookie of the Year," Price-Miller said. "We'd like to win a race, too."
Andrew Felker, who won at Wilmot in the POWRi/Badger feature a year ago, leads the points in both organizations. The 20-year-old from Carl Junction, Mo., has 1,730 points to runner-up Zach Daum's 1,360 in POWRi and a 763-762 advantage over Brad Kuhn in Badger.
POWRi Lucas Oil National Midget Series top-10 points standings (after 11 of 30 events): 1. Andrew Felker 1,730, 2. Zach Daum 1,360, 3. Brad Kuhn 1,050, 4. Tyler Thomas 960, 5 Jake Blackhurst 910, 6. Austin Brown 805, 7.Parker Price-Miller 505, 8.. Garrett Aitken 490, 9.  Colten Cottle 445, 10. Alex Bright 430.
POWRi Lucas Oil National Midget Series feature winners: Jacksonville, Ill.—Shane Cockrum; Belleville, Ill.—Chris Bell; Macon, Ill.—Brady Bacon; Sun Prairie, Wis.—Michael Pickens; Jacksonville, Ill.—Kyle Larson; Lincoln, Ill.—Michael Pickens; Macon, Ill.—Andrew Felker; Sun Prairie, Wis.—Rico Abreu; Bloomington, Ind.—Zach Daum; Belleville, Ill.—Darren Hagen; Belleville, Ill.—Bryan Clauson.
For more information, go to www.POWRi.com.