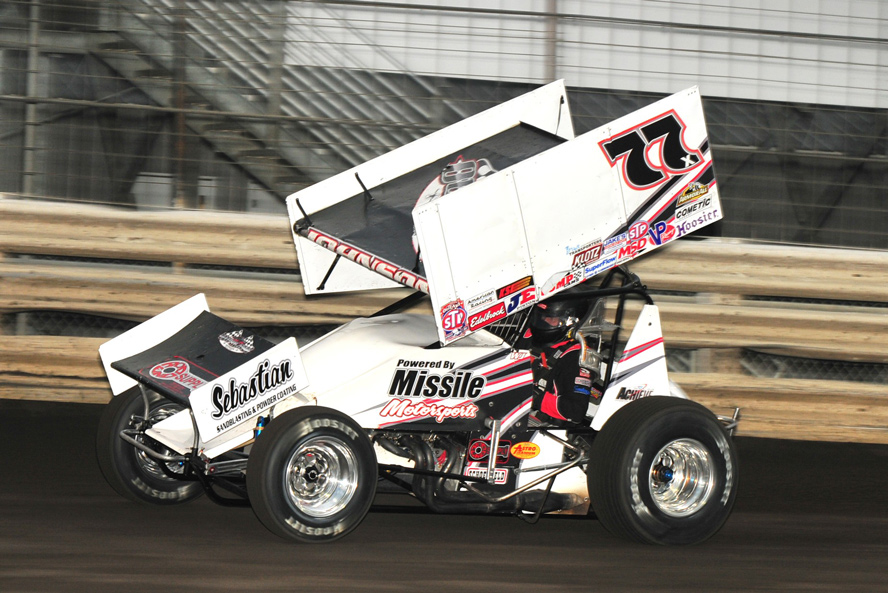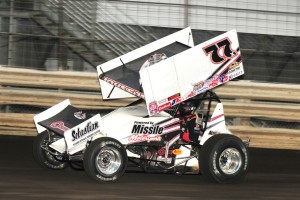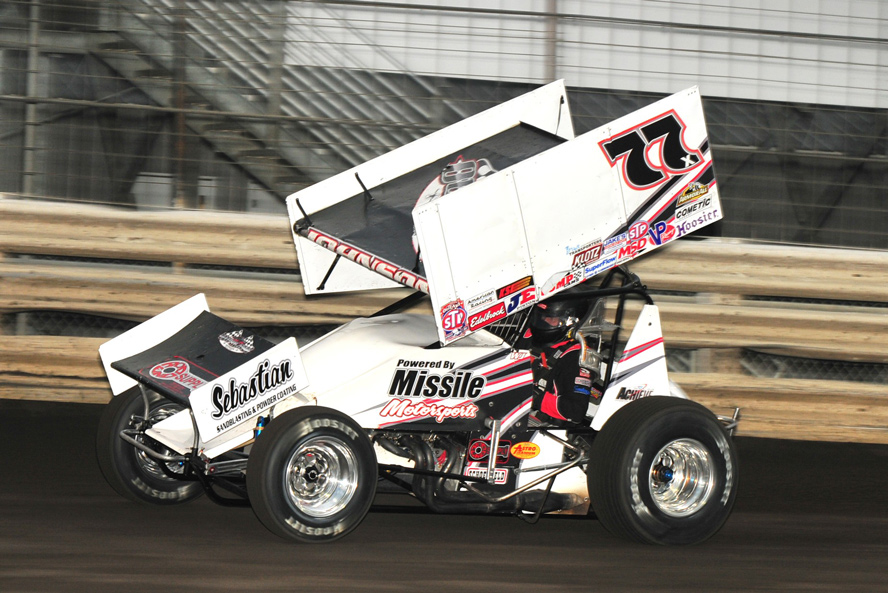 From Bill W
July 17, 2013 – Wayne Johnson left the Knoxville Raceway feeling better than he has in a long, long time Saturday night.  The confidence was evident on the track as he surged to a fourth place finish at the checkers.  It seems just a matter of time before he is back up front.  He'll be back this Saturday night as the weeks tick down to the Knoxville Nationals.
The year and switch to primarily 410 racing has been a learning curve, even for a veteran like Wayne.  "We've stumbled across some things," he says.  "We definitely have.  When I guy has been doing this a long time and says he can't learn no more…you can learn every day.  We've learned a lot in the last week.  It's just homework."
Though his qualifying effort was fourth quick in the 31-car field, Wayne felt that he left plenty on the table.  "I screwed up by entering the top on entry," he says.  "But the car was so snug.  I ran the bottom after qualifying to see what it would do, and it ripped right around there.  I knew I screwed up at that point!"
The heat was a bit of a struggle, as Wayne earned the sixth and final transfer.  "We had a little bit of an oil leak there," he says.  "There was so much oil blowing on me, that I could hardly see really.  I just tried to make sure I was in the top six to get in the feature.  I was in a good starting spot."
The feature saw him inside row three at the green flag.  "All year long, I've basically been along for the ride," says Wayne of his frustrations this season.  "I finally had a car to drive, so I made a few mistakes out there.  I'm actually driving the car now, which feels good.  It's a matter of getting back in a rhythm."
Some of the best racing was between Wayne and Davey Heskin for the fourth spot.  Wayne would win out in the end.  "Heskin passed me on the bottom and slid up in front of me," he says.  "I was able to maneuver and drive back by him.  If that happened earlier in the year, I would have had to let it go.  (His effort Saturday is) just going to build confidence."
Saturday was an important step in preparation for August's Nationals.  "We're getting closer," says Wayne.  "Are we 100%?  No.  We could be a lot better.  We've got a baseline we can start with and we can start tweaking it.  I think we'll be better.  That's why we're hanging here at home until the Nationals.  We just have one 360 now, and we want to save that for the Nationals and the big shows at the end of the year.  Definitely, the car felt better Saturday night than it has all year long."


Follow Updates on Facebook!
Wayne will update as his race night goes on at his Facebook page.  Find it by searching for Wayne Johnson Racing or clicking the following link…
http://www.facebook.com/#!/WayneJohnsonRacing


Outlaw Wings – "The Wing with an Attitude"
Check out the new "recessed rivet" design put out by Outlaw Wings.  Talk to Wayne about purchasing Outlaw Wings for your car! Outlaw Wings – "The Wing with an Attitude"!


Wayne's World                                                                       


Got a question for Wayne? Each week, Wayne will answer your questions about "Tech Tips", or anything that's on your mind. If you ever wondered what a part on a sprint car is all about, send an e-mail to us at sprntcar@iowatelecom.net, and we may answer it in this section! Put "? for Wayne" in your subject line. He'll try to keep it clean if you do!


Wayne's Fast Facts


Wayne has had a lot of success in the state of Wisconsin.  A couple of them came in 2006, with an IRA two-night swept at Antigo.  He also won in World of Outlaws Gumout action in 2002 at Wilmot, besting Joe Roe, Jason Sides, Shane Stewart and Craig Keel.