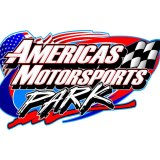 From Terry Whetstone
Clearfield, PA — (July 21, 2013) — America's Motorsports Park brought the 410 sprints in for the first time under the Jeff and America Taylor's regime and they played before a near capacity crowd on Sunday night. Feature winners included Bob Howard of Jersey Shore in the sprints, Dan Smeal of Houtzdale in the Harter and Sons Street stocks and Josh Frantz of DuBois in the Clearfield County Metals Four Cylinders.
Ace pyrotechnics of Clearfield also presented a spectacular fireworks display as well.
Hunter Mackison and Gale Ruth Jr. brought the 24-car field to the green flag with Ruth taking the lead and setting the pace. A red flag waved on the opening lap for a crash that saw Roger Irvine end up on his side. He was ok and actually continued to race. Once that was cleaned up the restart saw Ruth take the lead and set the pace with third place starter Bob Howard pressuring second place runner Mackison.
Lap five saw a second red flag for another pile-up, this one seeing two cars upside down. The crash involved Dan Kuriger, Daryl Stimling, Billy Jones Jr., Jimmy Seger, Scott Priester and Scott Lutz. Both Kuriger and Seger ended up either on their sides or upside down. This crash eliminated several drivers.
The restart saw Ruth holding the lead, as Mackison was still in second, but on lap nine, Howard was able to move into second and drop Mackison to third. This is when Howard set his sights on the leader, as he continued to draw closer to the top spot, then Howard was right there, running right with Ruth, eventually he drew close enough to try and dive under him as they entered the first turn. They ran wheel-to-wheel on lap19 before Howard made a clean pass and took the lead going into the third turn and eventual win. Ruth held on to second with Mackison third, Matt Boland fourth and Rod George fifth.
Heat winner were: Howard, Dennis Wagner, Roger Irvine and Scott Priester. Craig Folmer won the consolation race.
The Street Stock feature was led to the start with Colton Gearhart and Curtis Teats on the front row. As Allan Luzier threw the green flag, Gearhart took the lead and Kyle Shannon moved into second and Teats was in third. AS the top three were putting on a show, another driver was putting his own show on, as Dan Smeal, who started 18th, was headed to the front. Smeal was making some daring moves as he worked through the field.
Gearhart continued to lead, and appeared to have the field covered, as Shannon dropped out with mechanical problems on lap nine, giving second over to Brent Johnson. Lap 10 spelled disaster for Gearhart, as Johnson got into the leader, causing Gearhart to loop the T3 and cause a caution, while Johnson continued. Both drivers were sent to the rear, thus giving the lead over to Bob Vogt Jr. was watched the action unfold from third.
The crowd saw Smeal enter the picture on lap 13, as he had worked his way up to fourth. As Vogt took the lead after the Gearhart/Johnson incident, Smeal was sitting in fourth and was working his way closer to the leader, then on lap 15 Smeal got around Tony Brown and was battling with Vogt, when Vogt lost the handle in turn one, giving Smeal the lead. Smeal then held off Brown to pick up his third win of the season. Brown was second, Brett McDonald was third, Teats was fourth and Jamie Price was fifth. Preliminary wins went to Johnson, Shannon and Teats.
The Four Cylinders are always entertaining as Josh Frantz and Jesse Short led the field to the start, with Frantz taking the lead and Jody Frantz in second. A large number of cautions on lap four saw several drivers eliminated, to drastically narrow the field. Josh Frantz led the event from start to checkered winning over Bryan Warren, Dustin Kemp, Mike Lucas and Stephanie Lucas. Heat wins went to Aaron Luzier, Joshn Frantz and Jesse Short.
PIT NOTES: 79 cars packed the pits, including 30 410 sprints, 26 Street Stocks and 23 Four Cylinders…This Saturday night is a regular Five Division AMPed up show for the Late Models, Semi Lates, Street Stocks, Pure Stocks and Four Cylinders…Gates open at 3 racing begins at 6:30 p.m. for more information check the website at www.americasmotorsportspark.com.
410 Sprints: 1. Bob Howard, Jersey Shore; 2. Gale Ruth Sr.; 3. Hunter Mackison; 4. Matt Boland; 5. Rod George; 6. Andy McKisson; 7. Daryl Stimeling; 8. Joe McEwen; 9. Gale Ruth, Sr.; 10. Brad Howard; 11. Scott Lutz; 12. Brandon Spithaler; 13. Brandon Matus; 14. Dan Shetler; 15. Scott Priester; 16. Dan Kuriger; 17. Jimmy Segre; 18. Craig Folmer; 19. Bill Jones, Jr.; 20. Dennis Wagner; 21. Jordan Mackison; 22. Roger Irvine; 23. Steve Kenawell; 24. Carl Bowser; DNQ – Robbie Bartchey; Adam Anderson; Francis Sesco; Dave Delisle; Clayton Pier; Bob McMillin
Harter and Son's Garage Street Stocks: 1. Dan Smeal, Houtzdale; 2. Tony Brown; 3. Brett McDonald; 4. Curtis Teats; 5. Jamie Price; 6. Bill Phillips, Jr.; 7. Raymond Reynolds; 8. Tim Burns; 9. Brent Johnson; 10. Tim Fannin; 11. Ray Hickok; 12. Derek Wissinger; 13. Joe Kot; 14. Matt Hugill; 15. Ron Gregori 16. Bob Vogt, Jr.; 17.Colton Gearhart; 18. Brian Rhed; 19. Dale Yaney; 20. Ray Billotte; 21. Kyle Shannon; 22. Tim Krape; 23. Ben Smith; 24. Doug Tibbens; 25. Bob Rosman.
Steve Arthurs, did not start.
Clearfield County Metals Four Cylinders: 1. Josh Frantz, DuBois; 2. Bryan Warren; 3. Dustin Kemp; 4. Mike Lucas; 5. Stephanie Lucas; 6. Dylan Frantz; 7. Frank Barrett III; 8. Ron Brady; 9. Corrin Monoskey; 10. Eric Luzier; 11. Kody Barrett; 12. Shawn Fedder; 13. Spencer Smeal; 14. Jody Frantz; 15. Troy Peace; 16. Josh Henry; 17. Stephanie Ivory; 18. Paul Ivory; 19. Jesse Short; 20. Aaron Luzier; 21. Jim Frantz; 22. David Helsel.
Darrin Thompson, did not start.