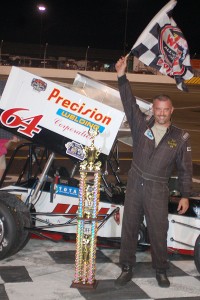 From Robert Gil
Erie, PA — (July 20, 2013) — The Must See Racing Supermodified Series invaded the Keystone State for the first time in series history Saturday, July 20th, 2013. A crowd of nearly 5000 gathered at Lake Erie Speedway to witness the raw power of 900 H.P. big-block engined, methanol breathing monsters. Fans of all ages were treated to side-by-side racing action. There was keen interest in meeting the men (and women) who piloted the offset roadsters, as many participated in the autograph session.
During qualifying, Kyle Edwards set the new speed standard with his track record breaking lap of 13.458. Edwards was awarded a $500 bonus, courtesy of Biobased.us for his efforts. Heat race wins were claimed by Mike McVetta and Jim Paller.
As the field lined up for their 40-lap main event, Speedway officials treated the fans to a fireworks and pyrotechnic display that was likened to a bonafide rock concert! Outside pole sitter, Jon Henes, jumped to the early lead. The "First Lady Of Speed", Sondi Eden, spun in turn 2 on Lap 10, bringing out the race's first yellow flag. Jim Paller, who had started 6th, worked his way up to 3rd. On the restart, Danny Shirey's machine slowed to a stop down the front stretch. As the field got back up to speed, supermodified veteran, Dave McKinght, Jr. made a daring three-wide move between turns 1 & 2 with Paller & Mike McVetta. KcKnight wasn't able to make the lap 12 pass, and settled back into the 4th spot. McVetta, who had been working Henes for the lead, finally made the pass for the top spot on lap 14. As Henes started to fade back, Paller made serious challenges to leader McVetta. For 8 laps, the pair raced side-by-side for the lead. McVetta finally relinquished to Paller on the 26th circuit. Paller survived challenges on a lap 30 restart after Henes slowed down the backstretch. Larry Lehnert made contact with the wall trying to avoid Henes. Both retired fromt he race. On restart, Paller sped off and never looked back. Meanwhile, the field's lone small-block motor piloted by Brandon Fisher, quietly sneaked into the 3rd spot. Edwards, who started the day with high hopes after setting the new speed standard at the 3/8 mile oval, battled electrical gremlins for the remainder of the day and ended with a disappointing 7th place finish.
In a post race interview, Paller raved about the immaculate condition of the racetrack (as many of the competitors did). Paller stated, "I couldn't really get a bite off the bottom groove, like I thought I might. I tried the middle and high grooves and found quite a bit of speed up there. I was surprised there were no 'marbles' on the top groove… just a clean, first-class facility."
NOTES:
Jimmy McCune broke the driveline during practice. Despite a concerted effort, the team was unable to make repairs to race.
Brandon Fisher finished third, despite puncturing a rear tire. Fisher said, "I think i ran over something on the last caution. Once we came back up to speed, I think the [built up] heat must've sealed the hole up enough to allow us to finish. Fisher noted that the thought he might have had enough to grab second place were it not for the tire issue.
The next scheduled Must See Racing Supermodified Series race is scheduled for Saturday, September 14 at the Anderson Speedway, IN. Keep up to date with all the current news on www.MustSeeRacing.com
QUALIFYING
1) 11 Kyle Edwards 13.458
2) 22 Mike McVetta 13.679
3) Jim Paller 13.719
4) 70 Dave McKnight, Jr. 13.735
5) 12 Brandon Fisher 13.828
6) 72 Danny Shirey 13.957
7) 36 Jon Henes 14.313
8) 5 Sondi Eden 14.334
9) 92 Larry Lehnert 14.371
10) 48 Rich Reid 14.676
11) 4 Don Johnson 14.851
12) 88 Jimmy McCune N.T.
HEAT 1
rw1 48 Reid – 5 Eden
rw2 72 Shirey – 70 McKnight, Jr.
rw3 22 McVetta – 4 Johnson
HEAT 1 FINISH
1) 22 McVetta
2) 70 McKnight, Jr.
3) 72 Shirey
4) 48 Reid
5) 5 Eden
6) 4 Johnson
HEAT 2
rw1 92 Lehnert – 36 Henes
rw2 12 Fisher – 64 Paller
rw3 11 Edwards
HEAT 2 FINSH
1) 64 Paller
2) 12 Fisher
3) 11 Edwards
4) 36 Henes
5) 92 Lehnert
FEATURE (40-LAPS)
rw1 48 Reid – 36 Henes
rw2 72 Shirey – 12 Fisher
rw3 70 McKnight, Jr. – 64 Paller
rw4 22 McVetta – 11 Edwards
rw5 5 Eden – 92 Lehnert
rw6 4 Johnson – 88 McCune
FEATURE FINISH
1) 64 Jim Paller
2) 22 Mike McVetta
3) 12 Brandon Fisher
4) 70 Dave McKnight, Jr.
5) 48 Rich Reid
6) 4 Don Johnson
7) 11 Kyle Edwards
8) 36 Jon Henes
9) 92 Larry Lehnert
10) 5 Sondi Eden
11) 72 Danny Shirey
12) 88 Jimmy McCune (DNS)